Row Wrapper 2
*New* Cute "Little Bear" Cabin by Arnold Rim Trail
Capacity
3 Bedrooms
2 Bath
Sleeps 8
Search Availability
About
Enjoy some coffee on the furnished deck, fix up a tasty meal on the gas grill, explore the wonders of the Forest, Rim, Calaveras Big Trees State Park, go fishing at the nearby White Pines Lake, explore the caverns and wineries at Murphy's downtown and great skiing in Bear Valley. Adventures await around the corner!
Enjoy all that the mountains have to offer in this beautifully handcrafted cabin with 3 bedrooms, 2 bathrooms and a spacious back yard.
A carved bear standing three feet tall will wave at you from the rooftop. Several smaller bear busts are carved into the deck posts and greet you along the front porch. Entering the cabin, you continue to feel the unique artistry at every turn, with solid wide-plank rustic flooring, knotty pine vaulted ceilings, and carved wood trim wrapping around each dual-paned window and door. Both bathrooms feature custom knotty pine countertops, vanities, and mirrors. The master bath has radiant floor heating for those snowy nights. The kitchen has knotty pine cabinetry with soft-close cupboards. A single-level, open floor plan offers an inviting great room with a cozy wood stove surrounded by river rock. There is a ceiling fan as well as a whole-house fan to cool the home in the warmer months.
Master bedroom has 1 king bed and an attached master bath. Second bedroom has 1 queen bed and third bedroom has a futon bed and a bunk with a full size mattress on bottom bunk. Sleeps 6 comfortably, but 8 can fit if needed.
Stepping outside the house, the yard and lot are exceptional by Arnold standards; a flat driveway for easy winter access is complimented by plentiful flat parking on the side of the house for an RV or boat. The full 1/3 acre lot is almost completely level and usable, and features patio in the backyard, complete with a fire pit for family and friends to gather around for relaxing, roasting marshmallows, or stargazing. Beautiful sunrises and sunsets are plentiful from this ridge top area of Meadowmont.
An entrance to the amazing Arnold Rim Trail is right at the end of the block for miles of walking/hiking with beautiful vistas. A separate nearby trail leads you on an easy 5-10 minute walk to the Cedar Center where you can enjoy a cup of cocoa in winter or a glass of wine and free outdoor music performances during summer. Town is a short one-mile drive or walk away including the grocery store, restaurants, and other amenities.
White Pines Lake is a five-minute drive away for swimming, kayaking and fishing.
A little farther down the hill takes you to the boutique shops, restaurants and wineries in downtown Murphys, and in the opposite direction up the hill you can enjoy the Alpine lakes in summer and Bear Valley skiing and snow play in winter.
2 Night minimum stay; 3-4 night minimum during certain holidays. Must be 25 years old to rent.
RENTAL CONTRACT AND COPY OF DRIVERS LICENSE REQUIRED ONCE RESERVATION IS MADE AND ACCEPTED.
THIS IS NOT A PET FRIENDLY CABIN. We expect all guests to honor the owner's policy. If a pet is brought to a non-pet friendly cabin, there will be a $1,000 fee charged.
Features
Amenities
wi-fi
Board Games & Puzzles
DVD Player
Television
Coffee Maker
Coffee Grinder
Microwave
Oven
Refrigerator
Stove
Toaster
Utensils
Cookware
Dishes, Glassware
Full Kitchen
Large Roasting Pan
Baking Sheets / Pans
Large Mixing Bowls
Waffle Iron
Photos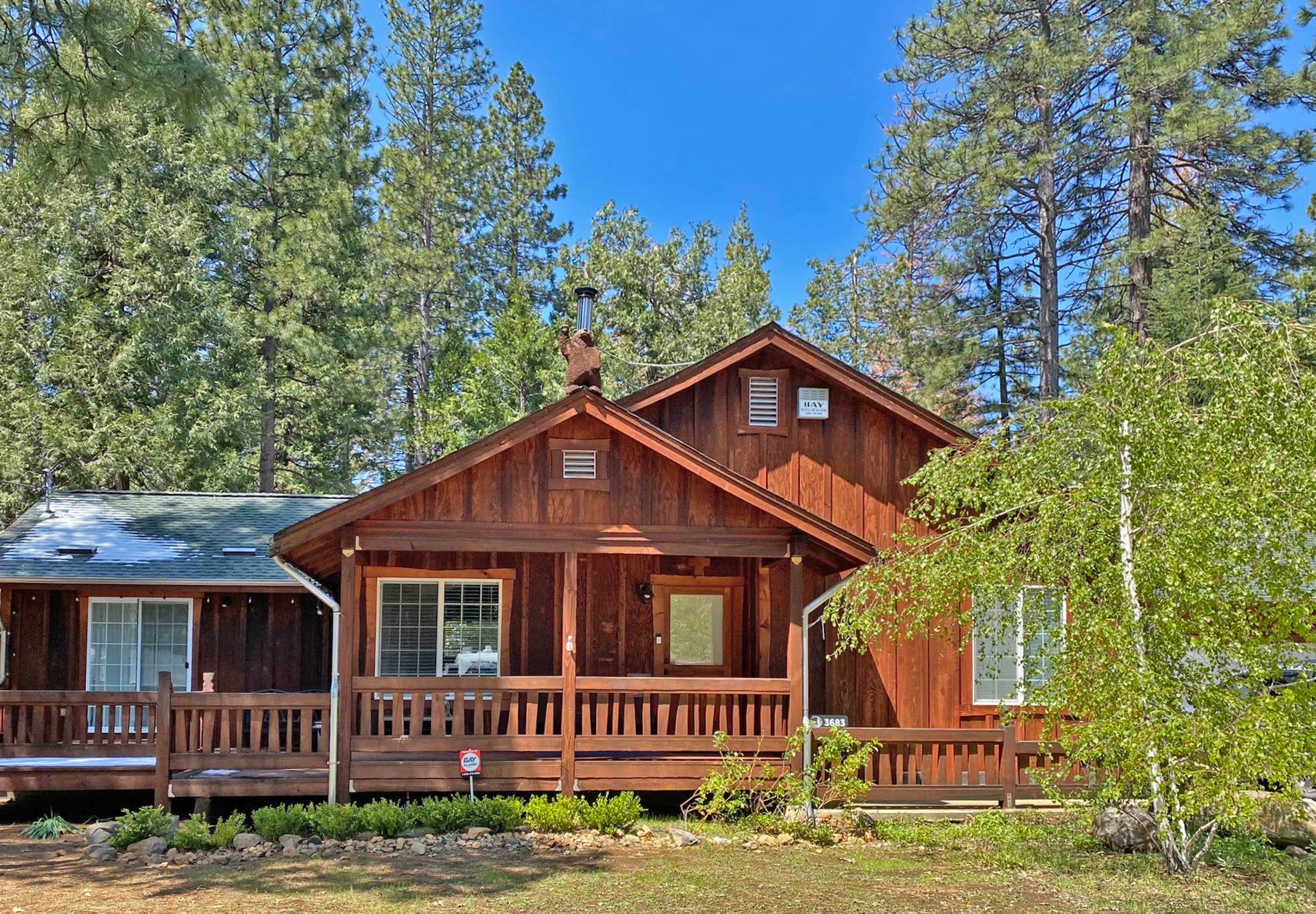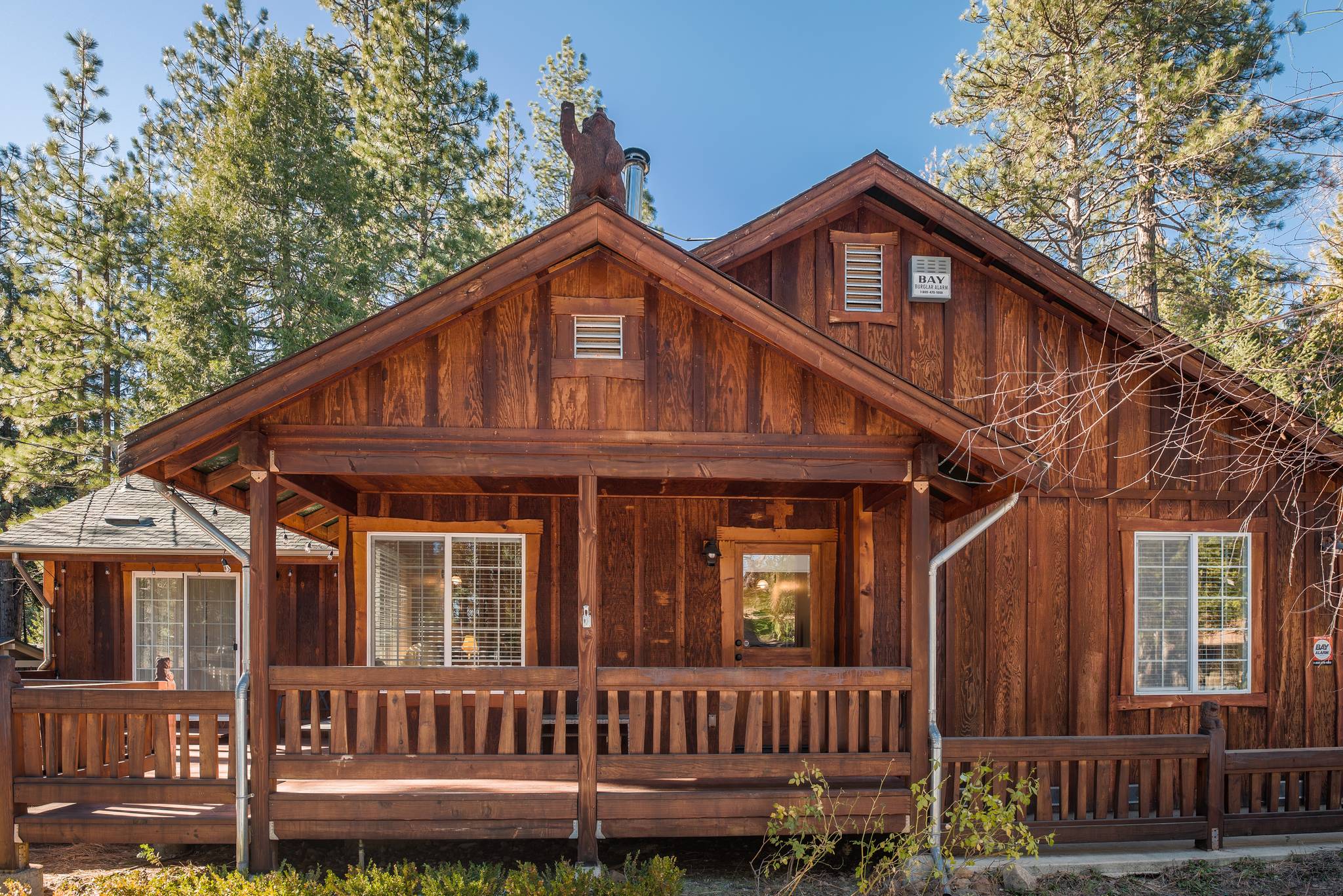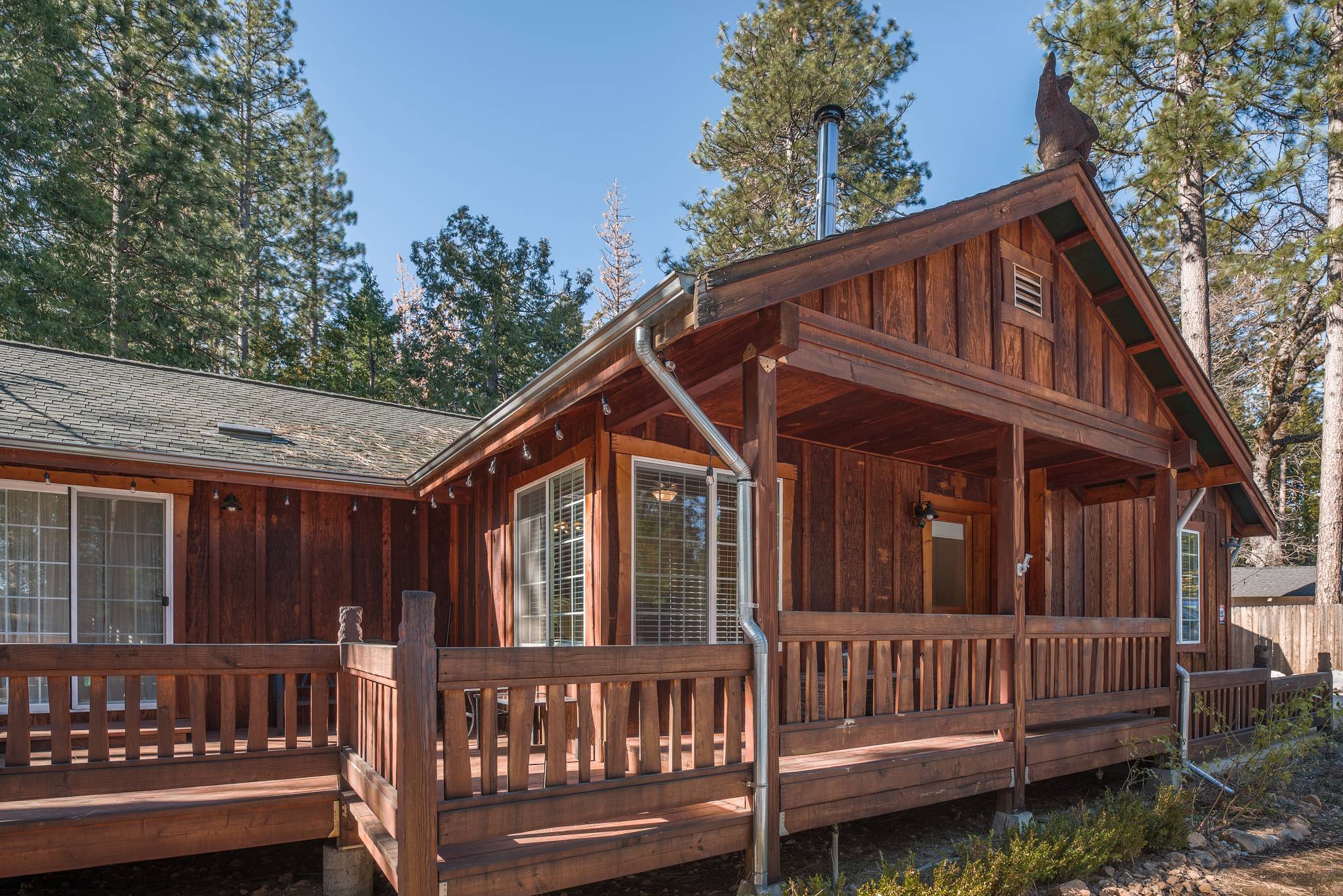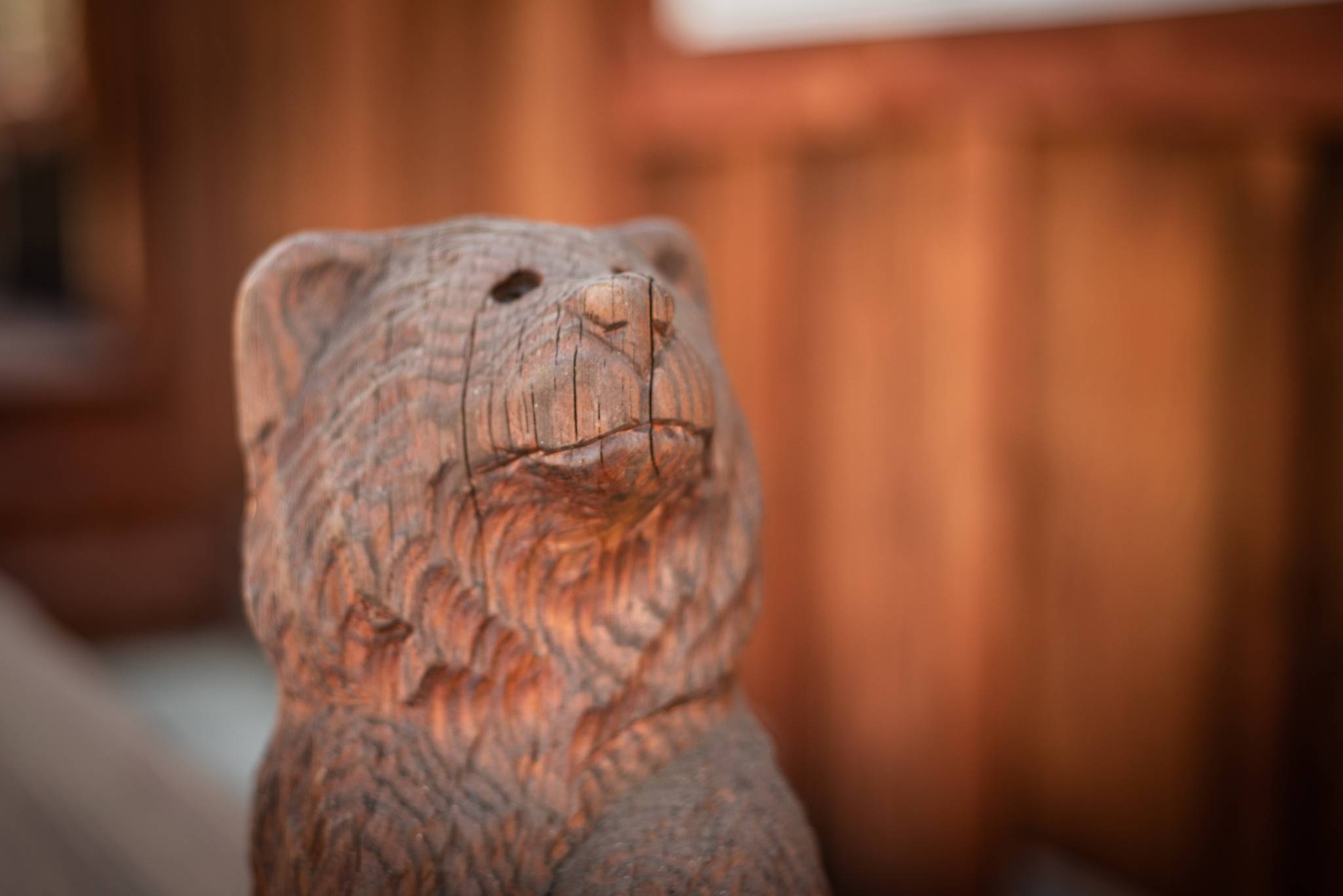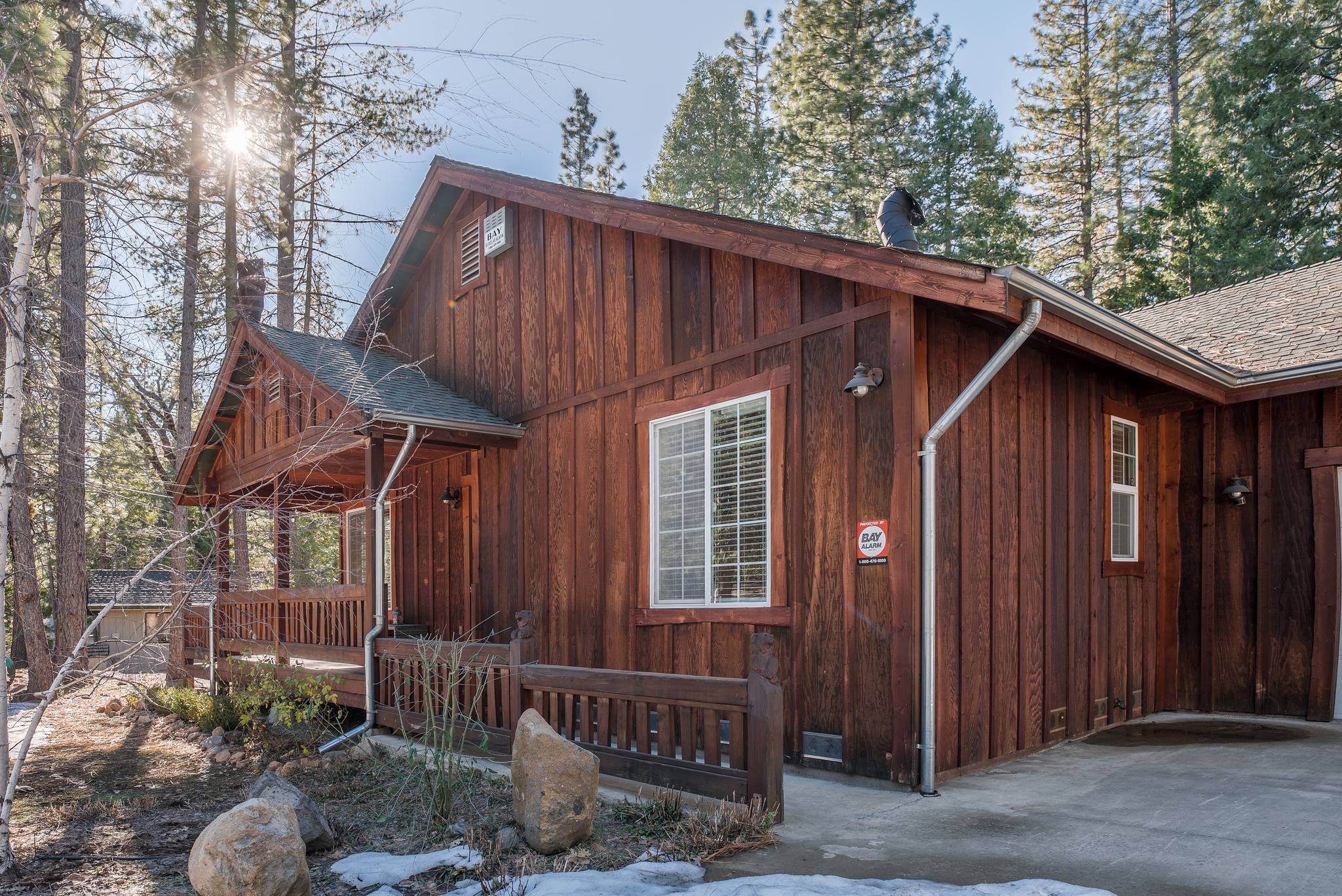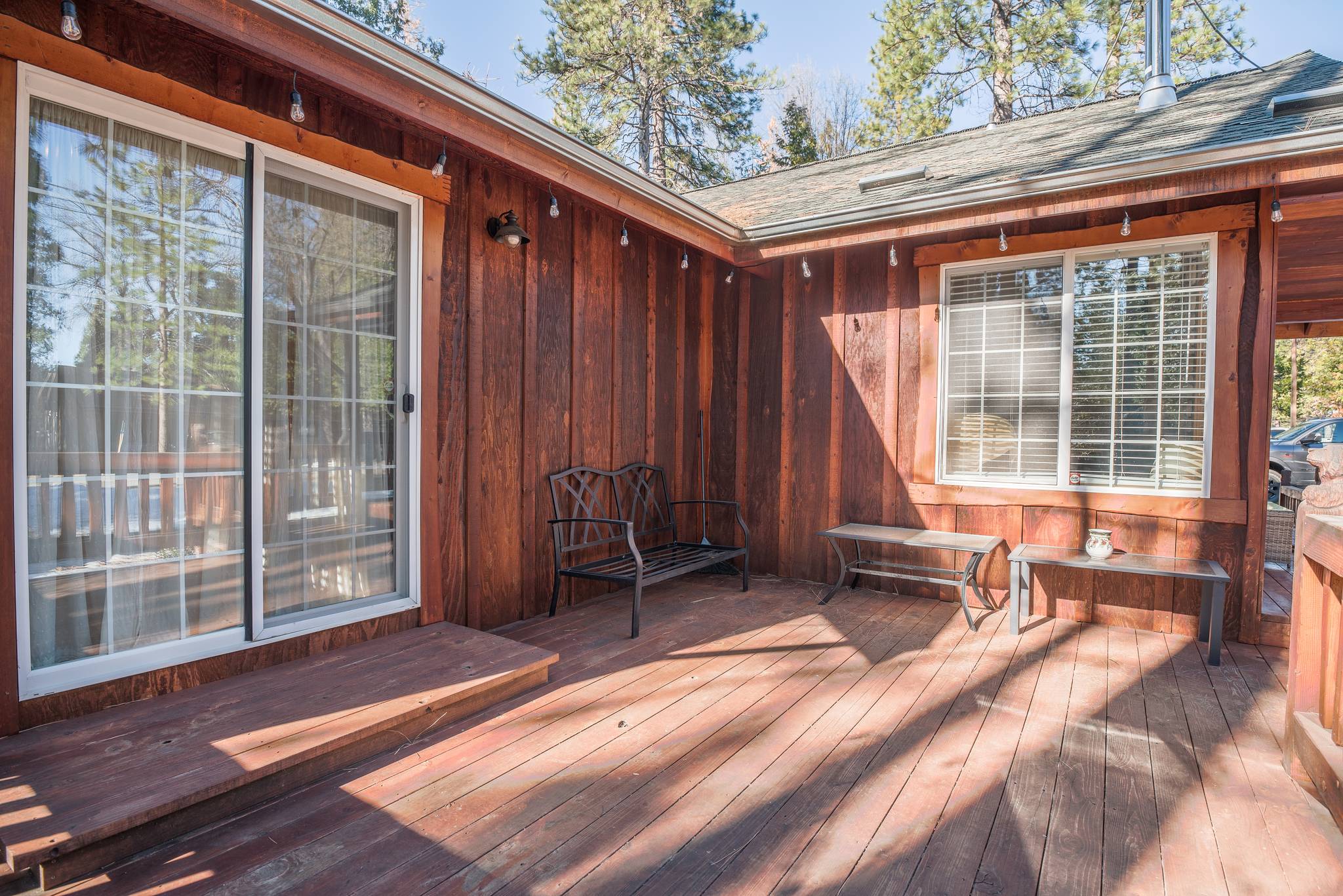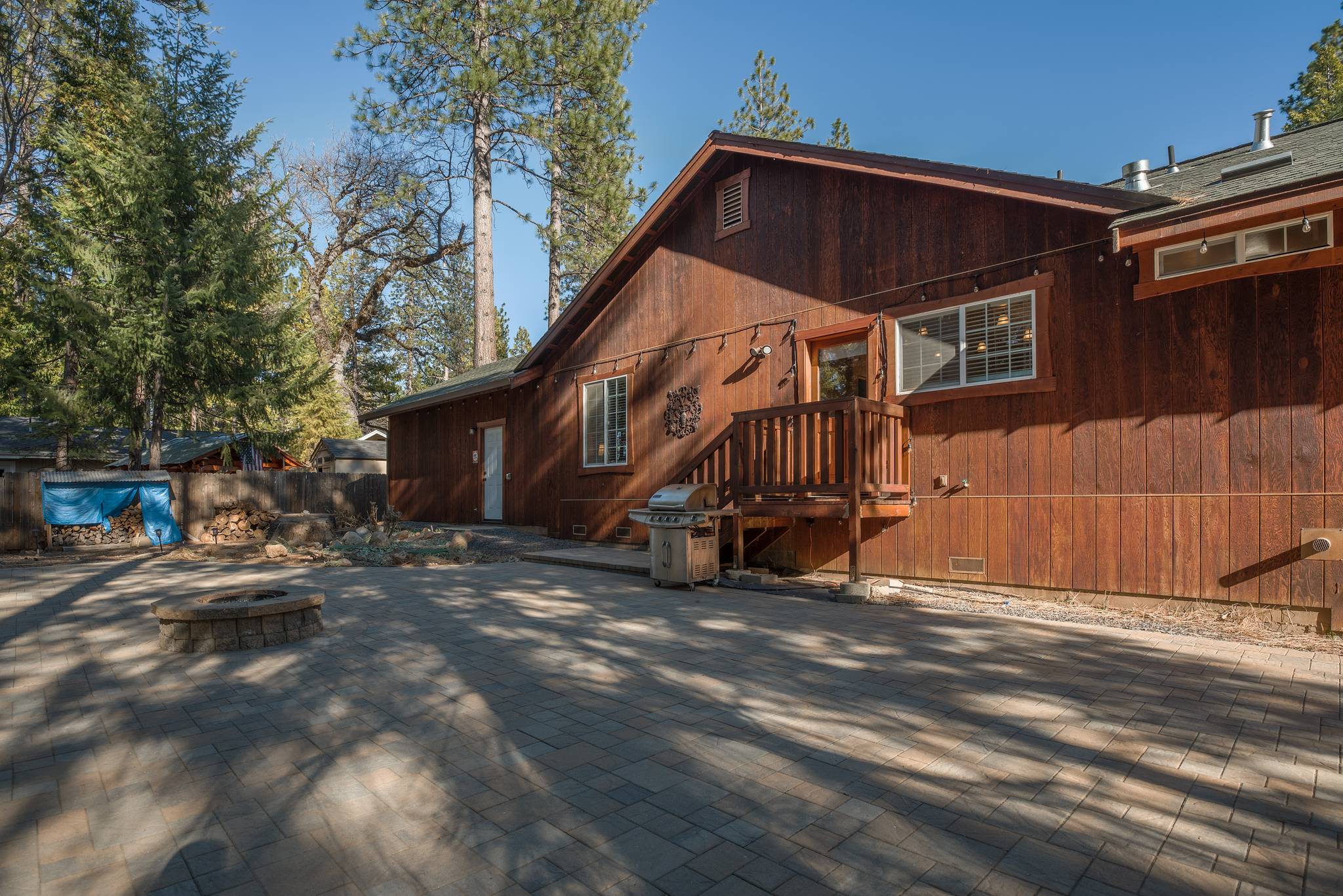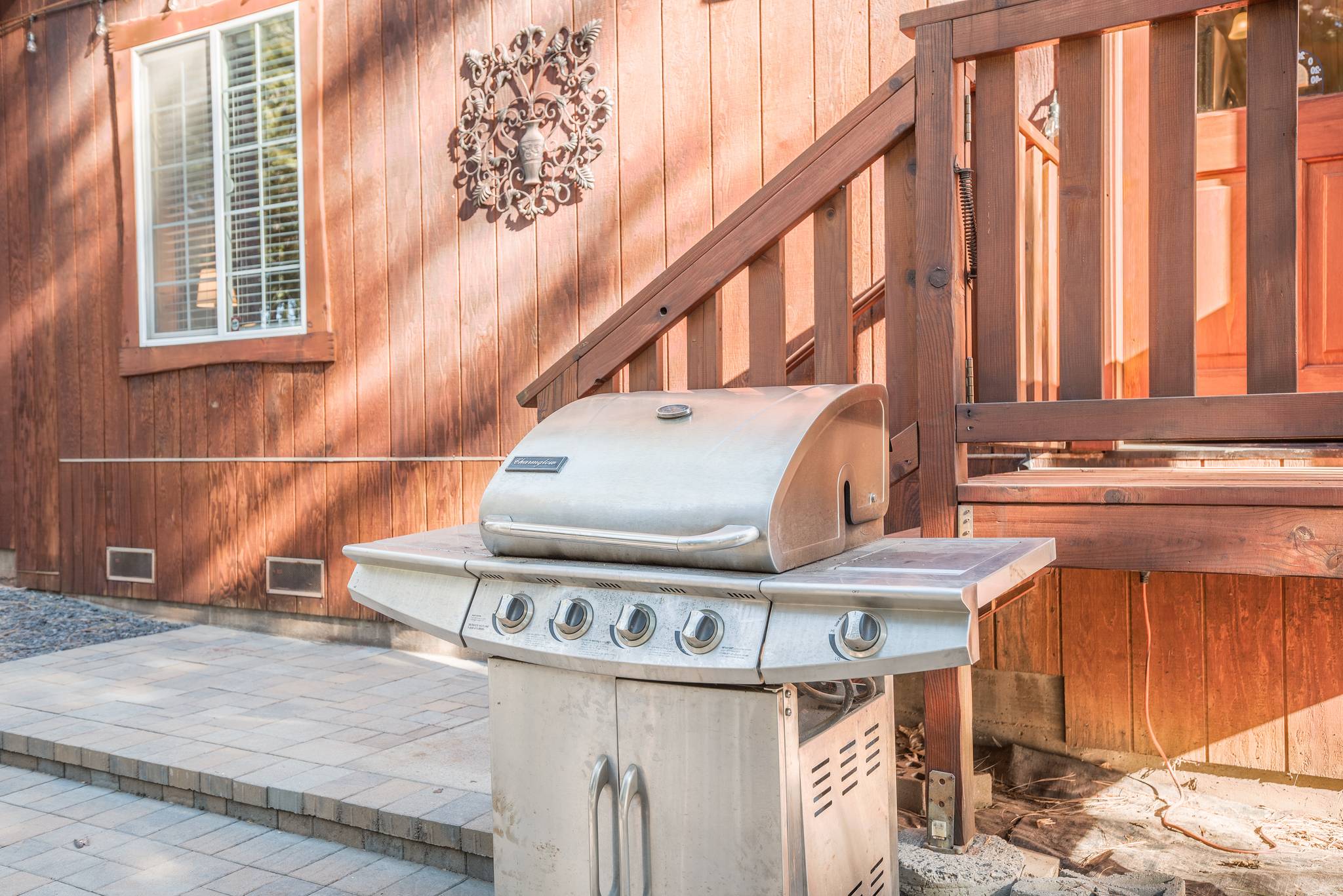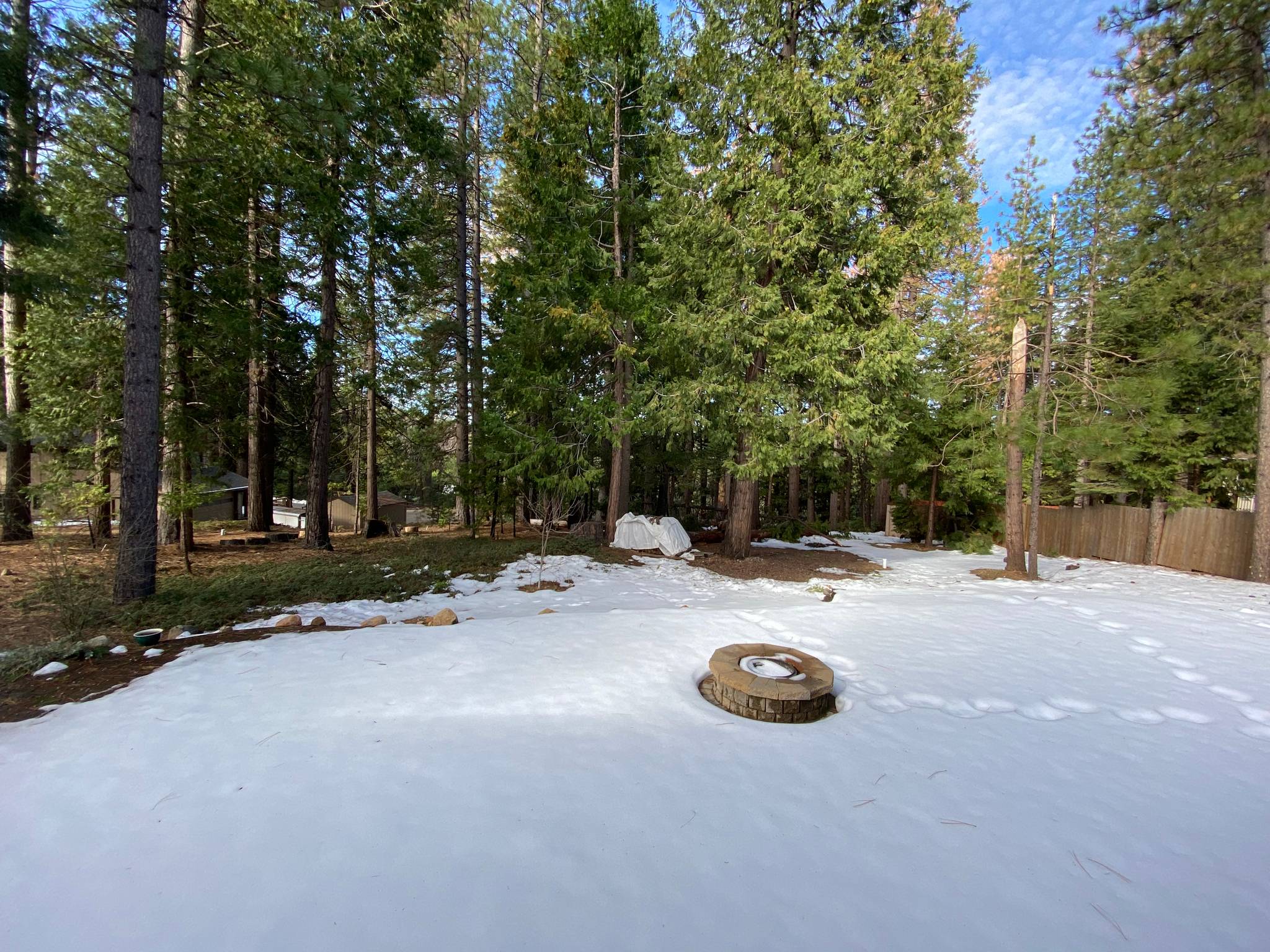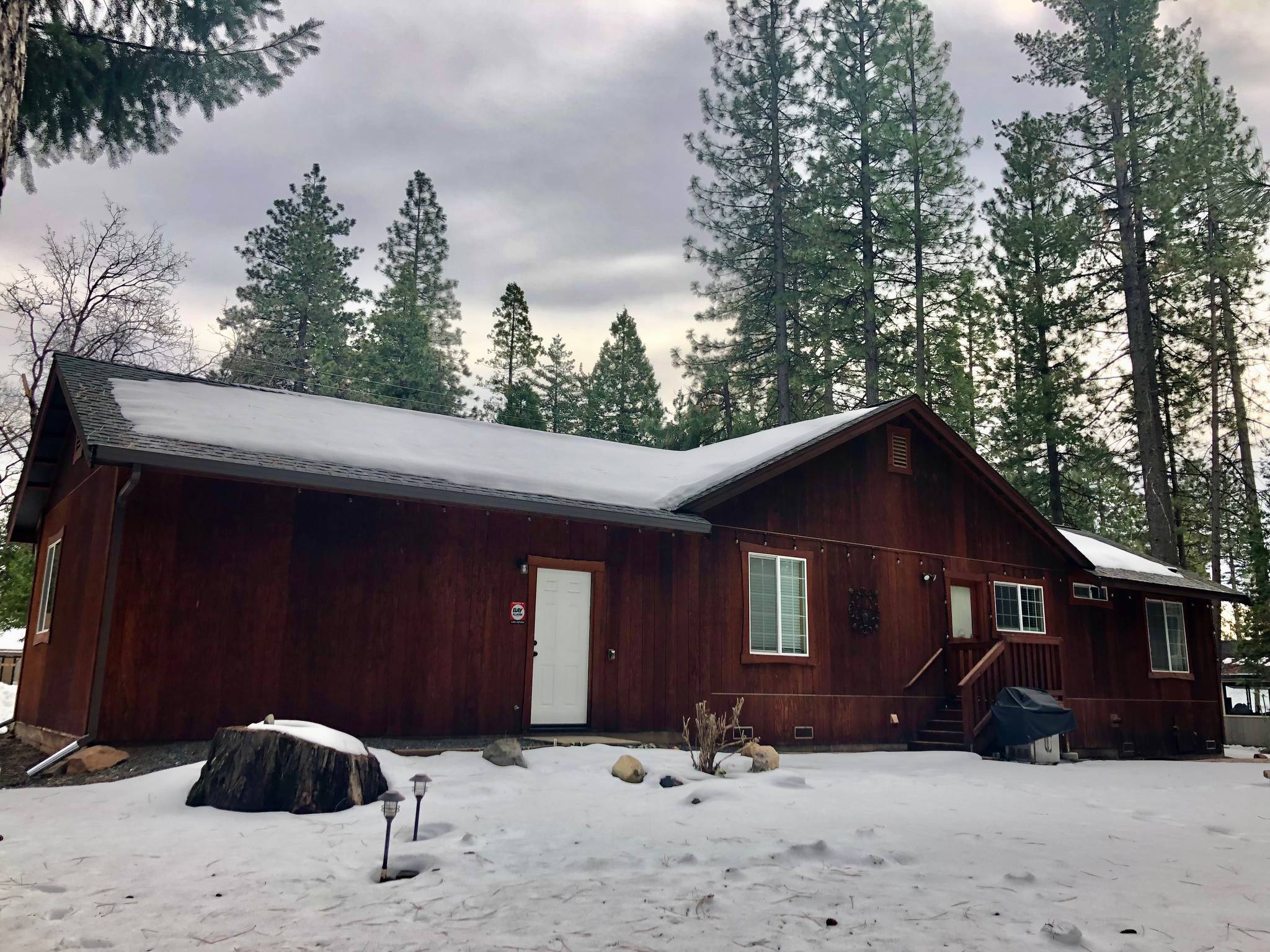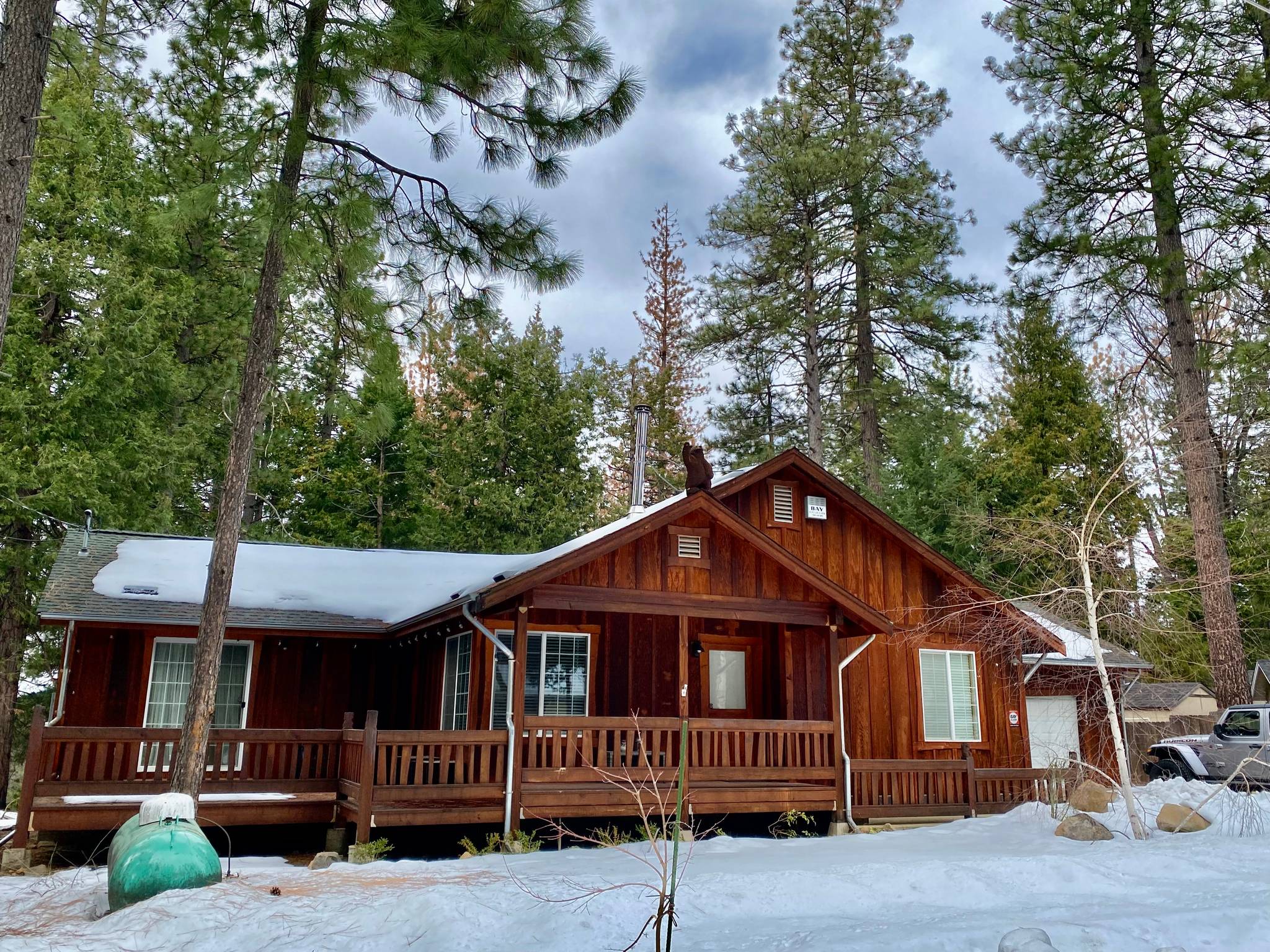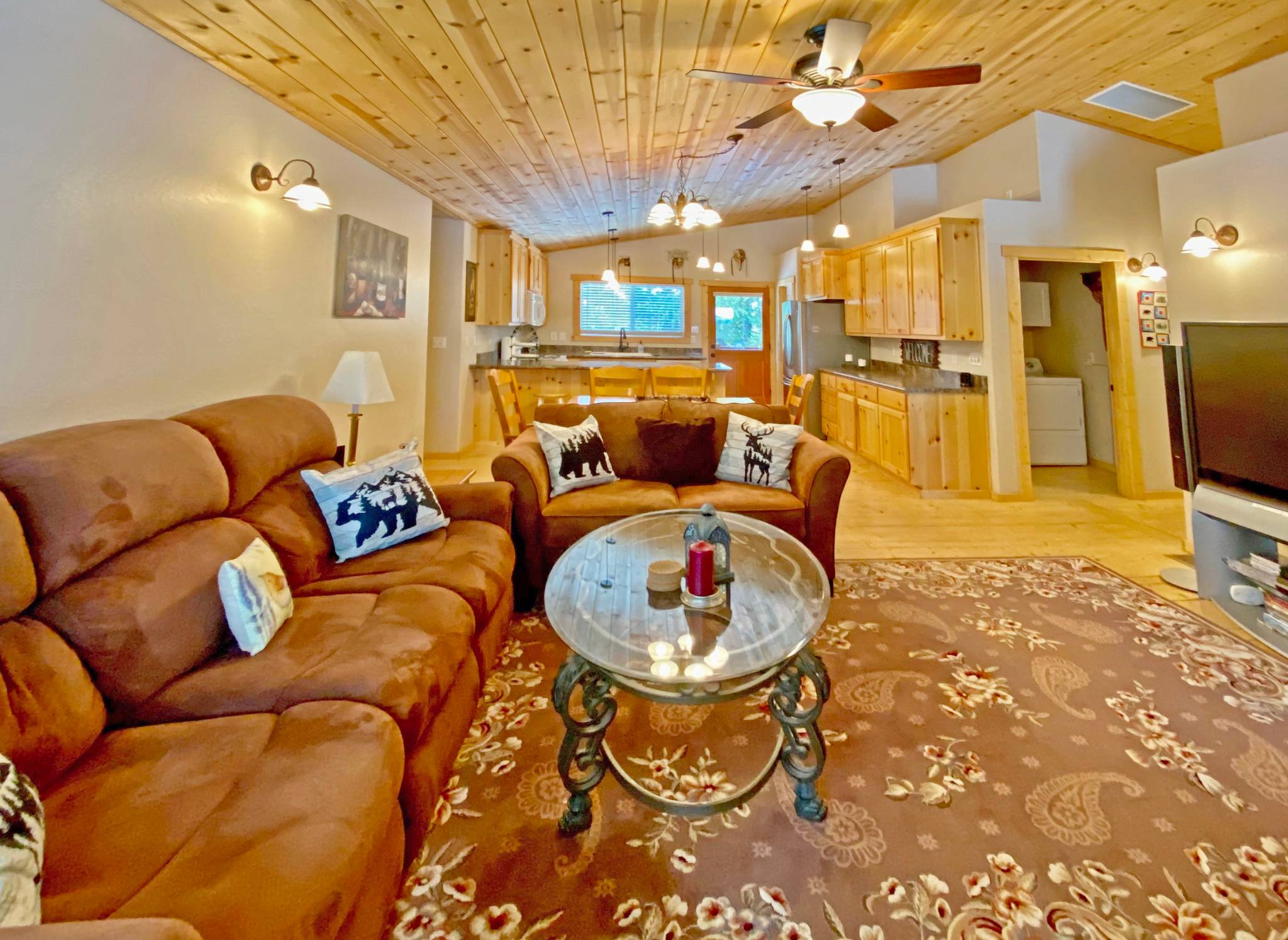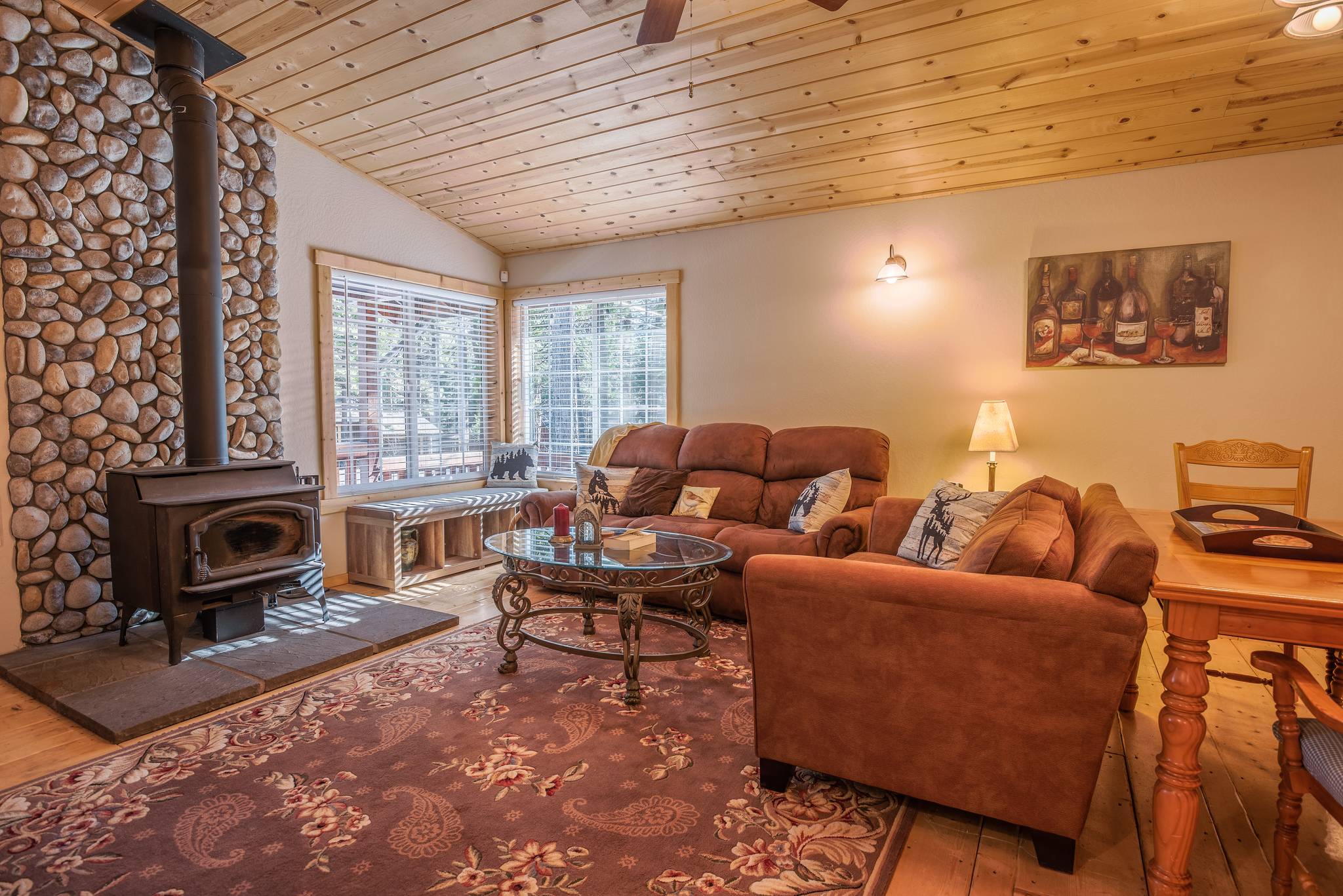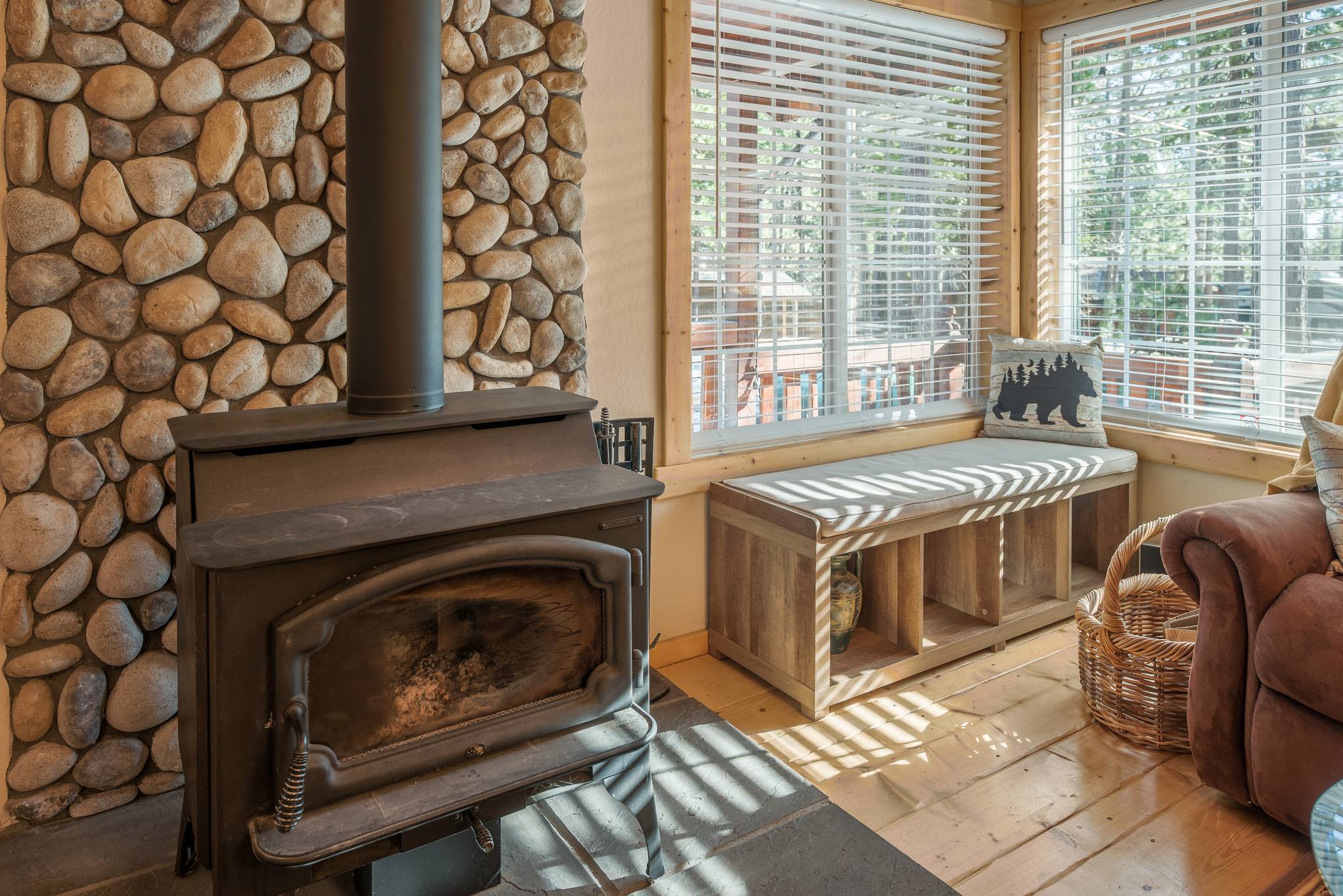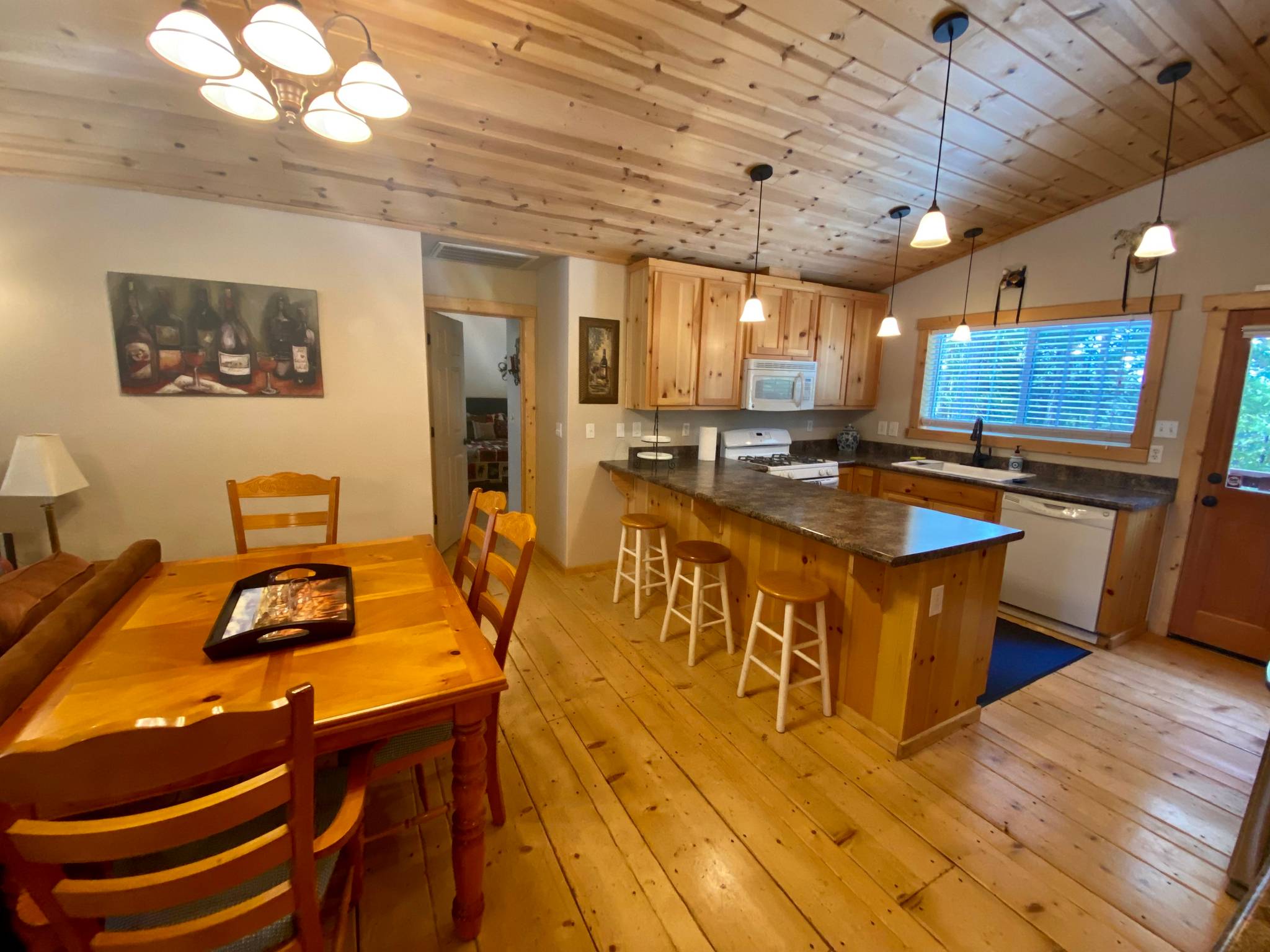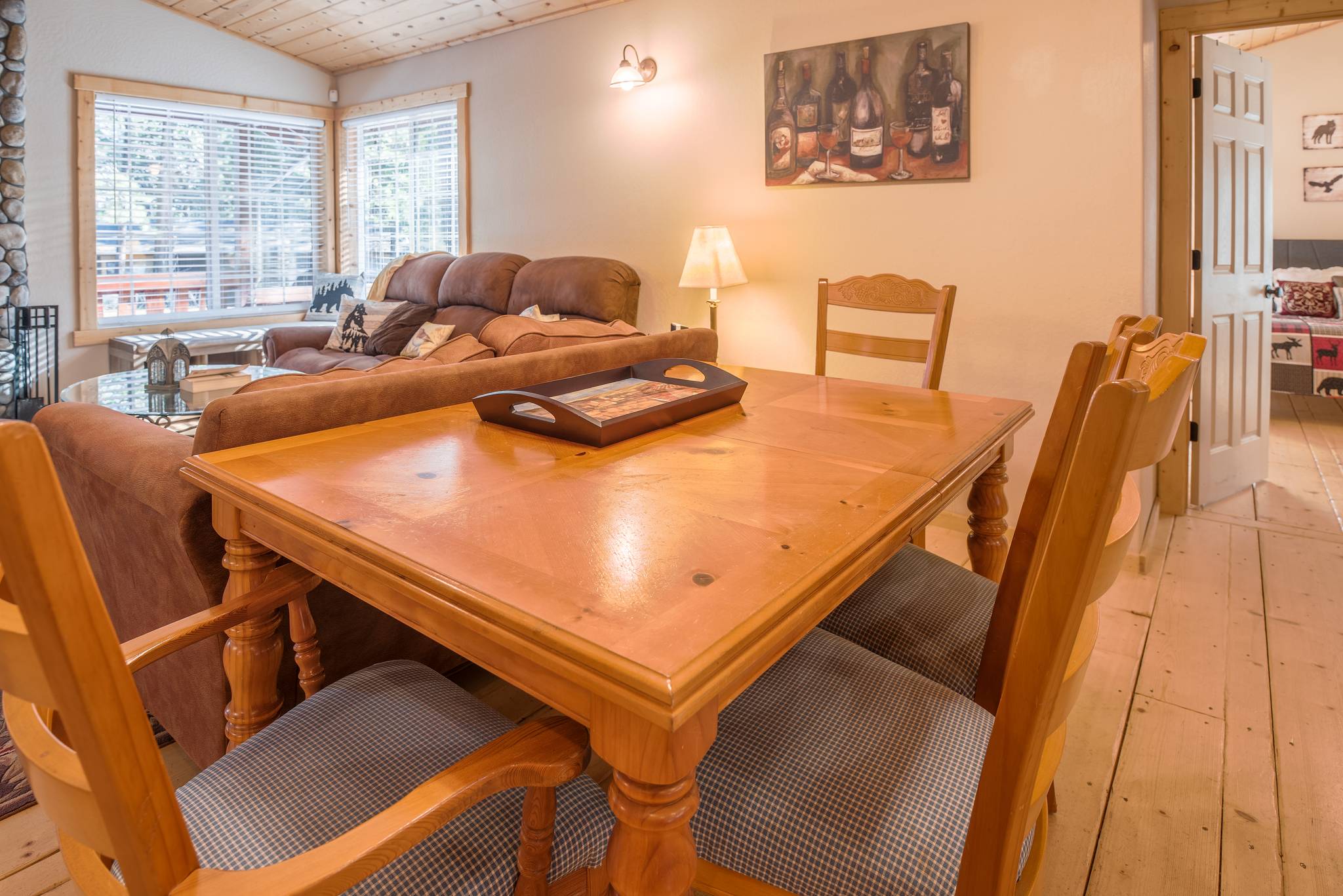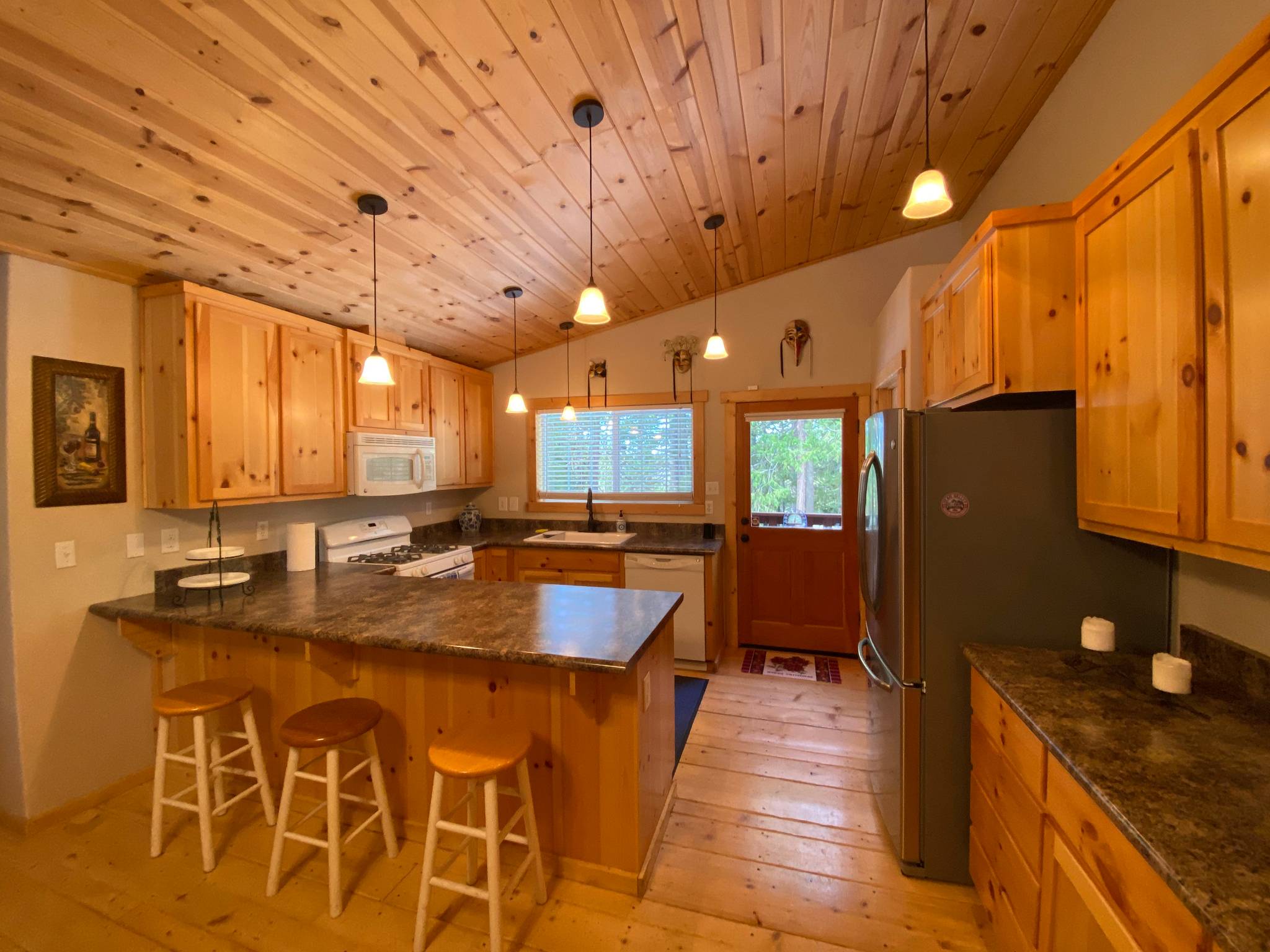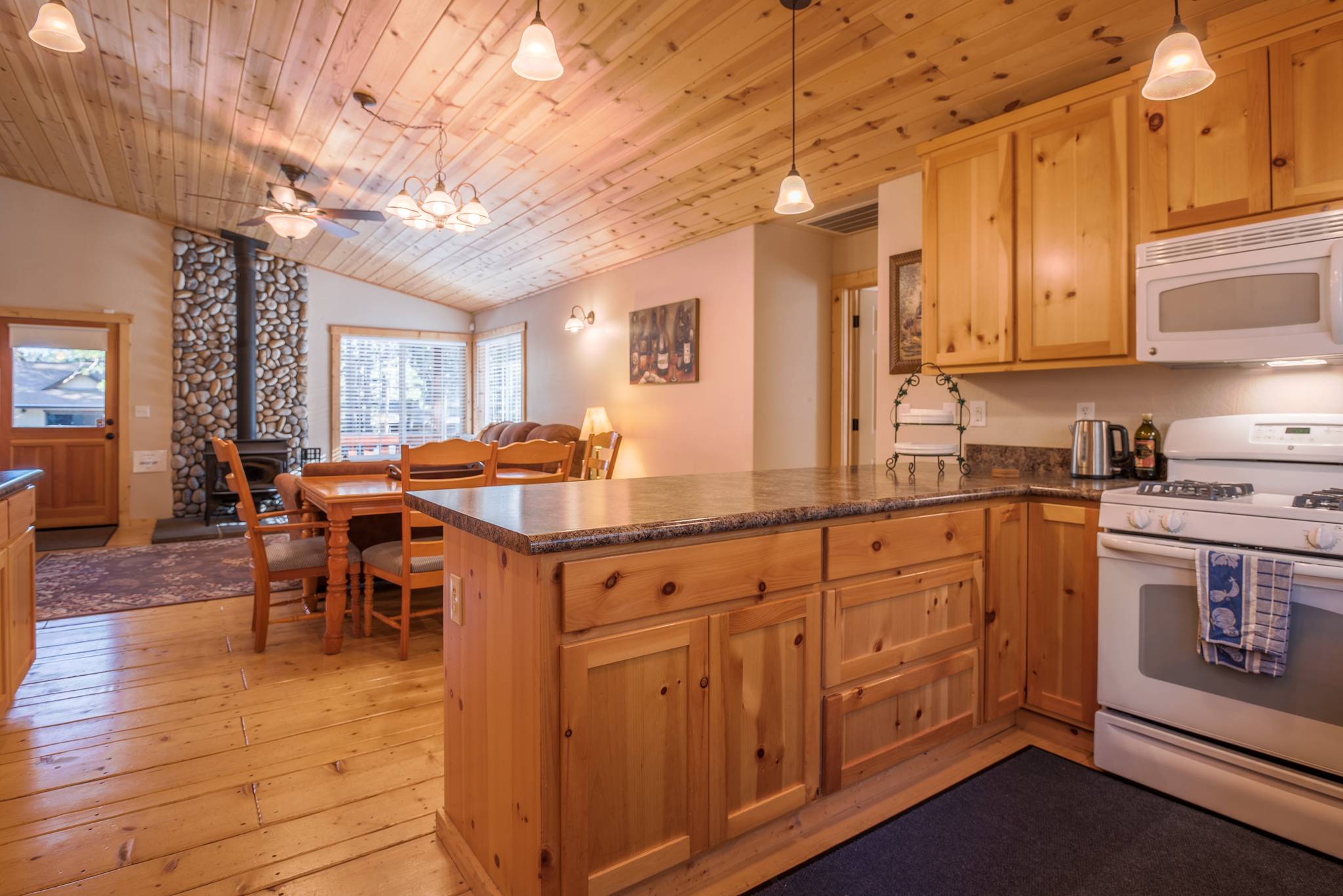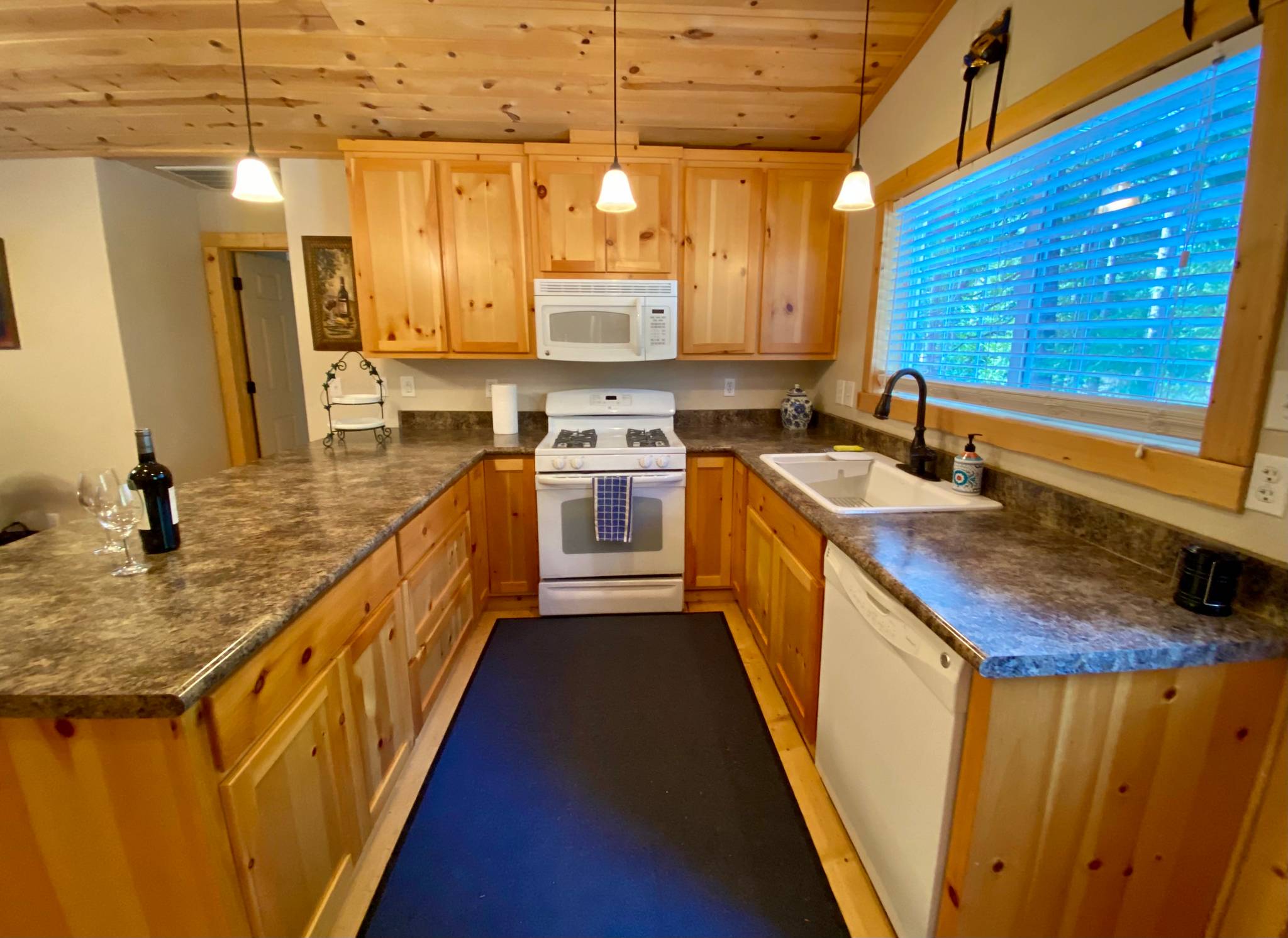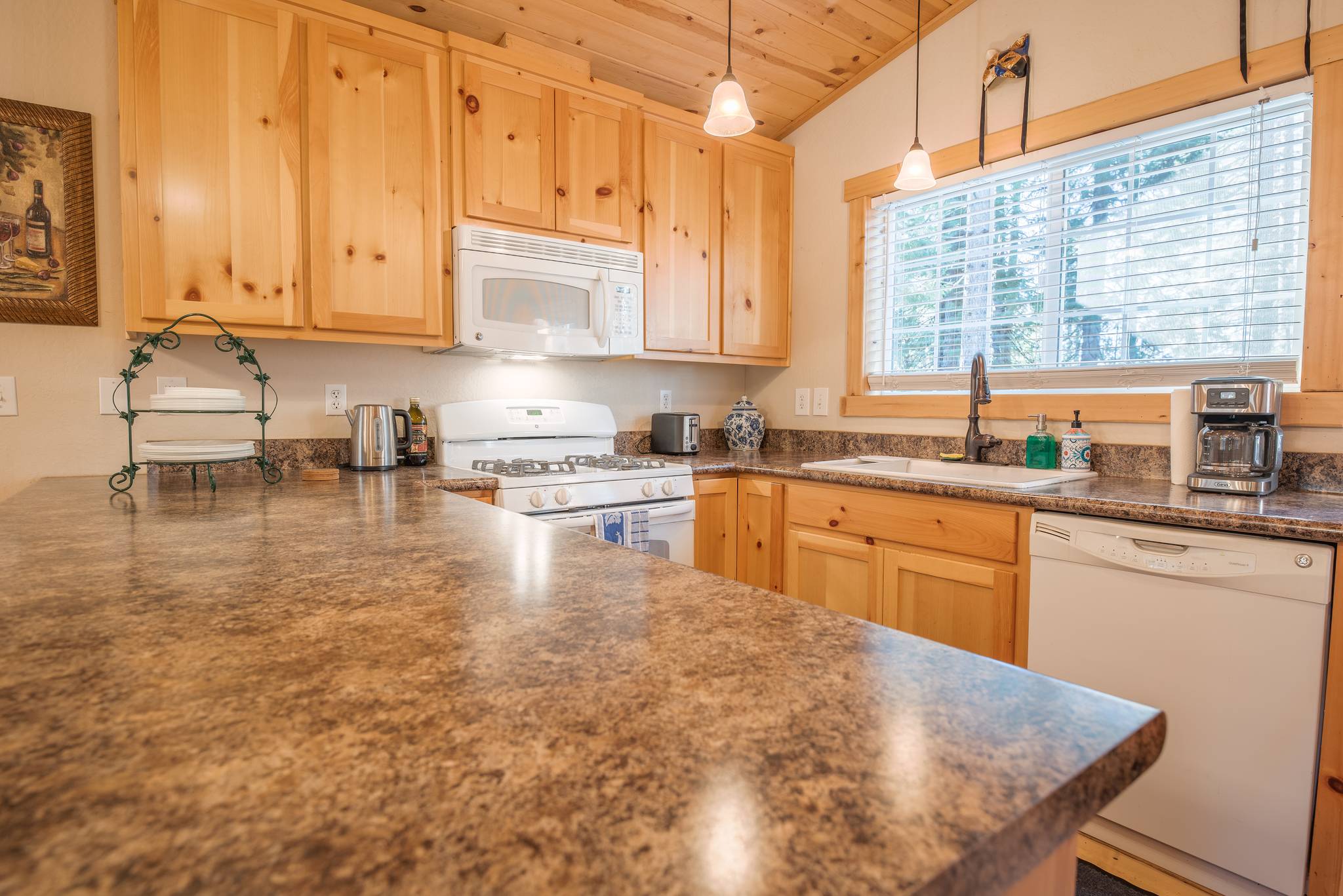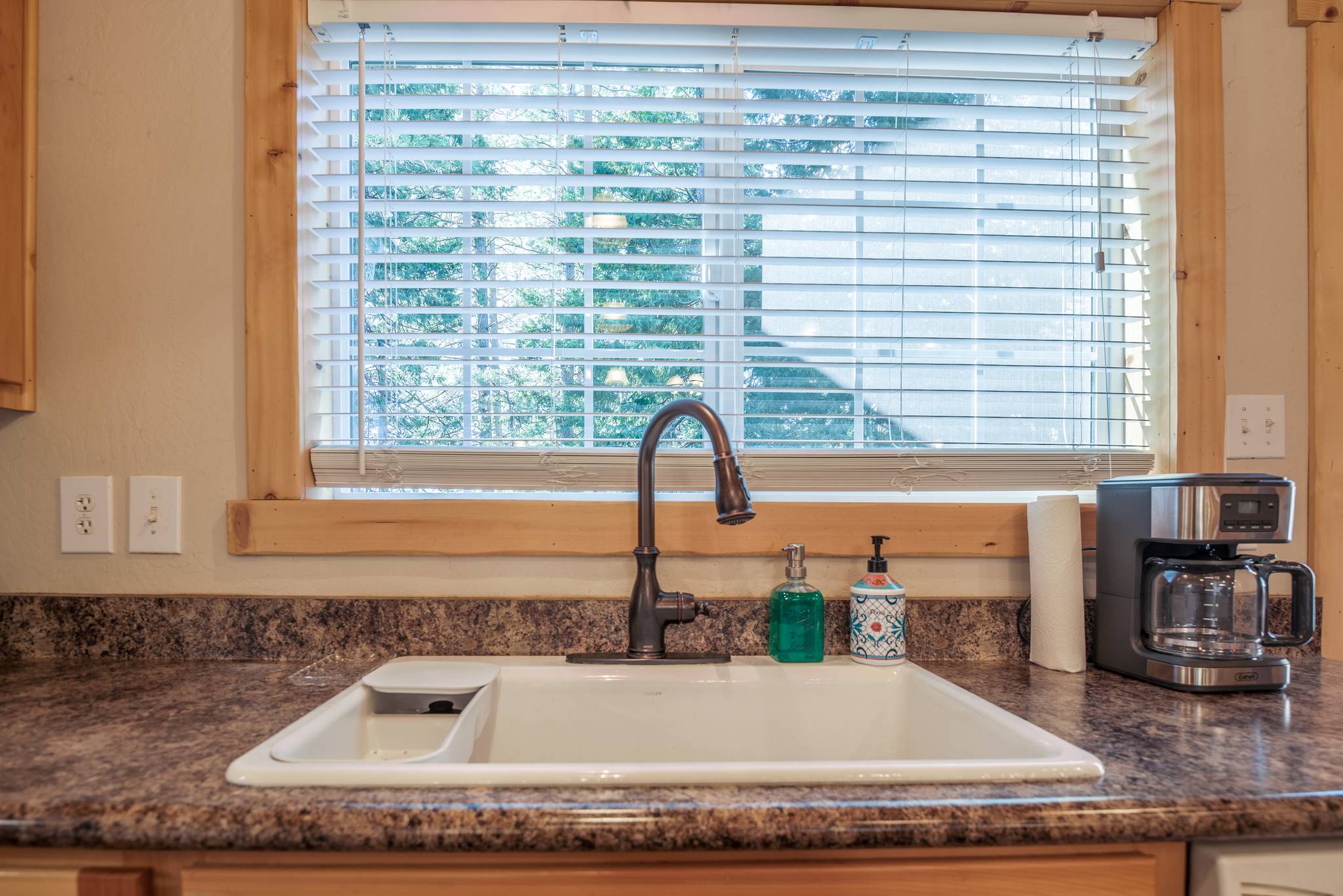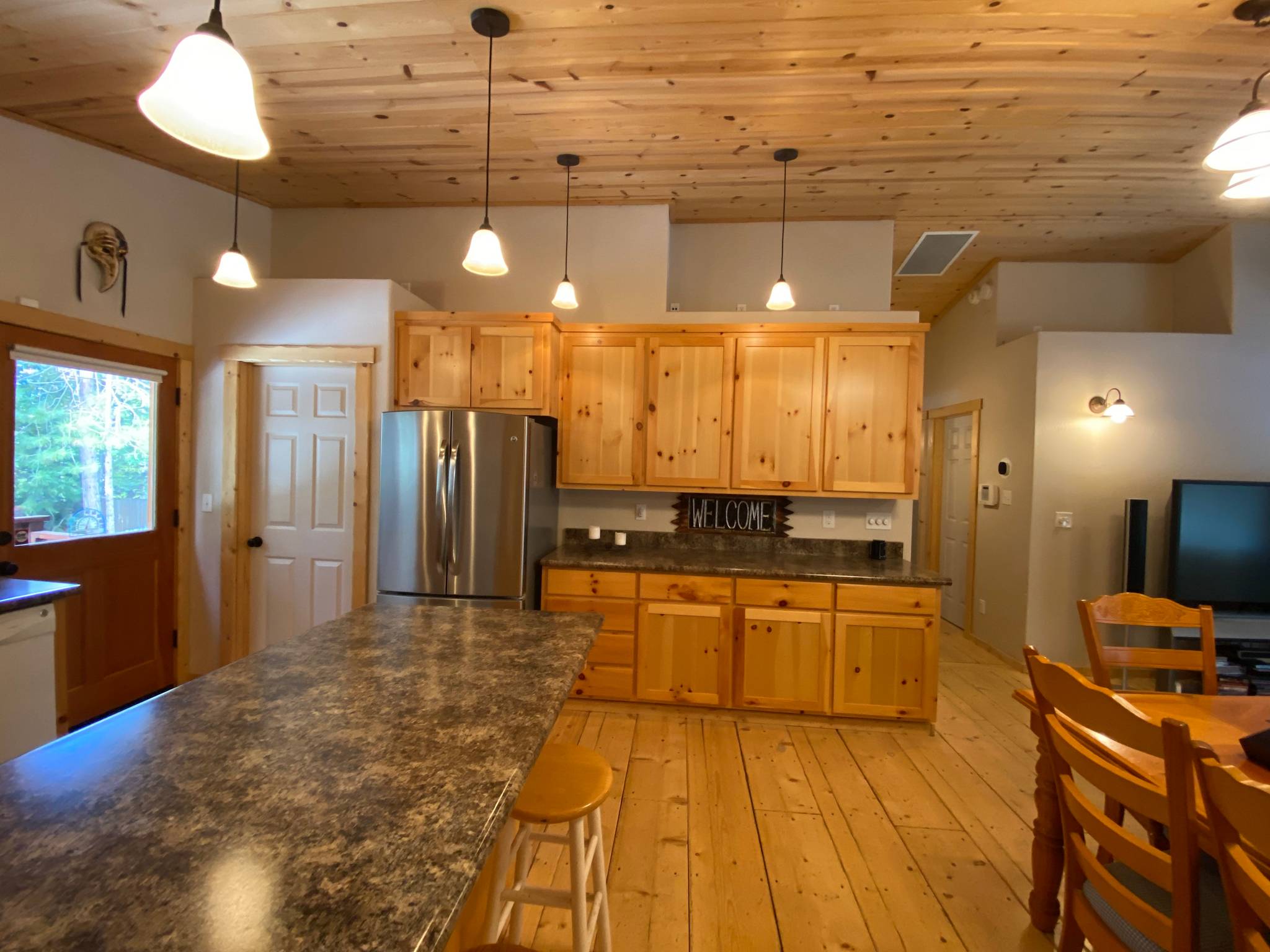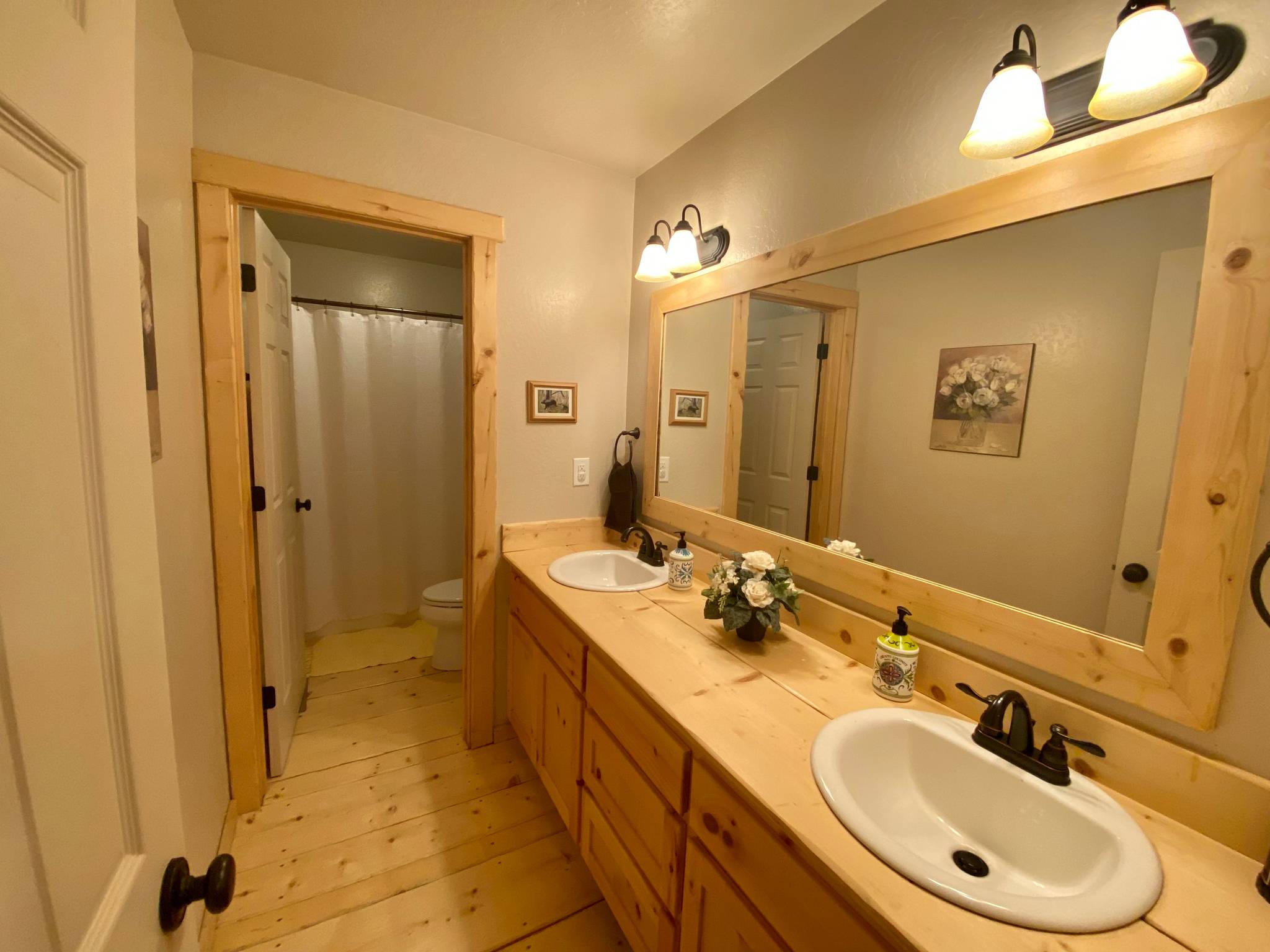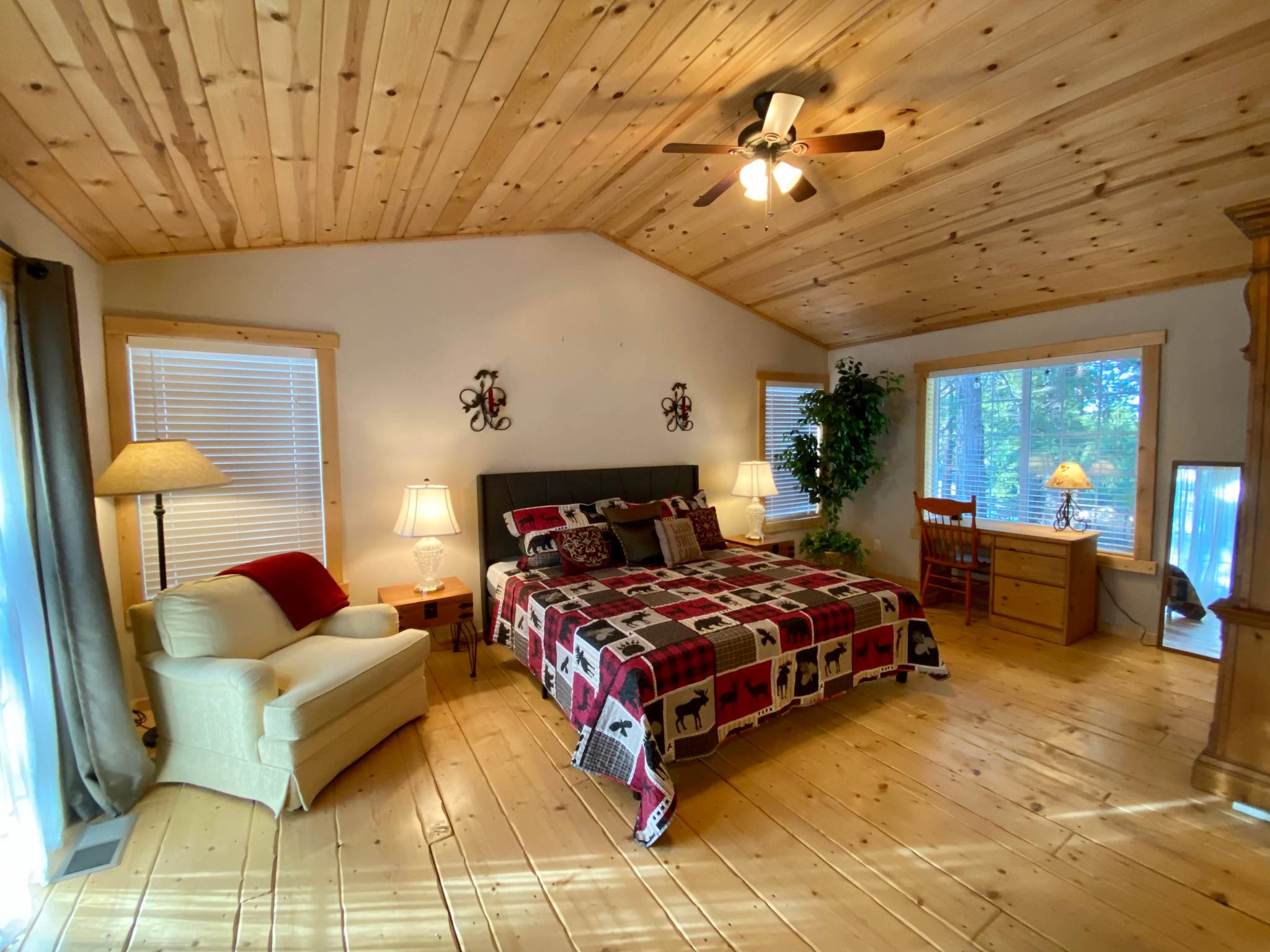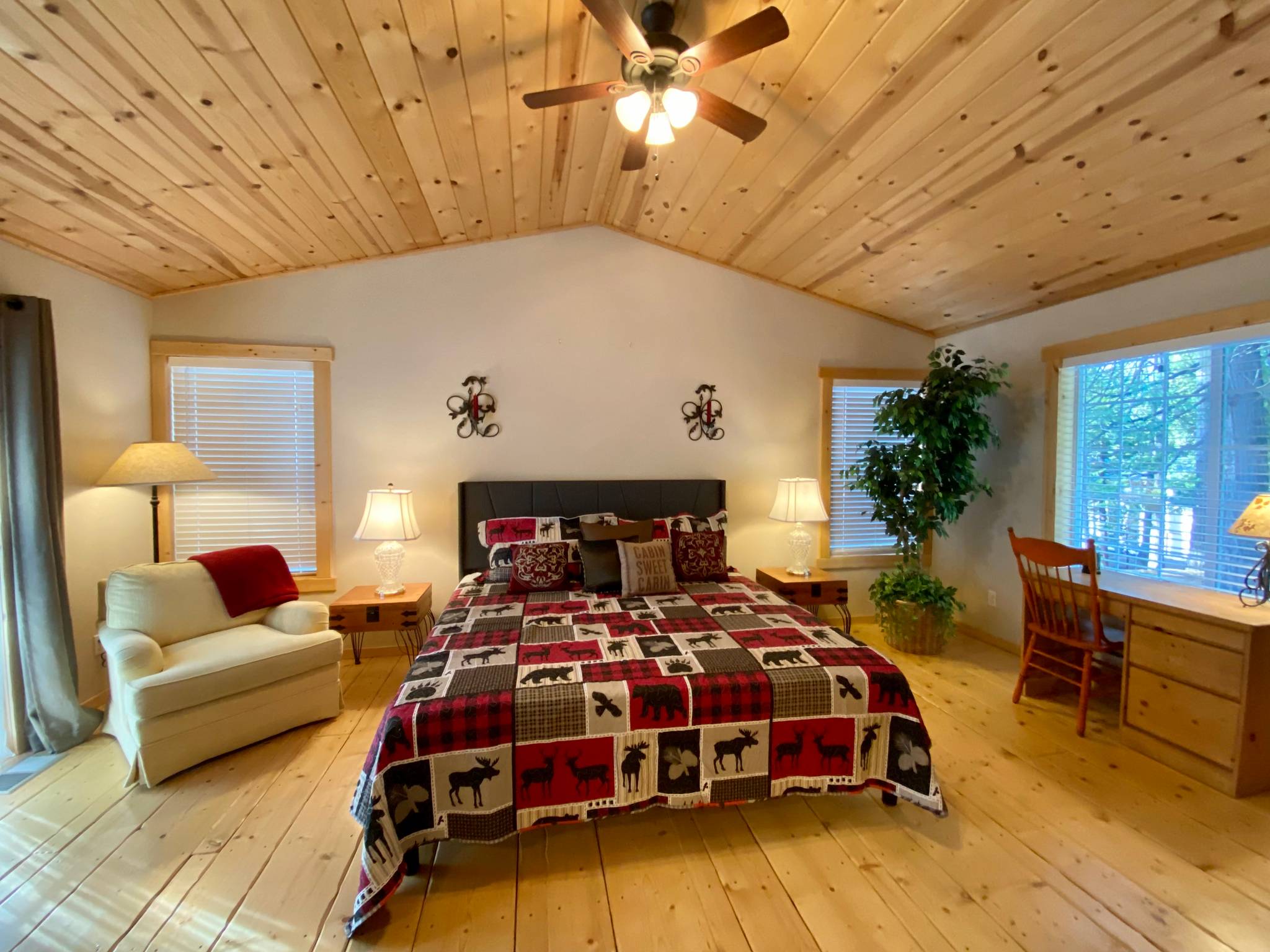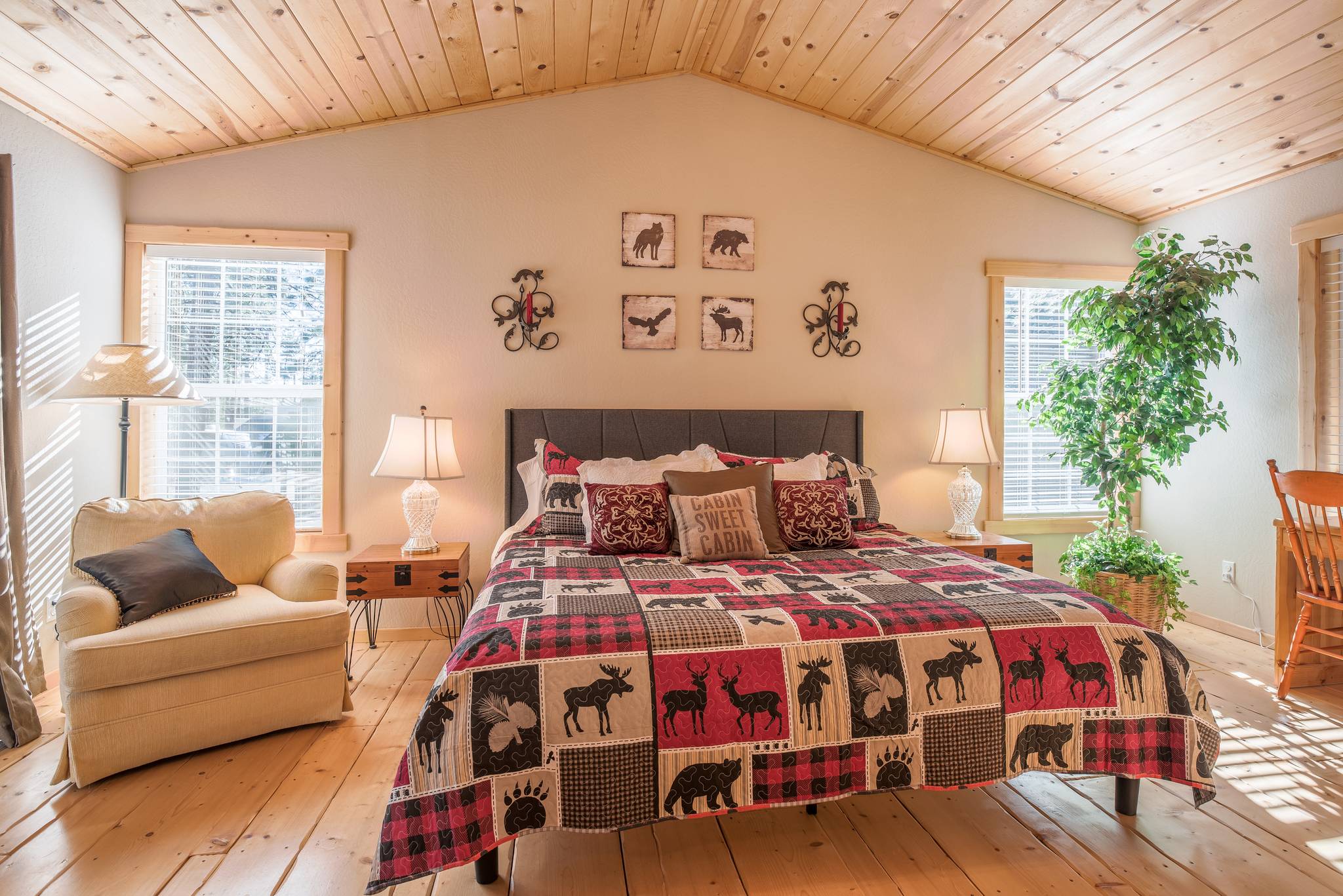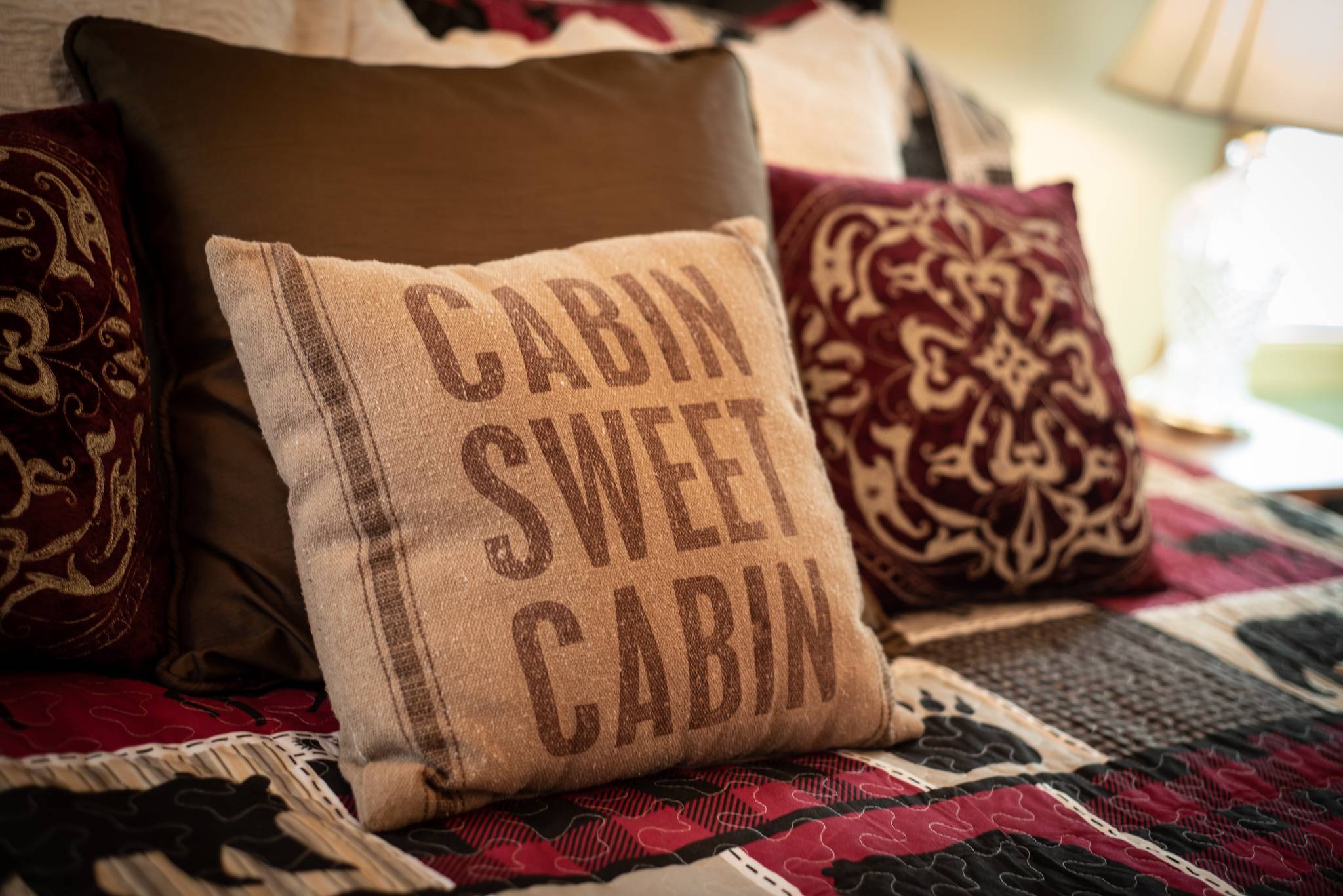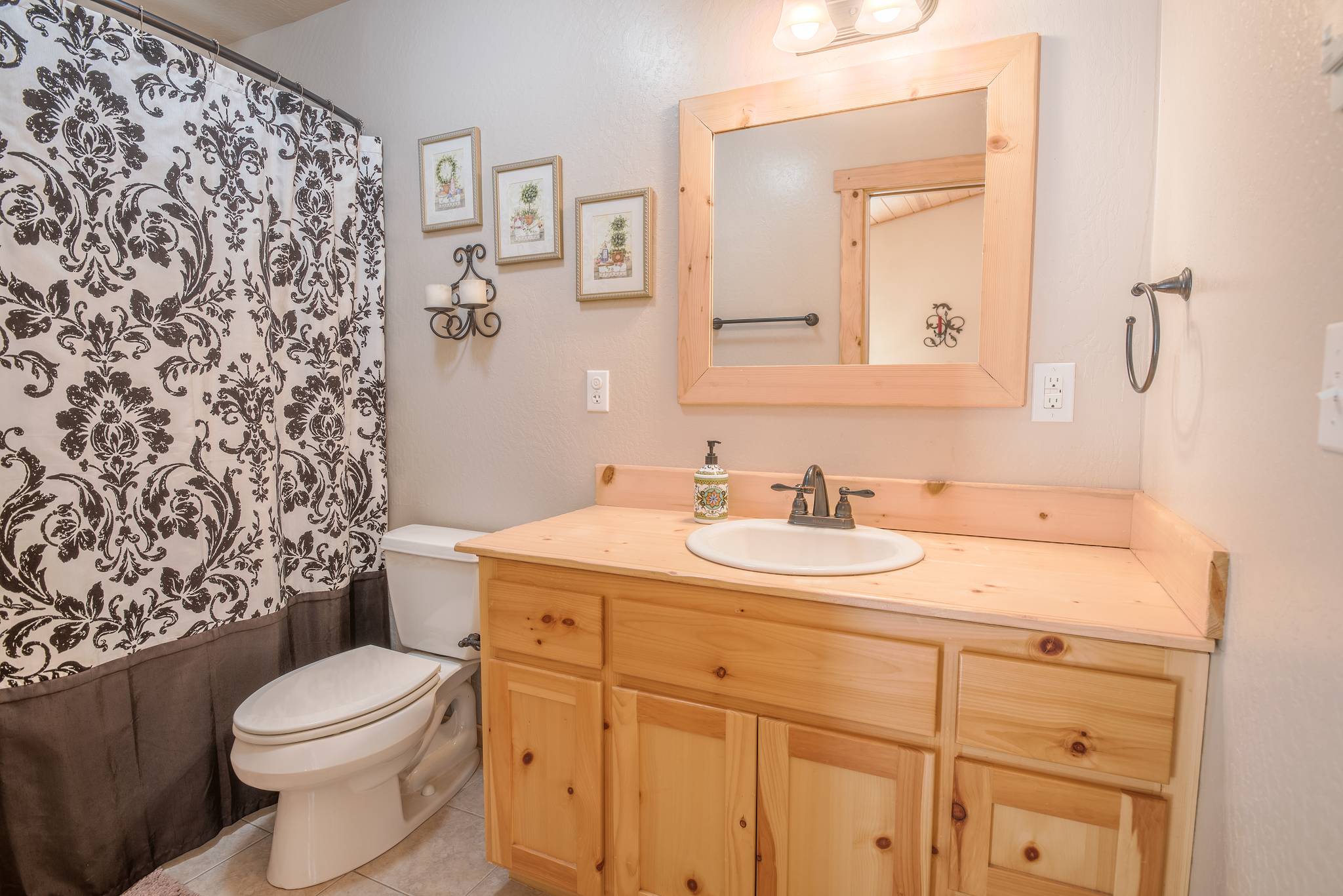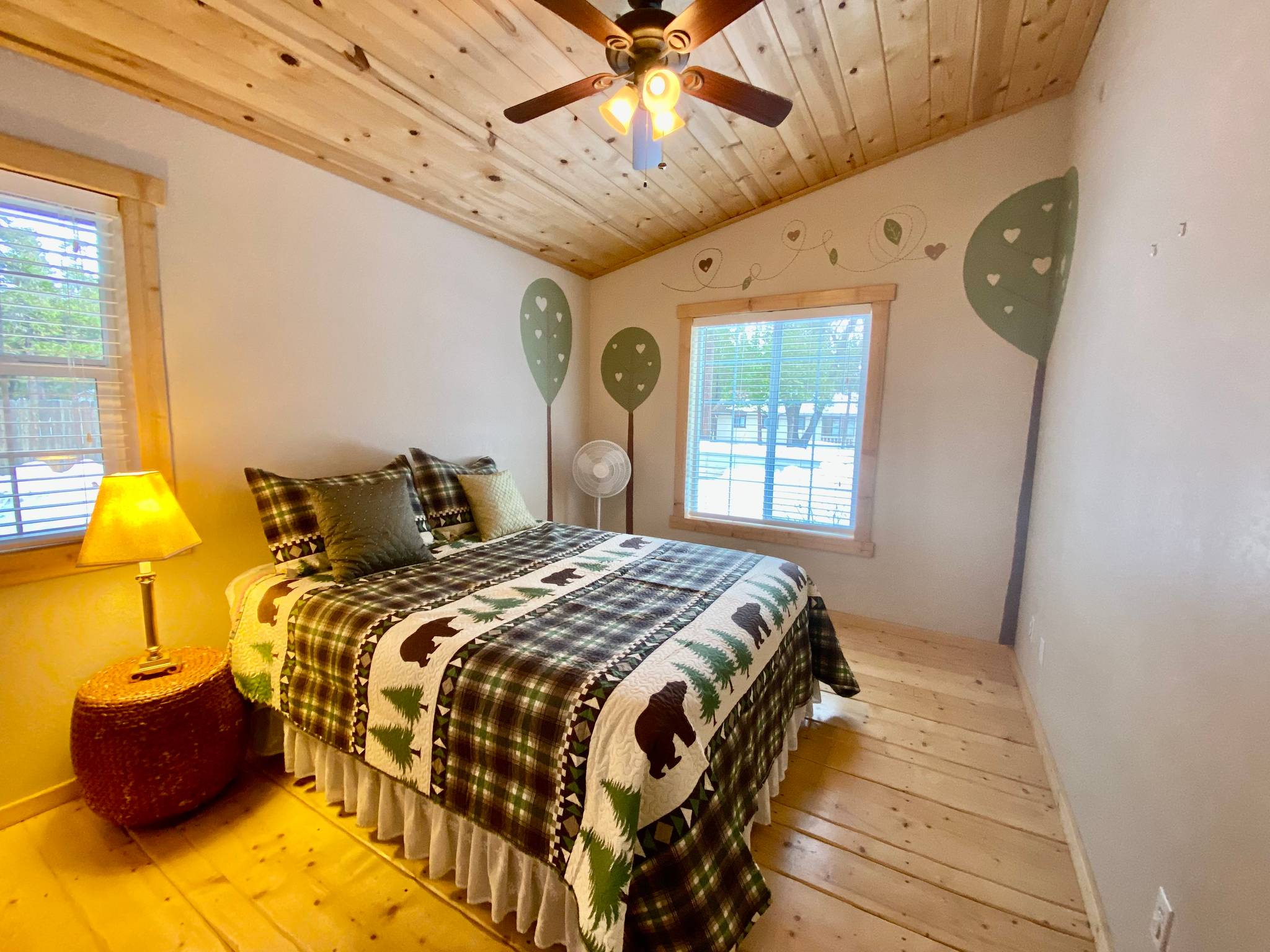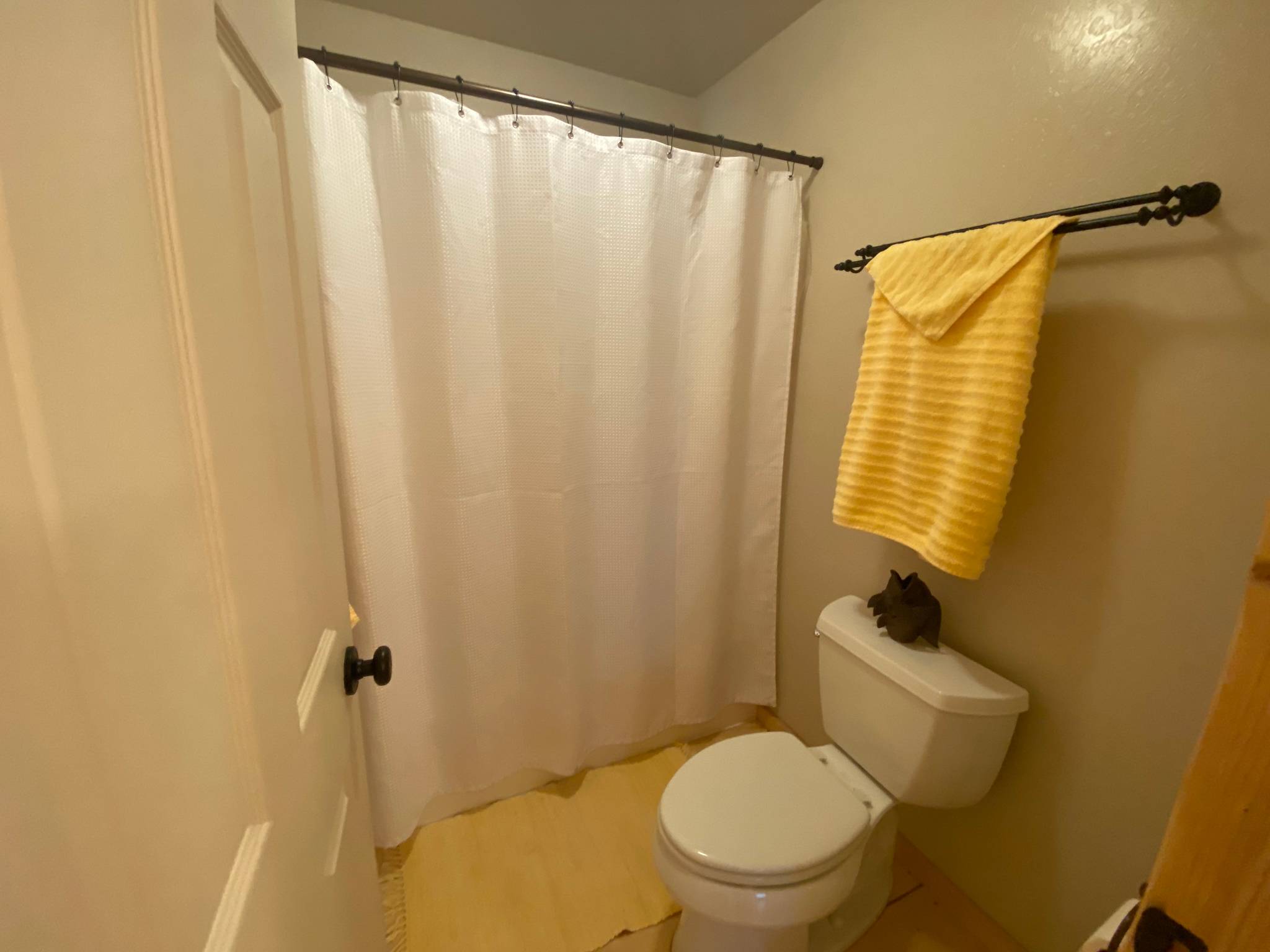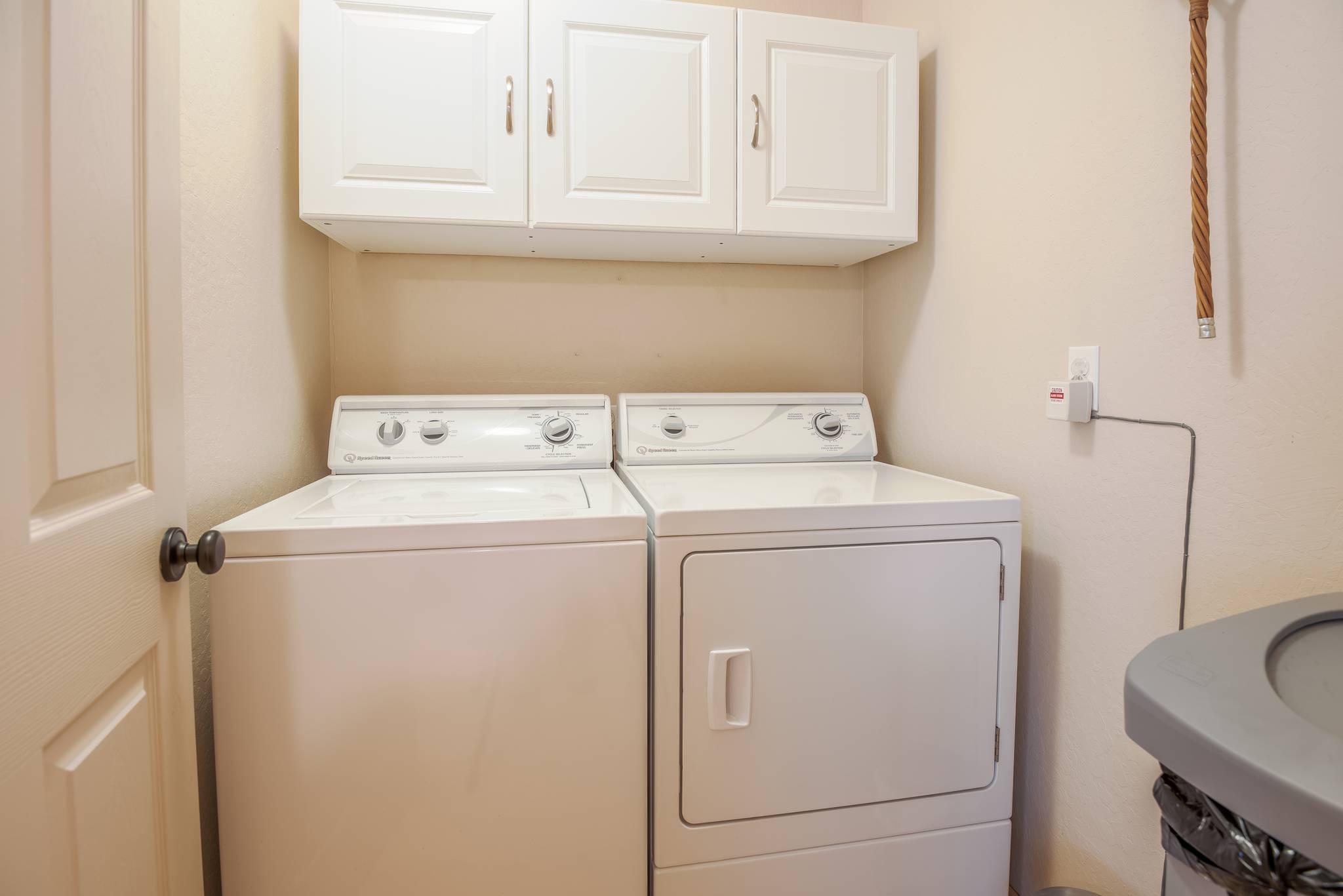 Availability
Key

| | | | | | | | |
| --- | --- | --- | --- | --- | --- | --- | --- |
| # | Night Available | # | Night Unavailable | # | Arrive Only | # | Depart Only |
May 2022
Su
Mo
Tu
We
Th
Fr
Sa

1




2




3




4




5




6




7




8




9




10




11




12




13




14




15




16




17




$159

/nt

18




$159

/nt

19




$159

/nt

20




$159

/nt

21




$159

/nt

22




$159

/nt

23




$159

/nt

24




$159

/nt

25




$159

/nt

26




$159

/nt

27




28




29




30




$229

/nt

31



June 2022
Su
Mo
Tu
We
Th
Fr
Sa

1




$179

/nt

2




$179

/nt

3




$179

/nt

4




$179

/nt

5




$179

/nt

6




$179

/nt

7




$179

/nt

8




$179

/nt

9




$179

/nt

10




$179

/nt

11




$179

/nt

12




$179

/nt

13




$179

/nt

14




$179

/nt

15




$179

/nt

16




$179

/nt

17




$179

/nt

18




$179

/nt

19




$179

/nt

20




$179

/nt

21




$179

/nt

22




$179

/nt

23




$179

/nt

24




$179

/nt

25




$179

/nt

26




$179

/nt

27




$179

/nt

28




$179

/nt

29




$179

/nt

30




$179

/nt
July 2022
Su
Mo
Tu
We
Th
Fr
Sa

1




$229

/nt

2




$229

/nt

3




$229

/nt

4




$229

/nt

5




$229

/nt

6




$229

/nt

7




$229

/nt

8




$229

/nt

9




$229

/nt

10




$229

/nt

11




$179

/nt

12




$179

/nt

13




$179

/nt

14




$179

/nt

15




$179

/nt

16




$179

/nt

17




$179

/nt

18




$179

/nt

19




$179

/nt

20




$179

/nt

21




$179

/nt

22




$179

/nt

23




$179

/nt

24




$179

/nt

25




$179

/nt

26




$179

/nt

27




$179

/nt

28




$179

/nt

29




$179

/nt

30




$179

/nt

31




$179

/nt
August 2022
Su
Mo
Tu
We
Th
Fr
Sa

1




$179

/nt

2




$179

/nt

3




$179

/nt

4




$179

/nt

5




$179

/nt

6




7




8




9




10




11




12




13




14




$179

/nt

15




$179

/nt

16




$179

/nt

17




$179

/nt

18




$179

/nt

19




$179

/nt

20




$179

/nt

21




$179

/nt

22




$179

/nt

23




$179

/nt

24




$179

/nt

25




$179

/nt

26




$179

/nt

27




$179

/nt

28




$179

/nt

29




$179

/nt

30




$179

/nt

31




$179

/nt
September 2022
Su
Mo
Tu
We
Th
Fr
Sa

1




$179

/nt

2




3




4




5




$229

/nt

6




$179

/nt

7




$179

/nt

8




$179

/nt

9




$179

/nt

10




$179

/nt

11




$179

/nt

12




$179

/nt

13




$179

/nt

14




$179

/nt

15




$179

/nt

16




$179

/nt

17




$179

/nt

18




$179

/nt

19




$179

/nt

20




$179

/nt

21




$179

/nt

22




$179

/nt

23




24




25




$179

/nt

26




$179

/nt

27




$179

/nt

28




$179

/nt

29




$179

/nt

30




$179

/nt
October 2022
Su
Mo
Tu
We
Th
Fr
Sa

1




$179

/nt

2




$179

/nt

3




$179

/nt

4




$179

/nt

5




$179

/nt

6




$179

/nt

7




$179

/nt

8




$179

/nt

9




$179

/nt

10




$179

/nt

11




$179

/nt

12




$179

/nt

13




$179

/nt

14




$179

/nt

15




$179

/nt

16




$179

/nt

17




$179

/nt

18




$179

/nt

19




$179

/nt

20




$179

/nt

21




22




23




24




25




26




27




28




29




30




31




$179

/nt
November 2022
Su
Mo
Tu
We
Th
Fr
Sa

1




$206

/nt

2




$206

/nt

3




$206

/nt

4




$206

/nt

5




$206

/nt

6




$206

/nt

7




$206

/nt

8




$206

/nt

9




$206

/nt

10




$206

/nt

11




$206

/nt

12




$206

/nt

13




$206

/nt

14




$206

/nt

15




$206

/nt

16




$206

/nt

17




$206

/nt

18




$206

/nt

19




20




21




22




23




24




25




26




27




$215

/nt

28




$215

/nt

29




$206

/nt

30




$206

/nt
December 2022
Su
Mo
Tu
We
Th
Fr
Sa

1




$206

/nt

2




$215

/nt

3




$215

/nt

4




$206

/nt

5




$206

/nt

6




$206

/nt

7




$206

/nt

8




$206

/nt

9




$250

/nt

10




$250

/nt

11




$250

/nt

12




$250

/nt

13




$250

/nt

14




$250

/nt

15




$250

/nt

16




$250

/nt

17




$250

/nt

18




$250

/nt

19




$250

/nt

20




$250

/nt

21




$250

/nt

22




$250

/nt

23




$250

/nt

24




$250

/nt

25




$250

/nt

26




$250

/nt

27




$250

/nt

28




$250

/nt

29




$250

/nt

30




$250

/nt

31




$250

/nt
January 2023
Su
Mo
Tu
We
Th
Fr
Sa

1




$250

/nt

2




$250

/nt

3




$250

/nt

4




$206

/nt

5




$206

/nt

6




$206

/nt

7




$206

/nt

8




$206

/nt

9




$206

/nt

10




$206

/nt

11




$206

/nt

12




$206

/nt

13




$245

/nt

14




15




16




$245

/nt

17




$206

/nt

18




$206

/nt

19




$206

/nt

20




$206

/nt

21




$206

/nt

22




$206

/nt

23




$206

/nt

24




$206

/nt

25




$206

/nt

26




$206

/nt

27




$206

/nt

28




$206

/nt

29




$206

/nt

30




$206

/nt

31




$206

/nt
February 2023
Su
Mo
Tu
We
Th
Fr
Sa

1




$206

/nt

2




$206

/nt

3




$206

/nt

4




$206

/nt

5




$206

/nt

6




$206

/nt

7




$206

/nt

8




$206

/nt

9




$206

/nt

10




$206

/nt

11




$206

/nt

12




$206

/nt

13




$206

/nt

14




$206

/nt

15




$206

/nt

16




$206

/nt

17




$237

/nt

18




19




20




21




22




23




24




25




26




$232

/nt

27




$232

/nt

28




$206

/nt
March 2023
Su
Mo
Tu
We
Th
Fr
Sa

1




$206

/nt

2




$206

/nt

3




$206

/nt

4




$206

/nt

5




$206

/nt

6




$206

/nt

7




$206

/nt

8




$206

/nt

9




$206

/nt

10




$206

/nt

11




$206

/nt

12




$206

/nt

13




$206

/nt

14




$206

/nt

15




$206

/nt

16




$206

/nt

17




$206

/nt

18




$206

/nt

19




$206

/nt

20




$206

/nt

21




$206

/nt

22




$206

/nt

23




$206

/nt

24




$206

/nt

25




$206

/nt

26




$206

/nt

27




$206

/nt

28




$206

/nt

29




$206

/nt

30




$206

/nt

31




$206

/nt
April 2023
Su
Mo
Tu
We
Th
Fr
Sa

1




2




3




4




5




6




7




8




9




10




11




12




13




14




15




16




17




18




19




20




21




22




23




24




25




26




27




28




29




30