Row Wrapper 2
*Arnold Hideaway* Cinnamon Bear Cabin
Capacity
2 Bedrooms
1 Bath
Sleeps 5
Search Availability
About
Cinnamon Bear Cabin is a mountain retreat for our family and yours! Cozy A-Frame, located on a quite cul-de-sac in the middle of the Sierras includes all the amenities you need to feel at home. Games and movies for the family, high speed internet for all your movie streaming needs, fully stocked kitchen and washable doggie bed and bowls, so be sure to bring your four legged babies along for the trip!
Enjoy the warmth of the knotty pine throughout the interior of the cabin and the multiple skylights that bring the trees indoors! Wake up in the morning and watch the snow fall on the skylight above the upstairs bed or take in the stars as you fall asleep. Wind down on one of our two decks and take in the huge pine and cedar trees that line the property. Cozy balcony upstairs off the loft or spacious downstairs deck with ample seating and gas grill. Deck is gated on both sides so feel free to let your pups and kiddos roam freely! Don't forget to eat dinner at the picnic table in the side yard under the string lights and night sky. And maybe finish the night with a game of horseshoes!
Bedroom on main floor has a queen size bed and electric fireplace heater. Full bathroom on main floor. Loft holds another queen bed and 2 twin beds. There is an additional sleeper sofa and futon bed, along with a Pack and Play. Close proximity to all your outdoor adventures. Cinnamon Bear Cabin is your perfect home base for swimming, fishing, hiking, biking, skiing, dinning, shopping and much more! Wood burning stove is main source of heat; additional space heaters provided if needed. 4WD/traction and/or chains may be required during winter months to access cabin.
RENTAL CONTRACT AND COPY OF DRIVERS LICENSE REQUIRED ONCE RESERVATION IS MADE AND ACCEPTED. Guests bringing dogs (2 dog max, must be over 1 year old) will be charged a $200 refundable deposit and $25 non-refundable pet fee per dog.
Features
Amenities
wi-fi
Television
Coffee Maker
Microwave
Oven
Refrigerator
Stove
Toaster
Utensils
Cookware
Dishes, Glassware
Full Kitchen
Photos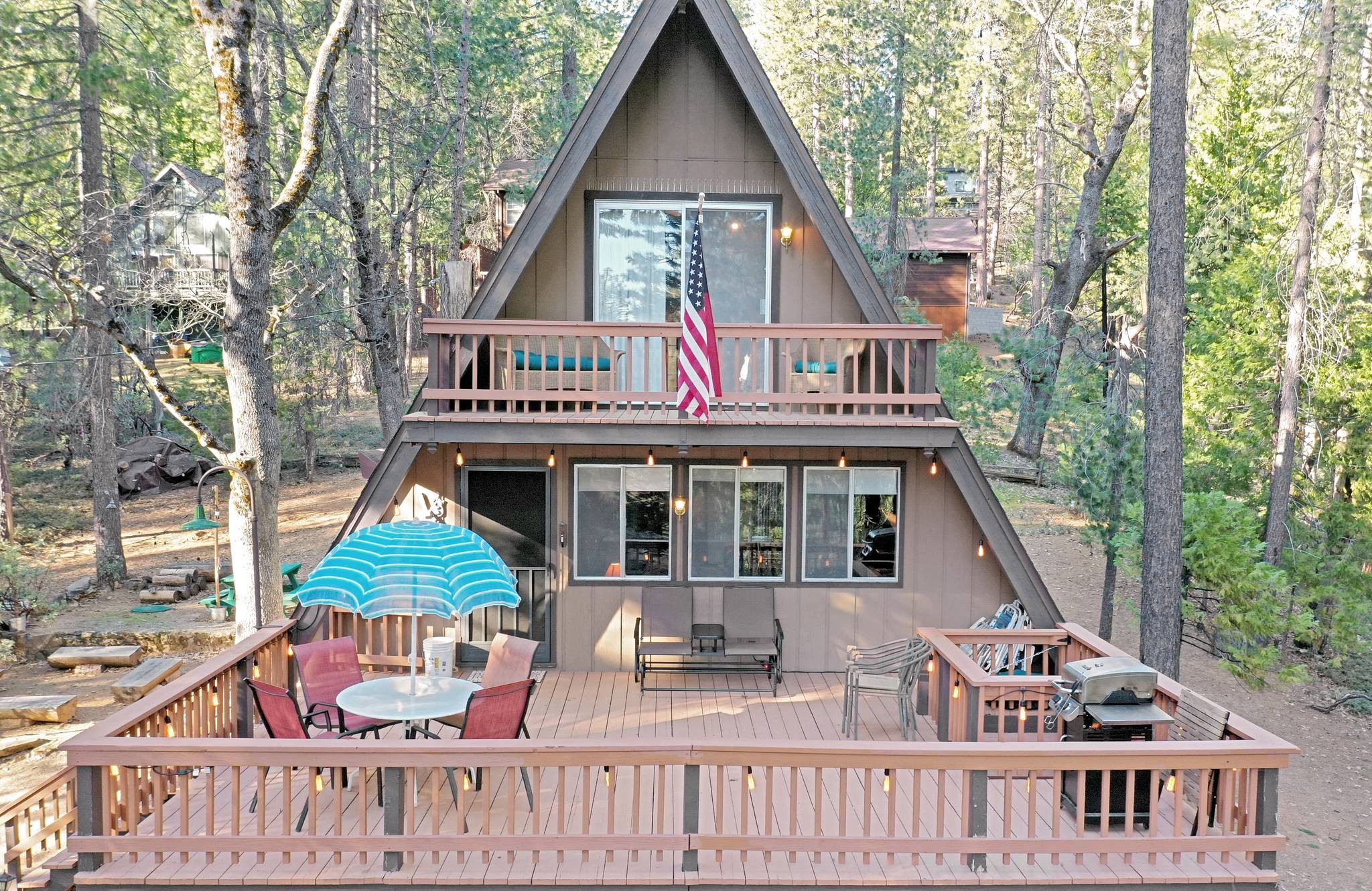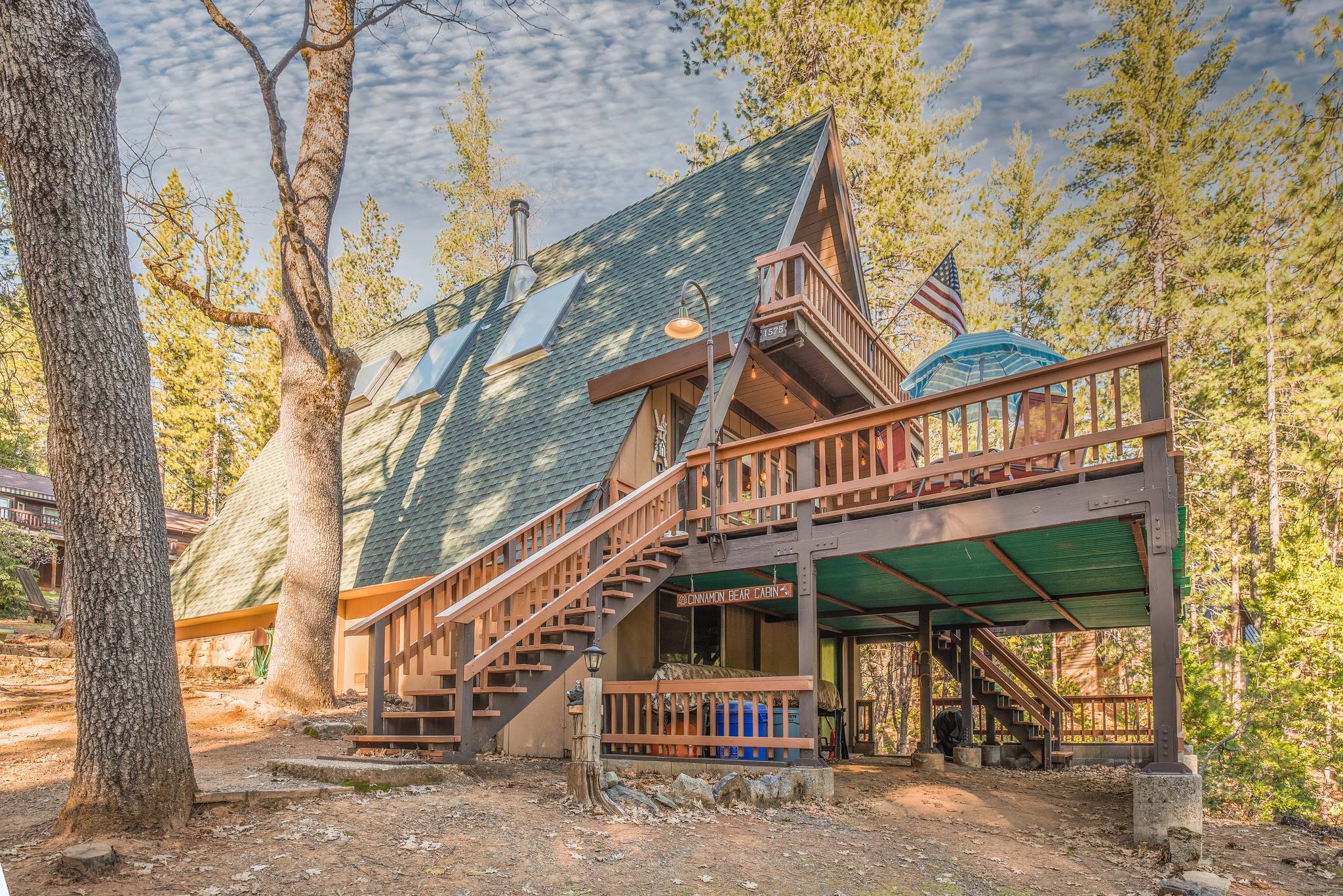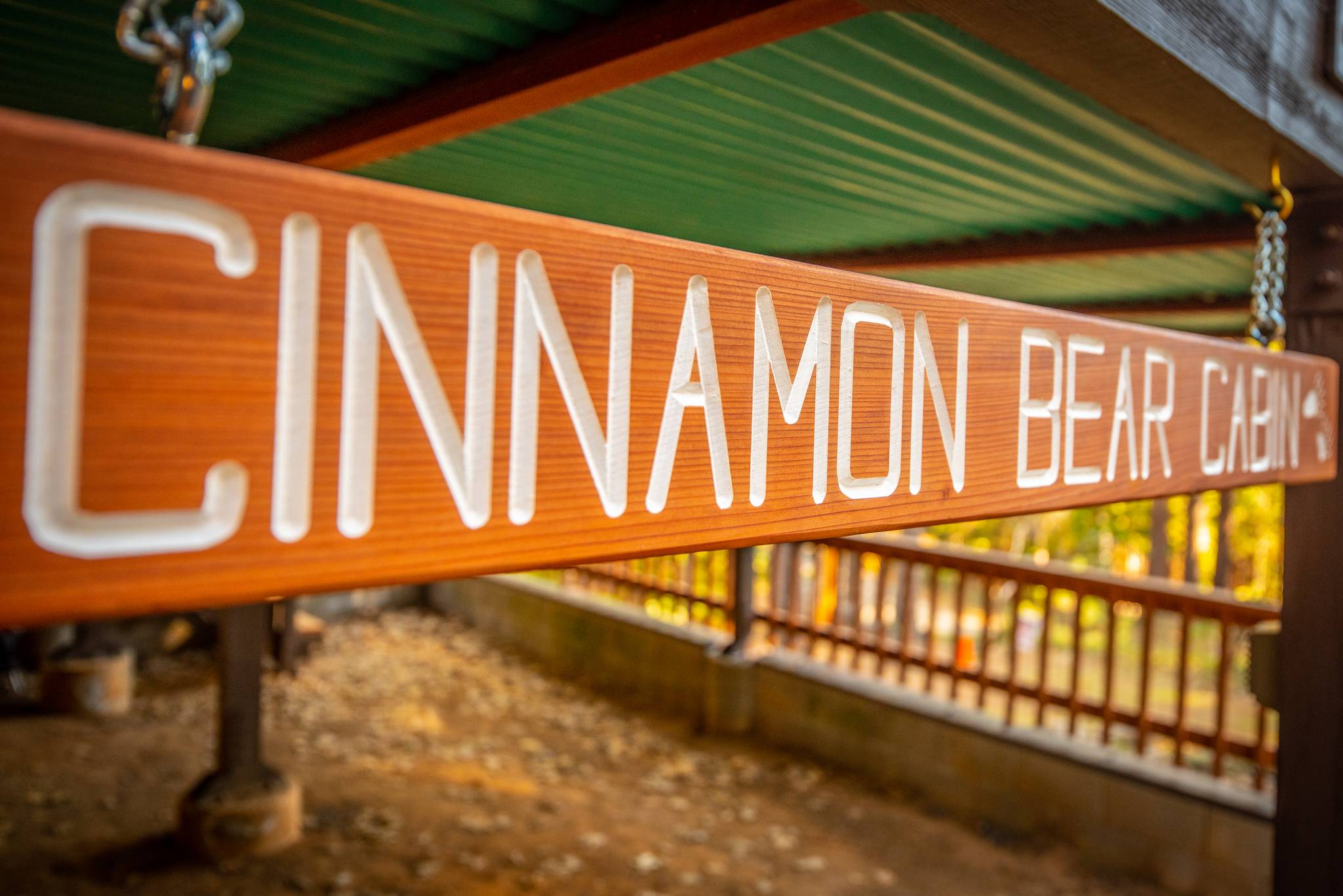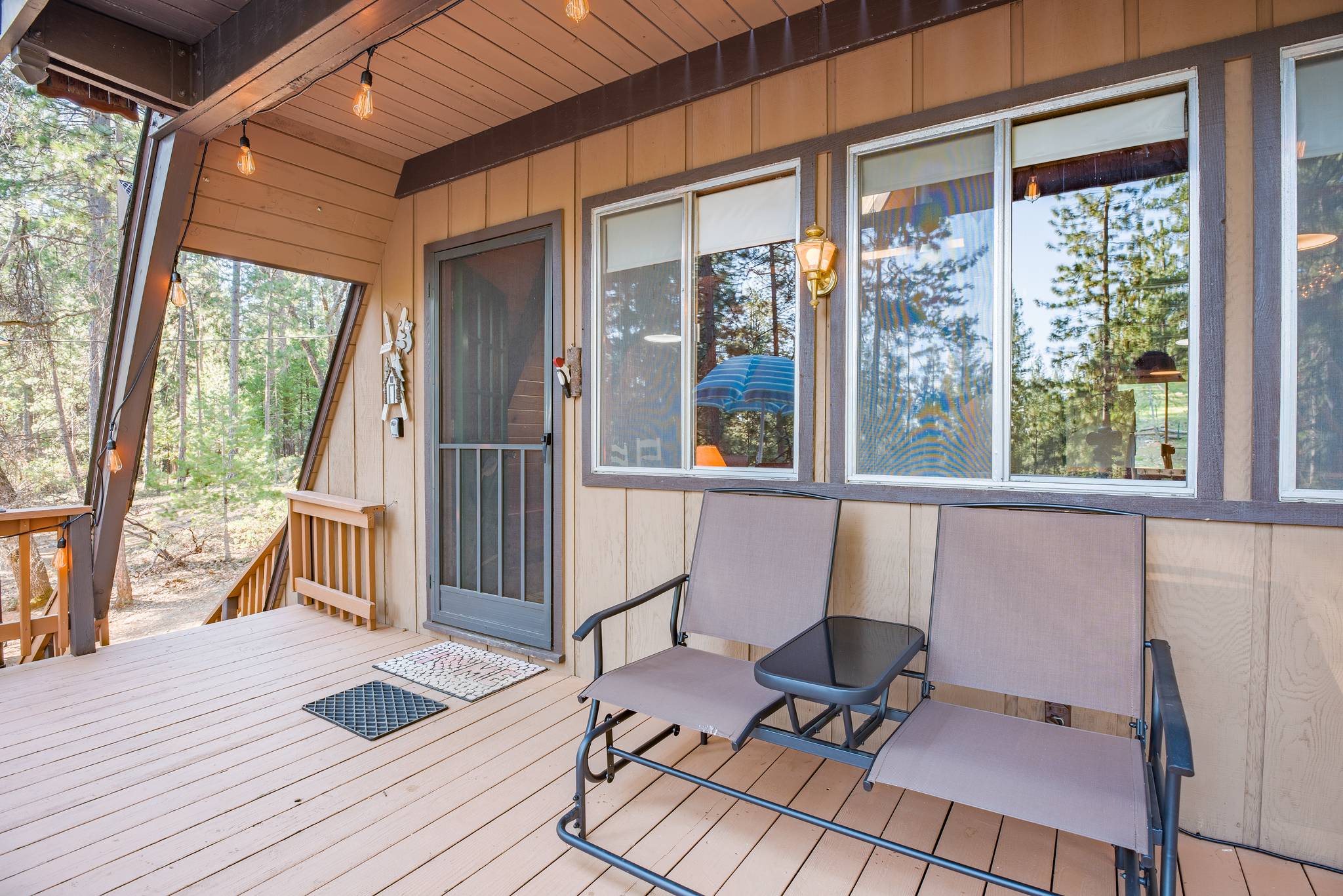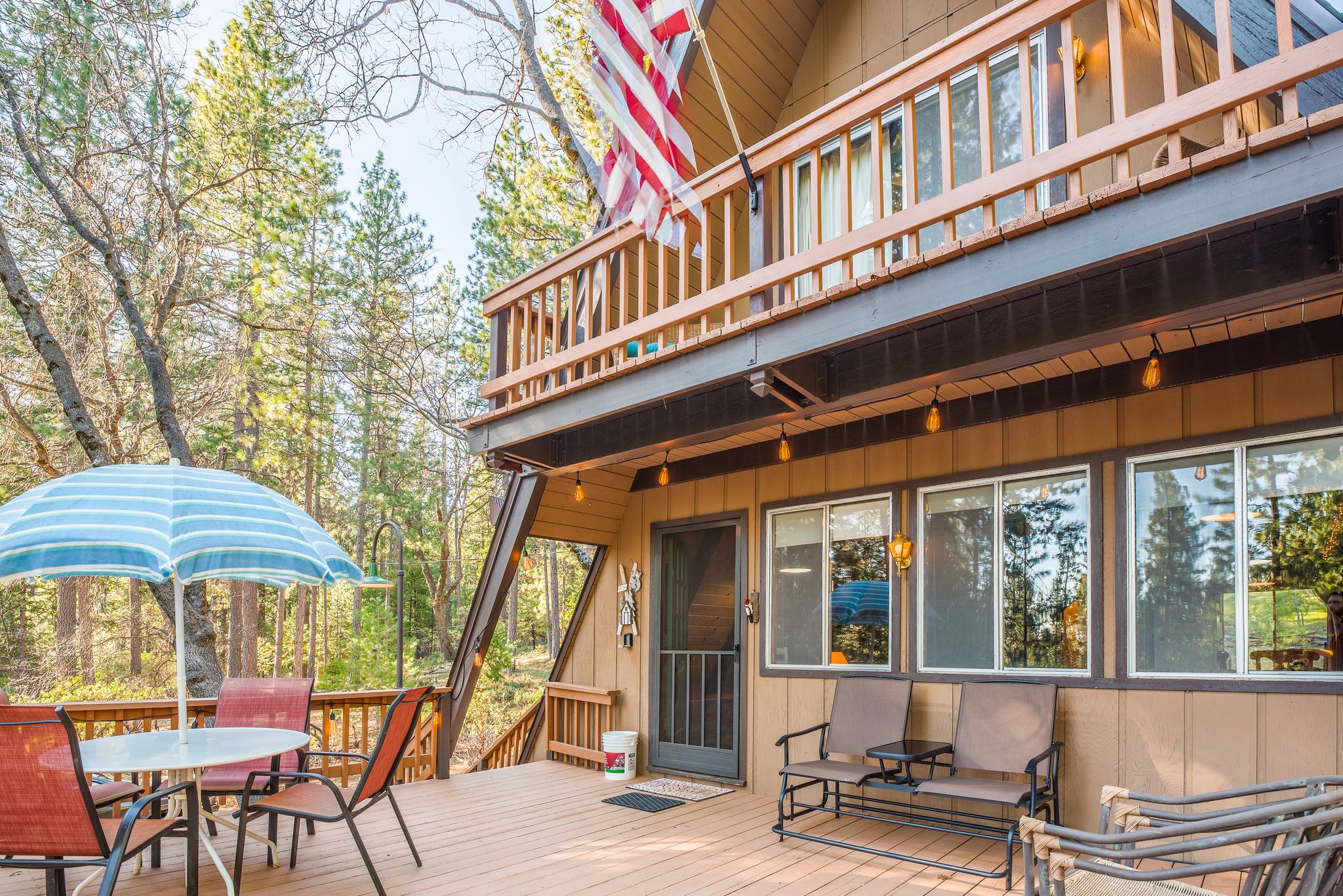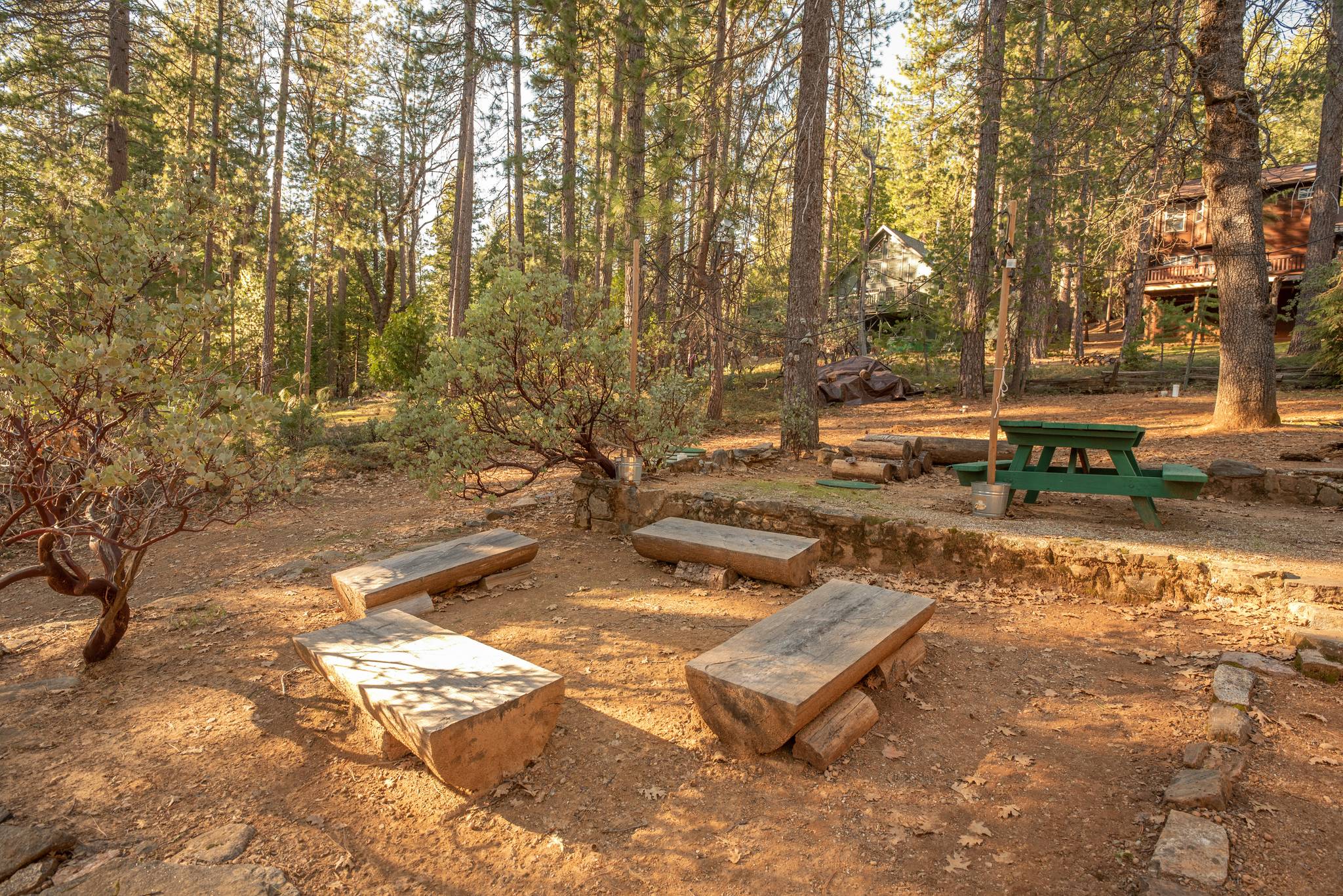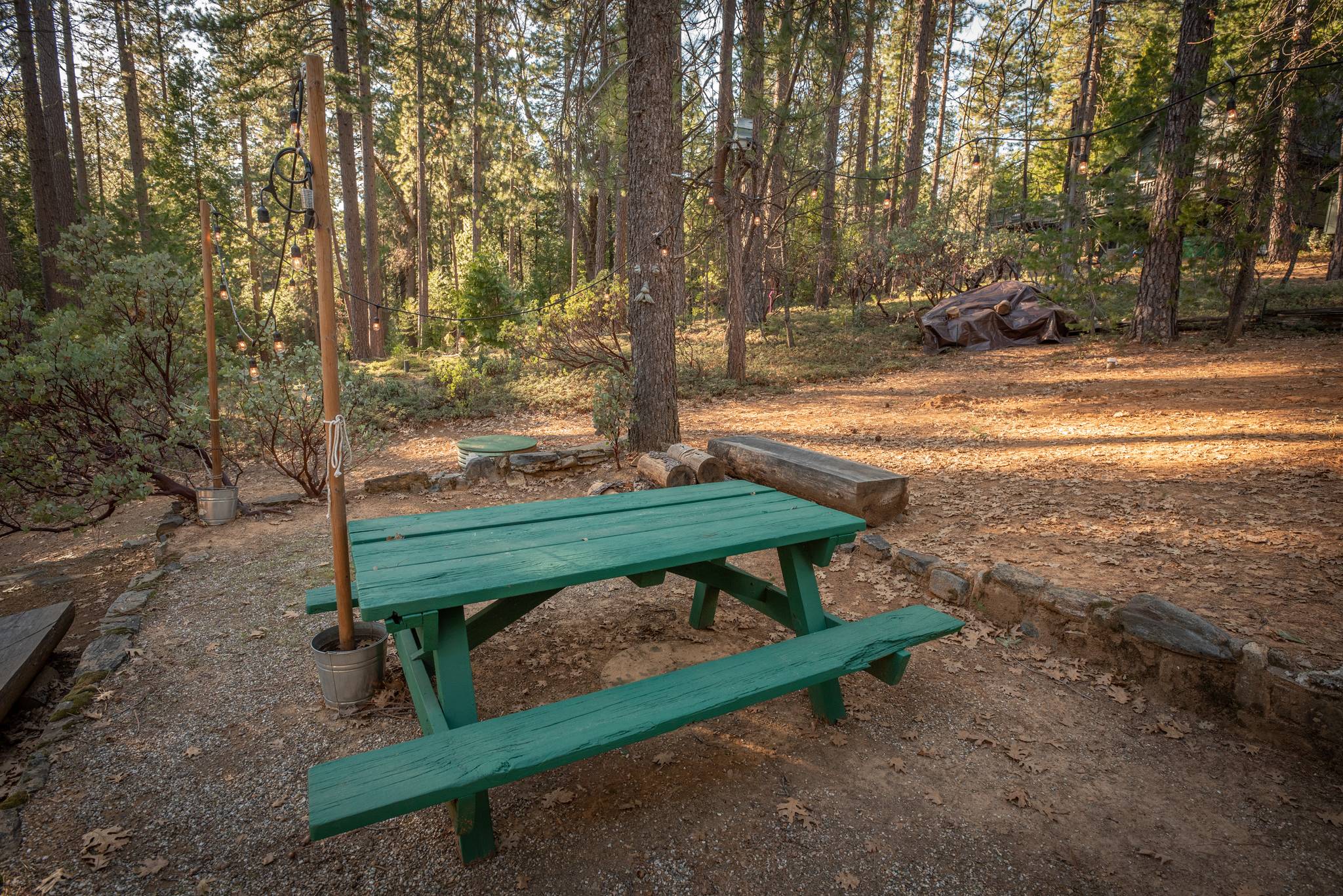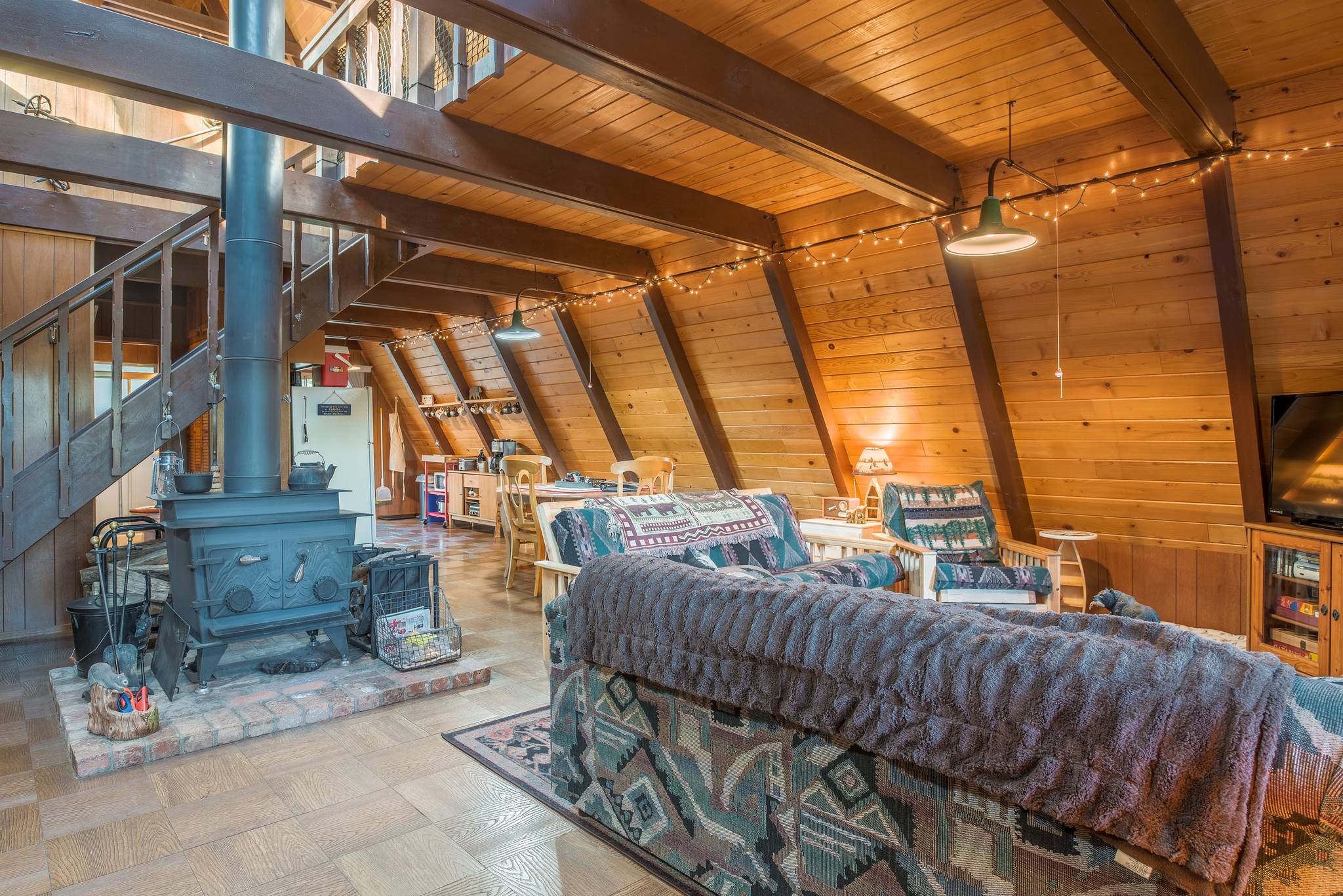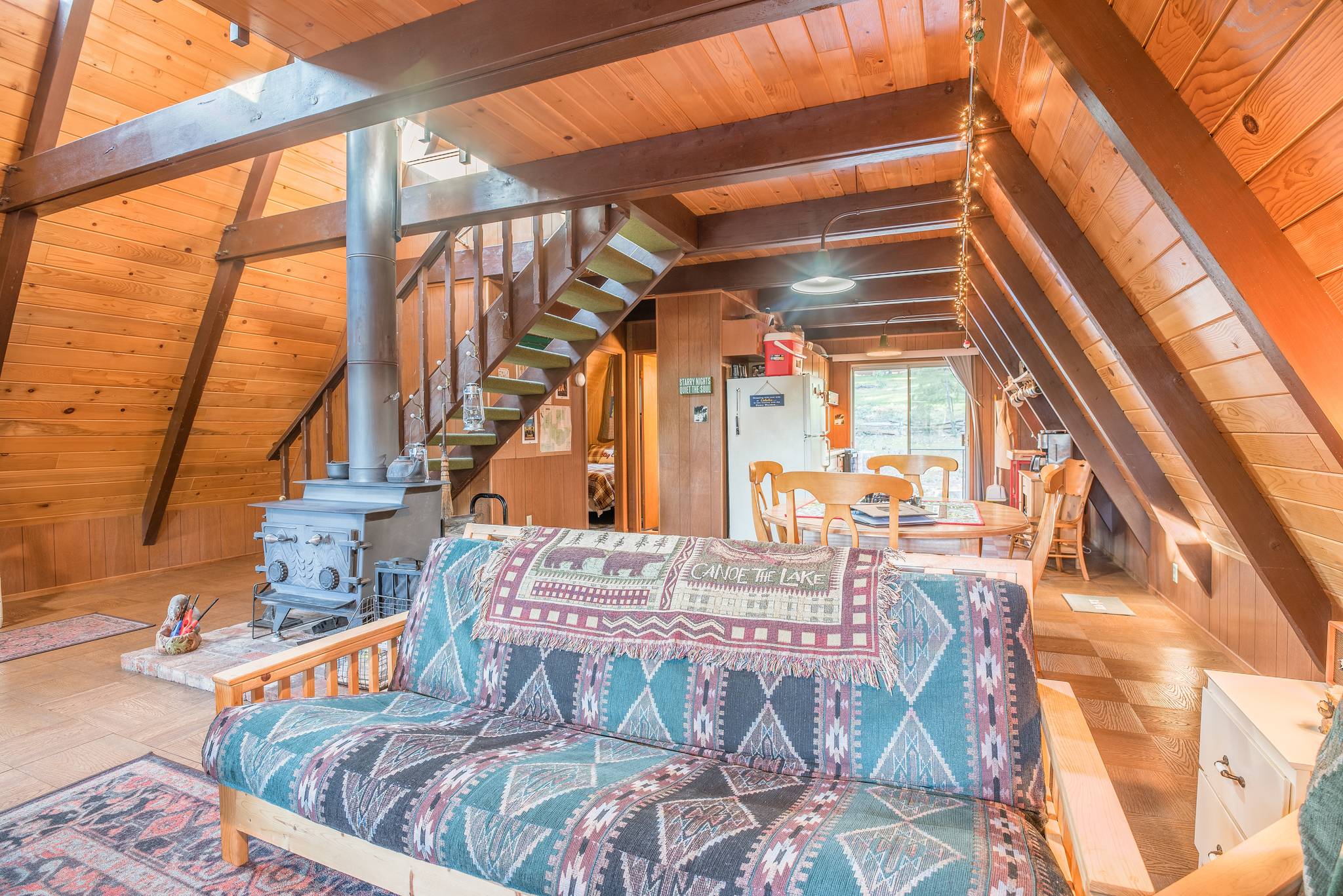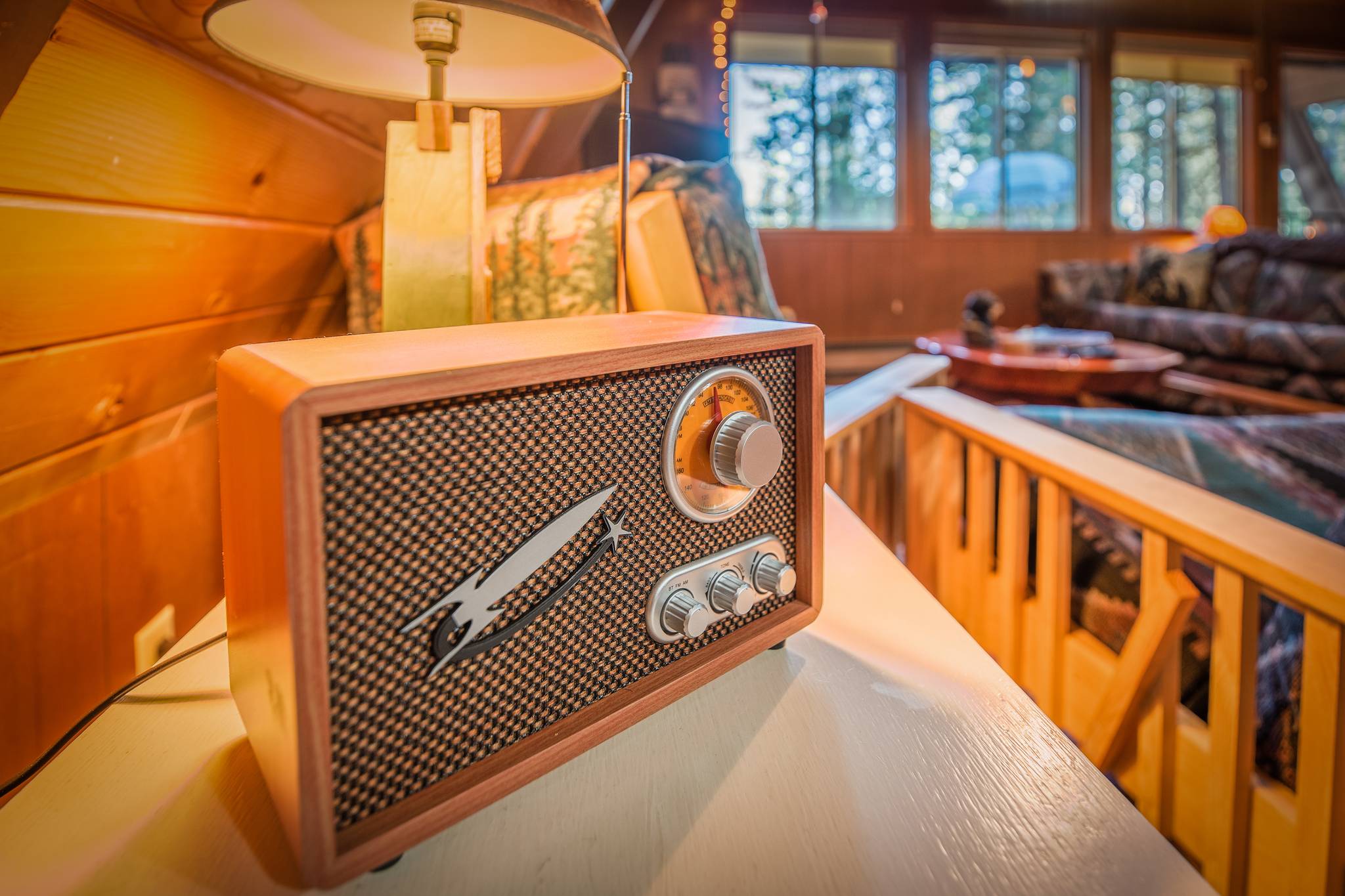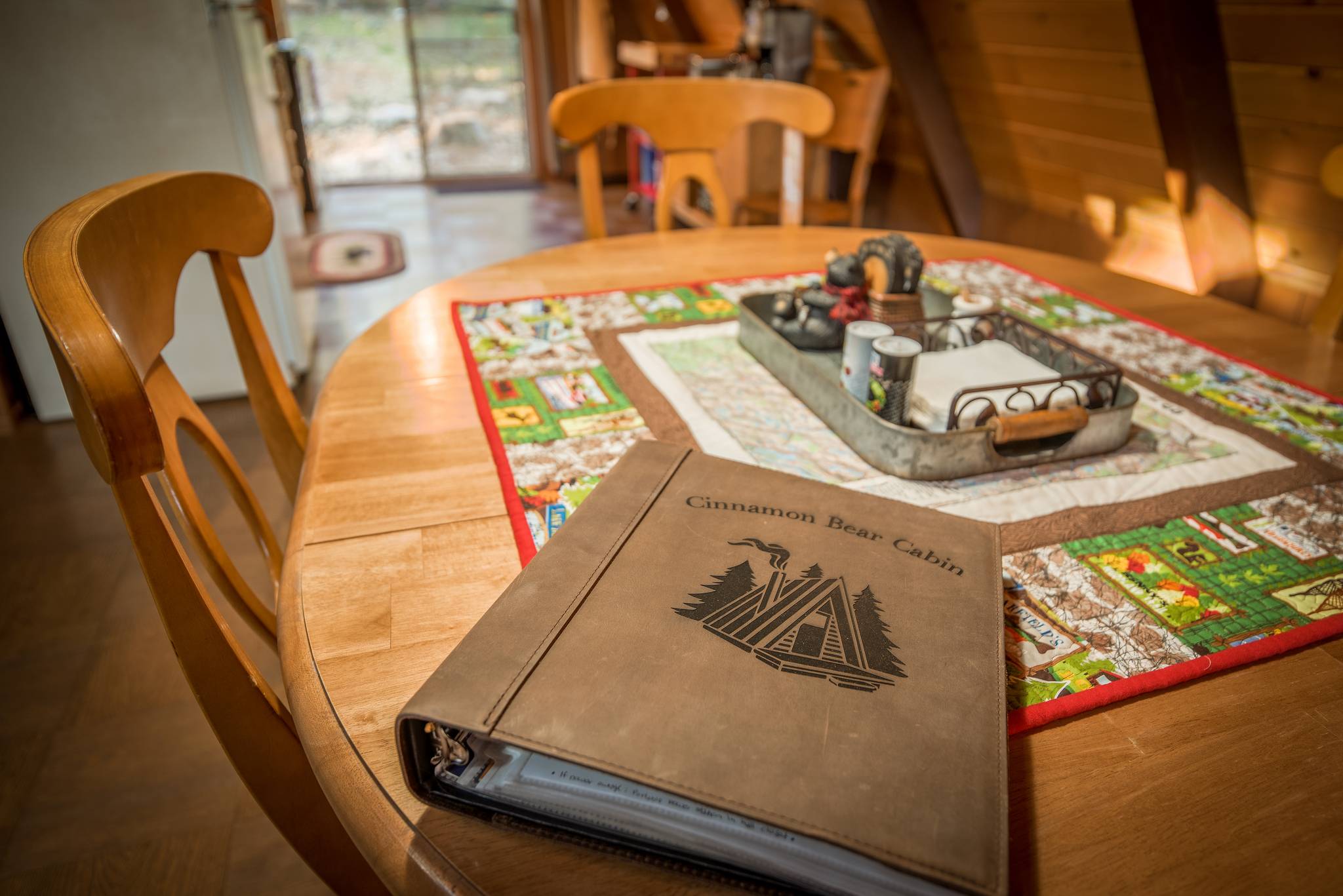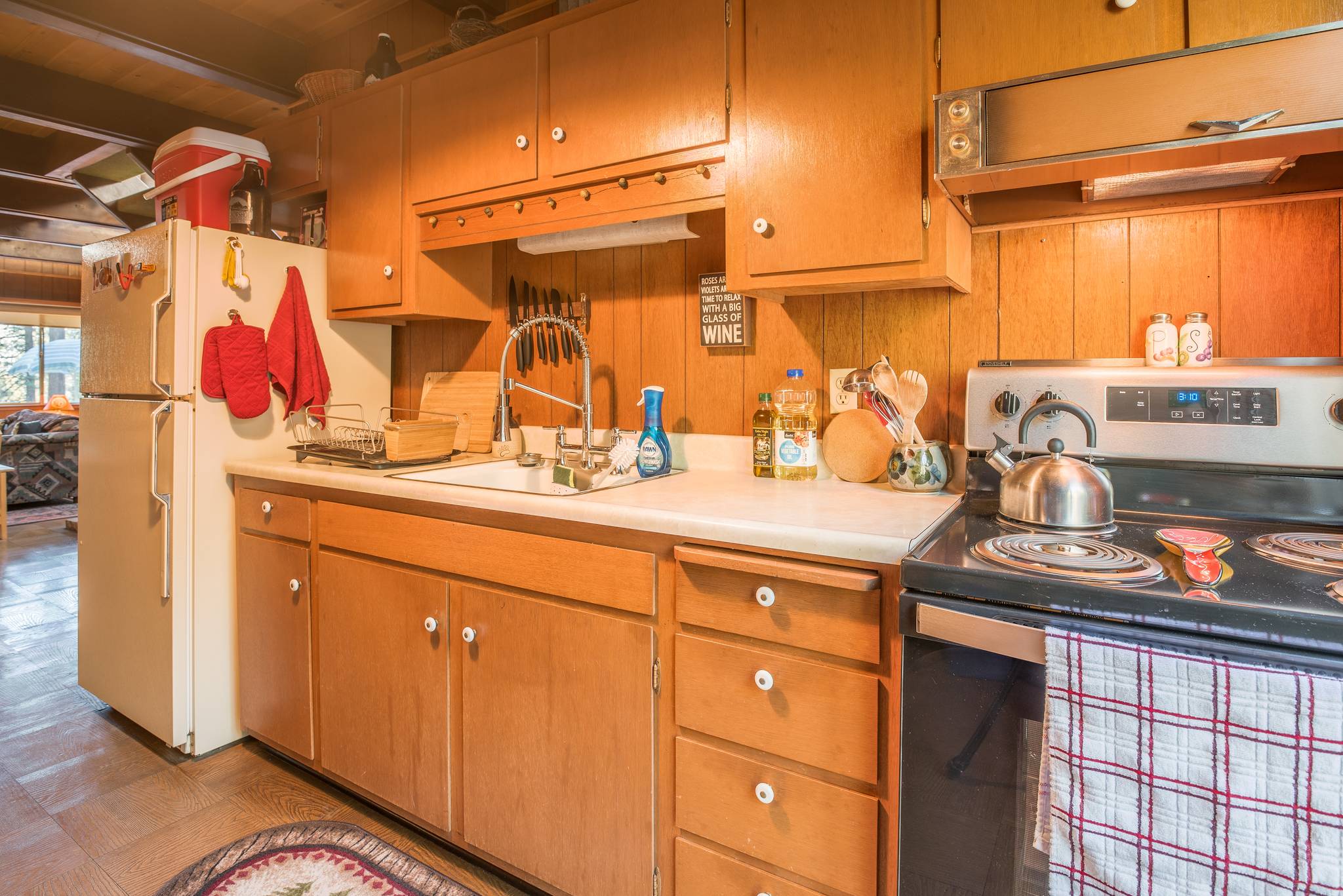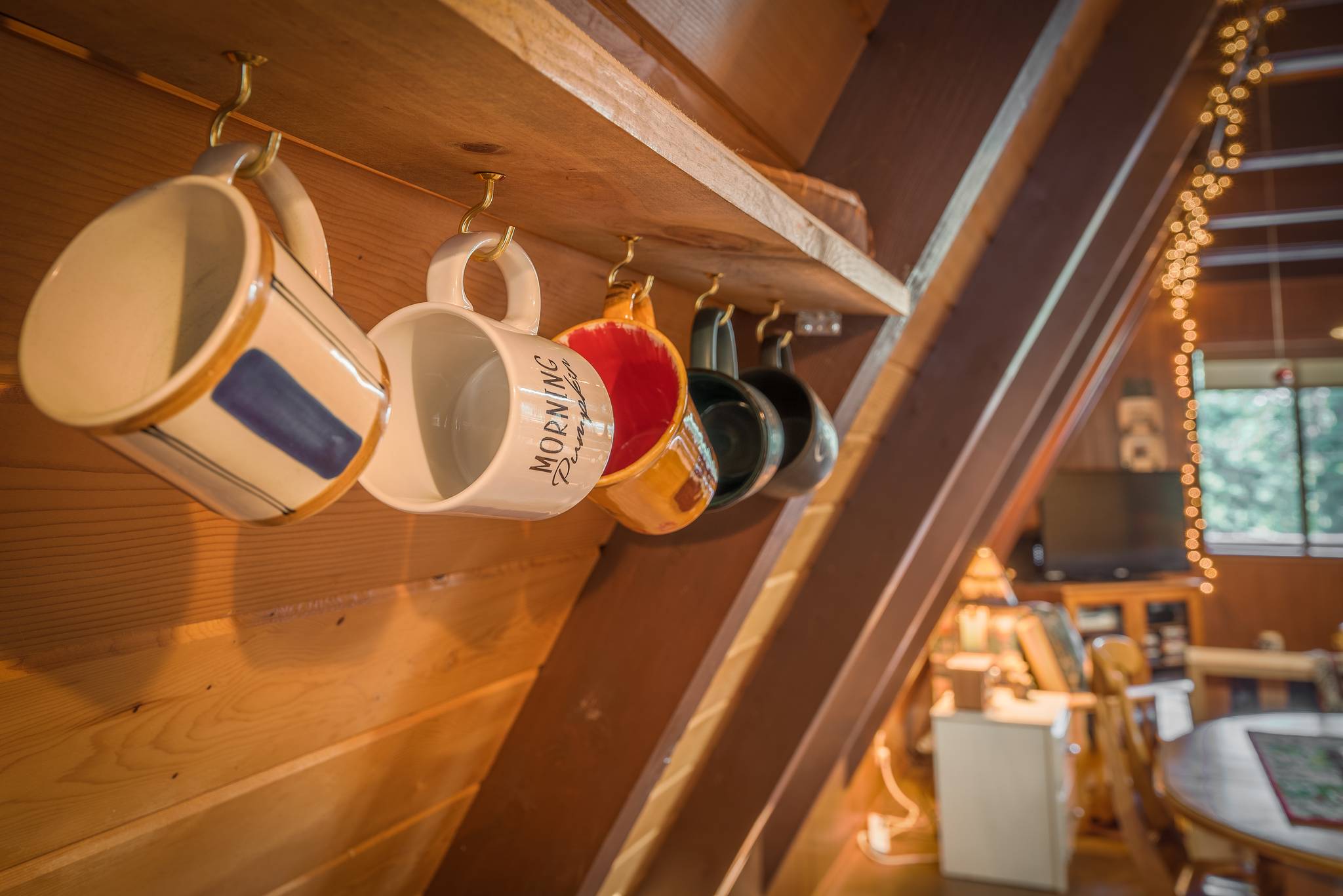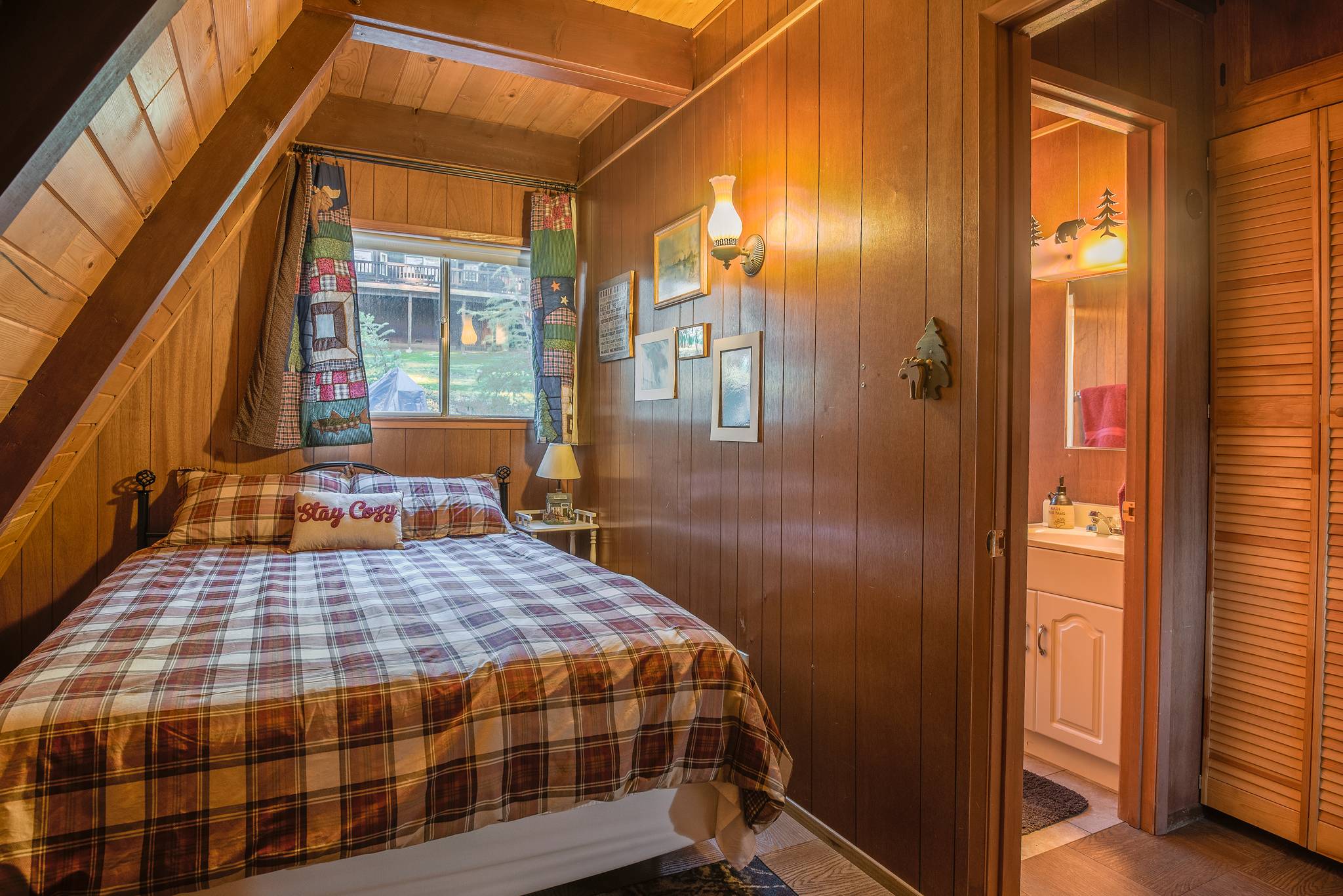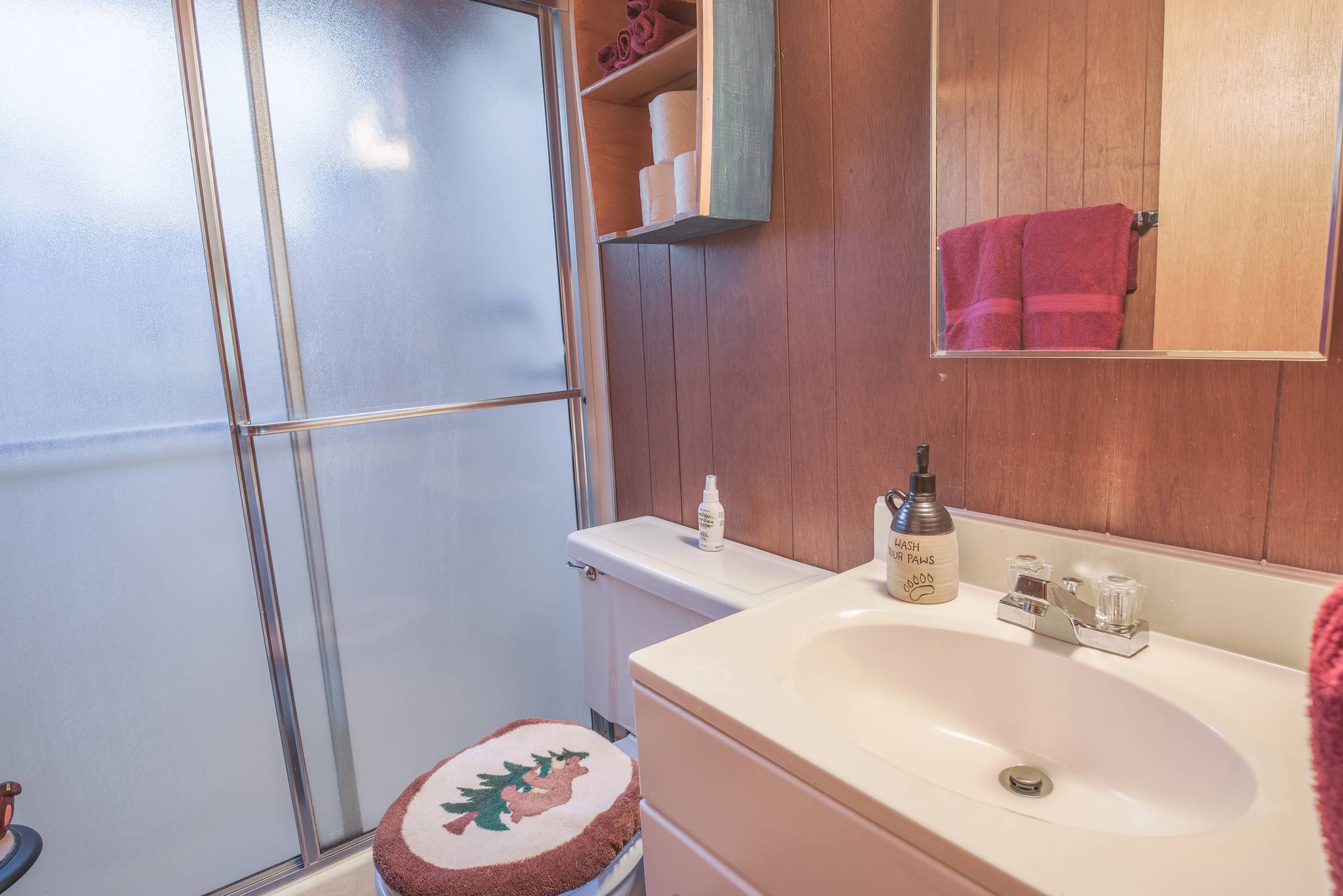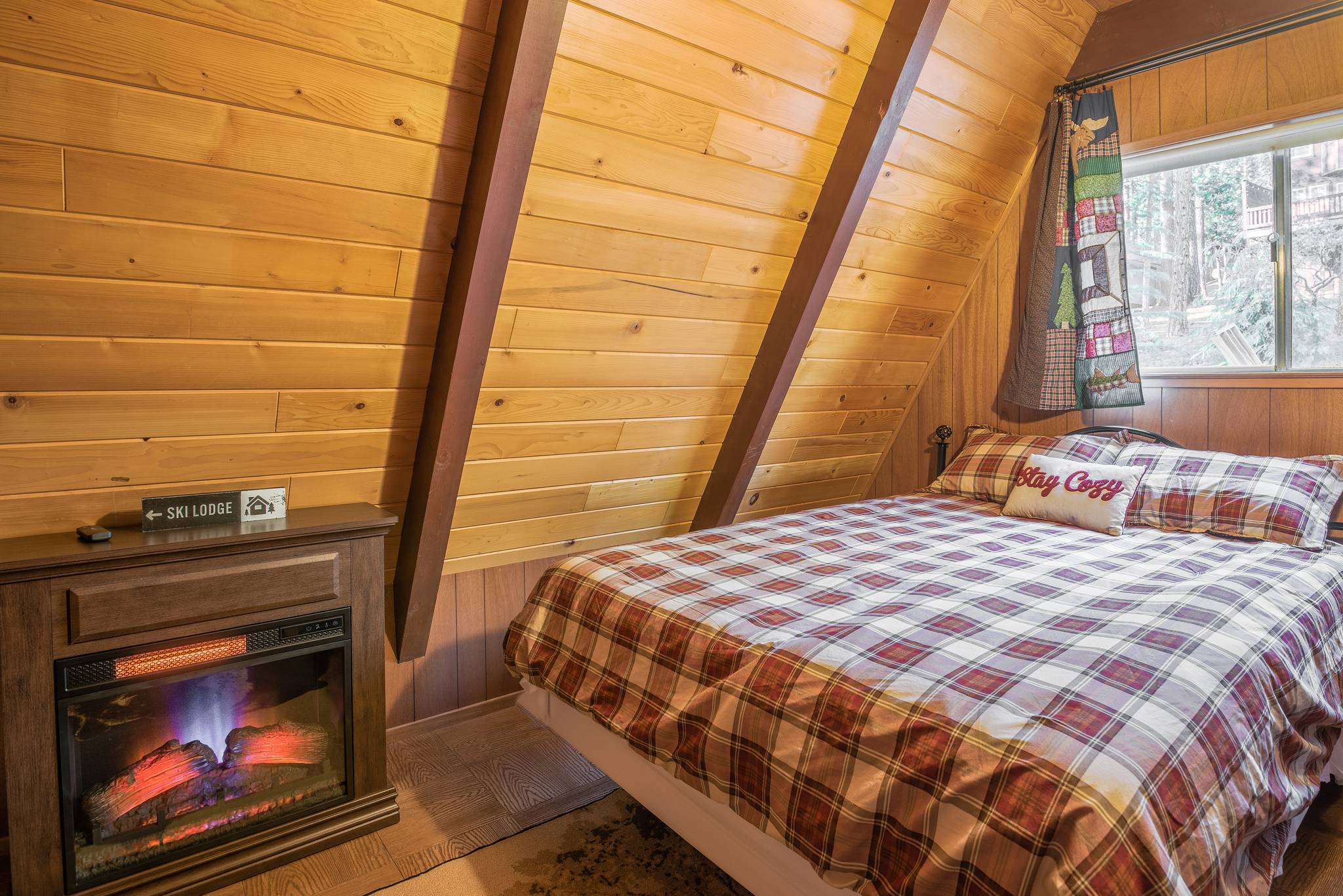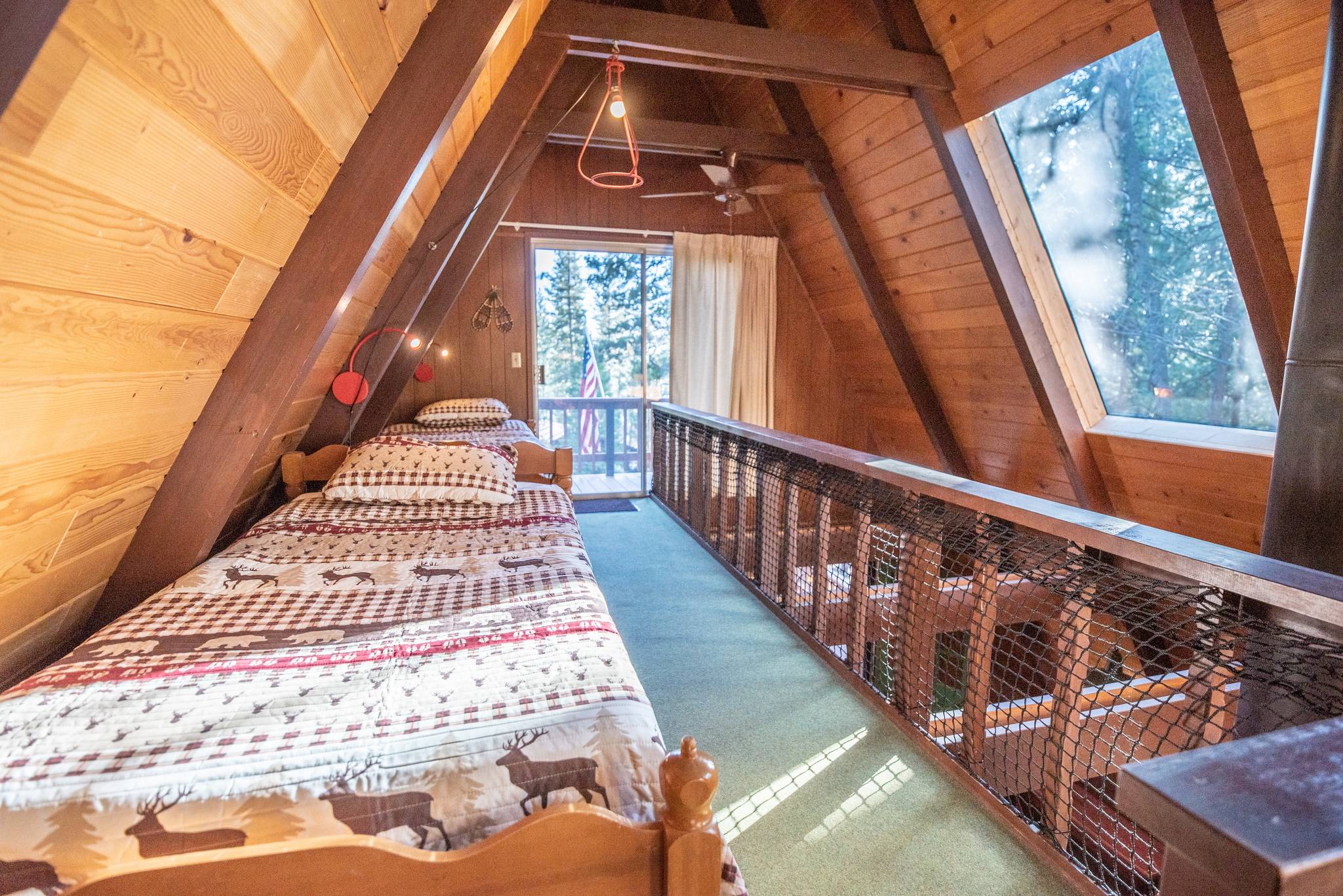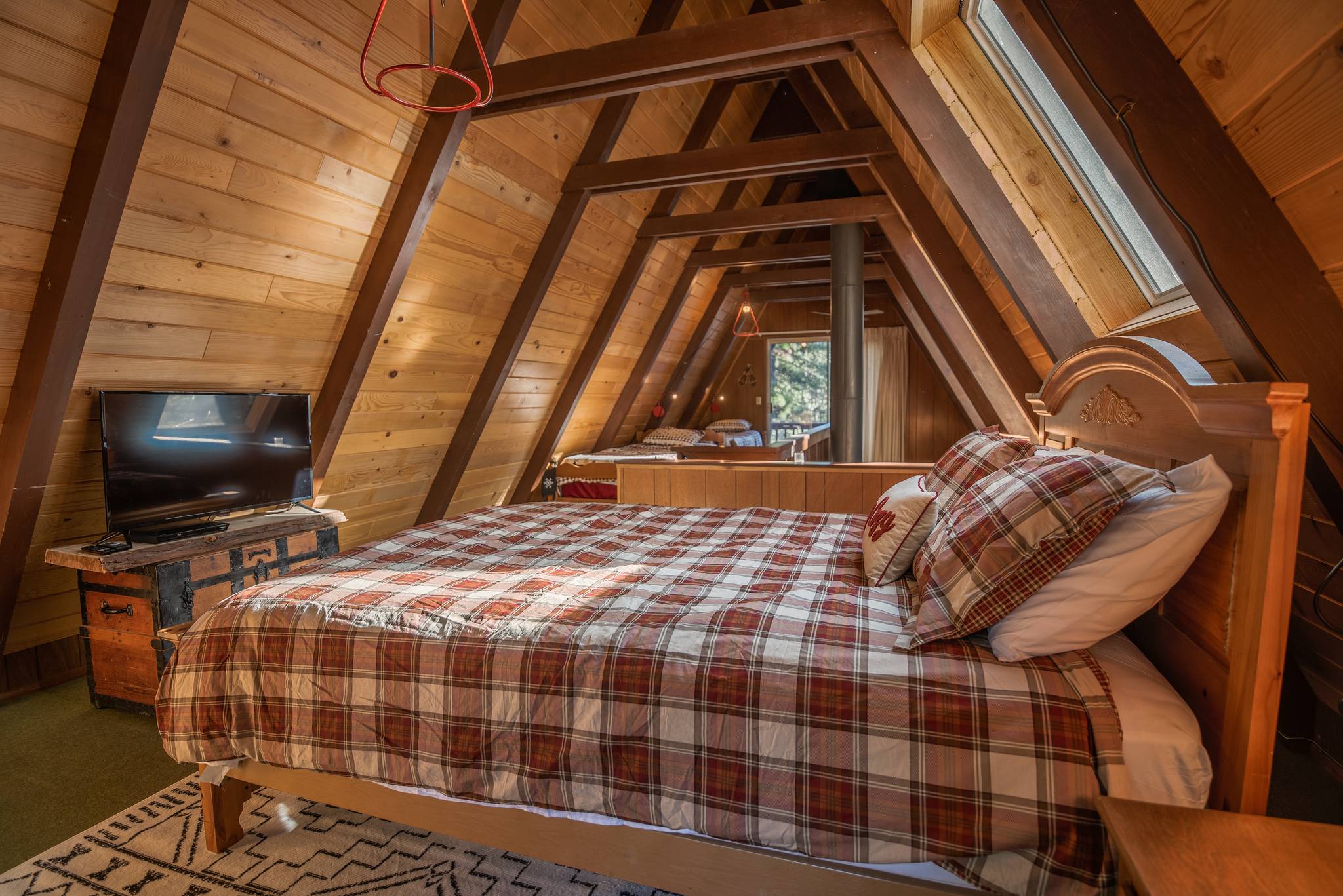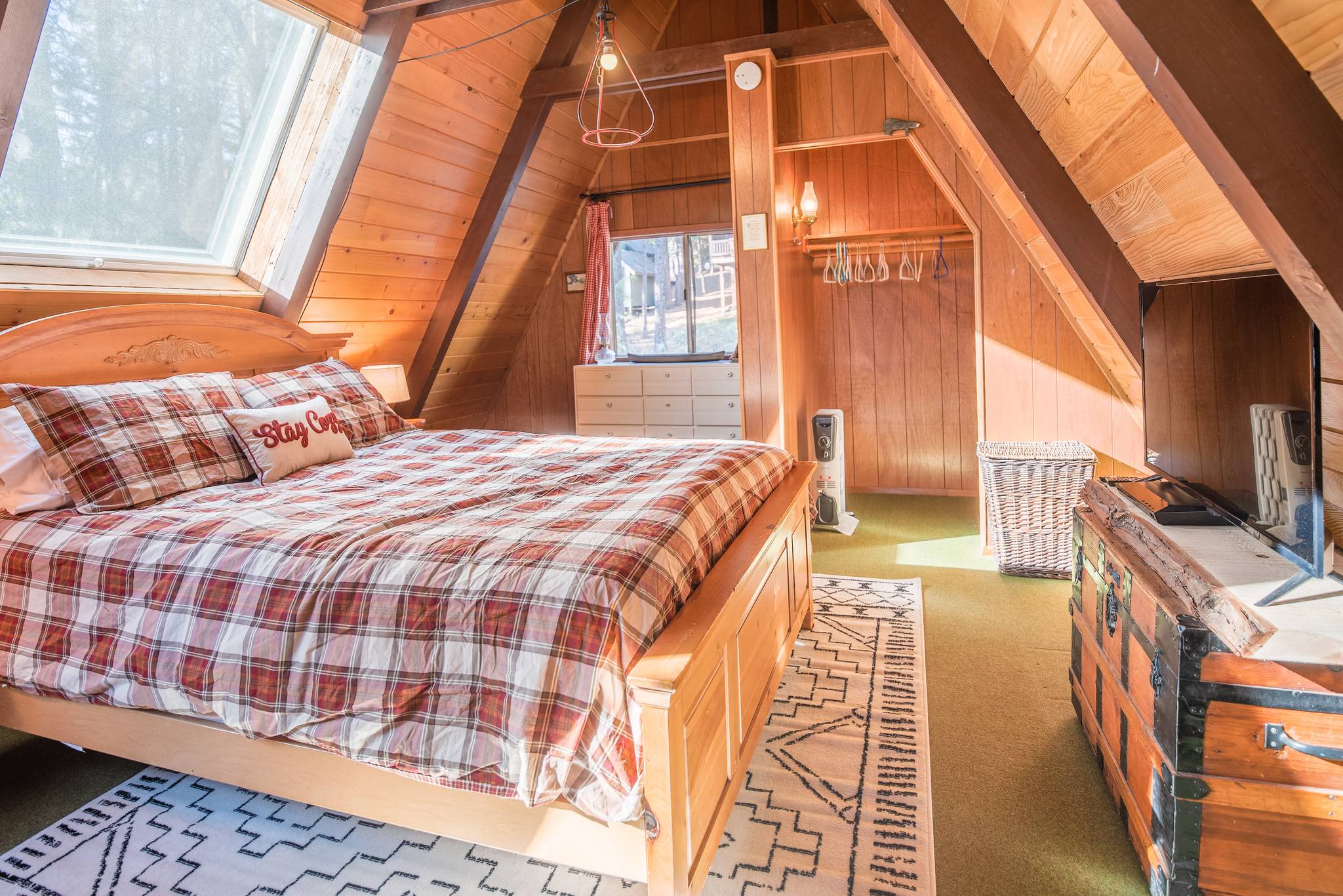 Availability
Key

| | | | | | | | |
| --- | --- | --- | --- | --- | --- | --- | --- |
| # | Night Available | # | Night Unavailable | # | Arrive Only | # | Depart Only |
May 2022
Su
Mo
Tu
We
Th
Fr
Sa

1




2




3




4




5




6




7




8




9




10




11




12




13




14




15




16




17




$130

/nt

18




$130

/nt

19




$130

/nt

20




$130

/nt

21




$130

/nt

22




$130

/nt

23




$130

/nt

24




$130

/nt

25




$130

/nt

26




$130

/nt

27




28




29




30




$165

/nt

31



June 2022
Su
Mo
Tu
We
Th
Fr
Sa

1




$145

/nt

2




$145

/nt

3




$145

/nt

4




$145

/nt

5




$145

/nt

6




$145

/nt

7




$145

/nt

8




$145

/nt

9




$145

/nt

10




$145

/nt

11




$145

/nt

12




$145

/nt

13




$145

/nt

14




$145

/nt

15




$145

/nt

16




$145

/nt

17




18




19




20




$145

/nt

21




$145

/nt

22




$145

/nt

23




$145

/nt

24




$145

/nt

25




$145

/nt

26




$145

/nt

27




$145

/nt

28




$145

/nt

29




$145

/nt

30




$145

/nt
July 2022
Su
Mo
Tu
We
Th
Fr
Sa

1




$165

/nt

2




3




4




5




$165

/nt

6




$165

/nt

7




$165

/nt

8




$165

/nt

9




$165

/nt

10




11




12




13




$145

/nt

14




$145

/nt

15




$145

/nt

16




$145

/nt

17




$145

/nt

18




$145

/nt

19




$145

/nt

20




$145

/nt

21




$145

/nt

22




$145

/nt

23




$145

/nt

24




$145

/nt

25




$145

/nt

26




$145

/nt

27




$145

/nt

28




$145

/nt

29




$145

/nt

30




$145

/nt

31




$145

/nt
August 2022
Su
Mo
Tu
We
Th
Fr
Sa

1




$145

/nt

2




$145

/nt

3




$145

/nt

4




$145

/nt

5




$145

/nt

6




$145

/nt

7




$145

/nt

8




$145

/nt

9




$145

/nt

10




$145

/nt

11




$145

/nt

12




$145

/nt

13




$145

/nt

14




$145

/nt

15




$145

/nt

16




$145

/nt

17




$145

/nt

18




$145

/nt

19




$145

/nt

20




$145

/nt

21




$145

/nt

22




$145

/nt

23




$145

/nt

24




$145

/nt

25




$145

/nt

26




$145

/nt

27




$145

/nt

28




$145

/nt

29




$145

/nt

30




$145

/nt

31




$145

/nt
September 2022
Su
Mo
Tu
We
Th
Fr
Sa

1




$145

/nt

2




$165

/nt

3




$165

/nt

4




$165

/nt

5




$165

/nt

6




$145

/nt

7




$145

/nt

8




$145

/nt

9




$145

/nt

10




$145

/nt

11




$145

/nt

12




$145

/nt

13




$145

/nt

14




$145

/nt

15




$145

/nt

16




$145

/nt

17




$145

/nt

18




$145

/nt

19




$145

/nt

20




$145

/nt

21




$145

/nt

22




$145

/nt

23




$145

/nt

24




$145

/nt

25




$145

/nt

26




$145

/nt

27




$145

/nt

28




$145

/nt

29




$145

/nt

30




$145

/nt
October 2022
Su
Mo
Tu
We
Th
Fr
Sa

1




$145

/nt

2




$145

/nt

3




$145

/nt

4




$145

/nt

5




$145

/nt

6




$145

/nt

7




$145

/nt

8




$145

/nt

9




$145

/nt

10




$145

/nt

11




$145

/nt

12




$145

/nt

13




$145

/nt

14




$145

/nt

15




$145

/nt

16




$145

/nt

17




$145

/nt

18




$145

/nt

19




$145

/nt

20




$145

/nt

21




22




23




24




25




26




27




28




29




30




31




$145

/nt
November 2022
Su
Mo
Tu
We
Th
Fr
Sa

1




$177

/nt

2




$177

/nt

3




$177

/nt

4




$177

/nt

5




$177

/nt

6




$177

/nt

7




$177

/nt

8




$177

/nt

9




$177

/nt

10




$177

/nt

11




$177

/nt

12




$177

/nt

13




$177

/nt

14




$177

/nt

15




$177

/nt

16




$177

/nt

17




$177

/nt

18




$177

/nt

19




$177

/nt

20




$177

/nt

21




$177

/nt

22




$177

/nt

23




$199

/nt

24




$199

/nt

25




$199

/nt

26




$199

/nt

27




$199

/nt

28




$199

/nt

29




$177

/nt

30




$177

/nt
December 2022
Su
Mo
Tu
We
Th
Fr
Sa

1




$177

/nt

2




$177

/nt

3




$177

/nt

4




$177

/nt

5




$177

/nt

6




$177

/nt

7




$177

/nt

8




$177

/nt

9




$220

/nt

10




$220

/nt

11




$220

/nt

12




$220

/nt

13




$220

/nt

14




$220

/nt

15




$220

/nt

16




$220

/nt

17




$220

/nt

18




$220

/nt

19




$220

/nt

20




$220

/nt

21




$220

/nt

22




$220

/nt

23




$220

/nt

24




$220

/nt

25




$220

/nt

26




$220

/nt

27




$220

/nt

28




$220

/nt

29




$220

/nt

30




$220

/nt

31




$220

/nt
January 2023
Su
Mo
Tu
We
Th
Fr
Sa

1




$220

/nt

2




$220

/nt

3




$220

/nt

4




$177

/nt

5




$177

/nt

6




$177

/nt

7




$177

/nt

8




$177

/nt

9




$177

/nt

10




$177

/nt

11




$177

/nt

12




$177

/nt

13




$168

/nt

14




$168

/nt

15




$168

/nt

16




$168

/nt

17




$177

/nt

18




$177

/nt

19




$177

/nt

20




$177

/nt

21




$177

/nt

22




$177

/nt

23




$177

/nt

24




$177

/nt

25




$177

/nt

26




$177

/nt

27




$177

/nt

28




$177

/nt

29




$177

/nt

30




$177

/nt

31




$177

/nt
February 2023
Su
Mo
Tu
We
Th
Fr
Sa

1




$177

/nt

2




$177

/nt

3




$177

/nt

4




$177

/nt

5




$177

/nt

6




$177

/nt

7




$177

/nt

8




$177

/nt

9




$177

/nt

10




$177

/nt

11




$177

/nt

12




$177

/nt

13




$177

/nt

14




$177

/nt

15




$177

/nt

16




$177

/nt

17




$189

/nt

18




$189

/nt

19




$189

/nt

20




$189

/nt

21




$189

/nt

22




$189

/nt

23




$189

/nt

24




$189

/nt

25




$189

/nt

26




$189

/nt

27




$189

/nt

28




$177

/nt
March 2023
Su
Mo
Tu
We
Th
Fr
Sa

1




$177

/nt

2




$177

/nt

3




$177

/nt

4




$177

/nt

5




$177

/nt

6




$177

/nt

7




$177

/nt

8




$177

/nt

9




$177

/nt

10




$177

/nt

11




$177

/nt

12




$177

/nt

13




$177

/nt

14




$177

/nt

15




$177

/nt

16




$177

/nt

17




$177

/nt

18




$177

/nt

19




$183

/nt

20




$183

/nt

21




$183

/nt

22




$183

/nt

23




$183

/nt

24




$177

/nt

25




$177

/nt

26




$177

/nt

27




$177

/nt

28




$177

/nt

29




$177

/nt

30




$177

/nt

31




$177

/nt
April 2023
Su
Mo
Tu
We
Th
Fr
Sa

1




2




3




4




5




6




7




8




9




10




11




12




13




14




15




16




17




18




19




20




21




22




23




24




25




26




27




28




29




30