Row Wrapper 2
Grandpas Dream Luxury Chalet in the Mountains
Capacity
3 Bedrooms
2.5 Bath
Sleeps 10
Search Availability
About
This beautiful, open-concept, family cabin is Grandpa's Dream - the ultimate getaway with floor-to-ceiling windows that will make you feel as though you're living among the pines. The main floor boasts a billiard table, cozy overstuffed chairs near the wood stove, and a floor plan that flows into the dining area which has a pub table that seats 8 as well as a breakfast bar that seats 2 more! The fully equipped kitchen provides everything you're looking for! Whether you're entertaining a small group of your closest friends or relaxing with family, you won't want to leave! The Master bedroom is located in the upper loft area, with a King bed and master bathroom with bath and shower. The second and third bedrooms are located on the bottom floor, 1 with a queen bed and 1 with a queen and a full bed.
On the lower level, you'll find a large family room as well as 2 more bedrooms, 1 with a queen bed and one with queen and full beds. Additionally, you'll find a second deck, offering plenty of room to spread out. The back deck provides even more entertaining space, with a table and a propane bbq grill.
Located in Big Trees Village, you'll also have summertime access to two swimming pools and tennis and bocce ball courts, as well as a snack bar, playground and game area. Only minutes from Calaveras Big Trees State Park, Bear Valley Ski Resort, Lake Alpine, Spicer Reservoir and the Stanislaus River - there's something to do year-round!
RENTAL CONTRACT AND COPY OF DRIVERS LICENSE REQUIRED ONCE RESERVATION IS MADE AND ACCEPTED.
THIS IS NOT A PET FRIENDLY CABIN. We expect all guests to honor the owner's policy. If a pet is brought to a non-pet friendly cabin, there will be a $1,000 fee charged.
Features
Amenities
Television
Coffee Maker
Keurig
Dishwasher
Microwave
Oven
Refrigerator
Stove
Toaster
Utensils
Cookware
Dishes, Glassware
Full Kitchen
Baking Sheets / Pans
Large Mixing Bowls
Waffle Iron
Photos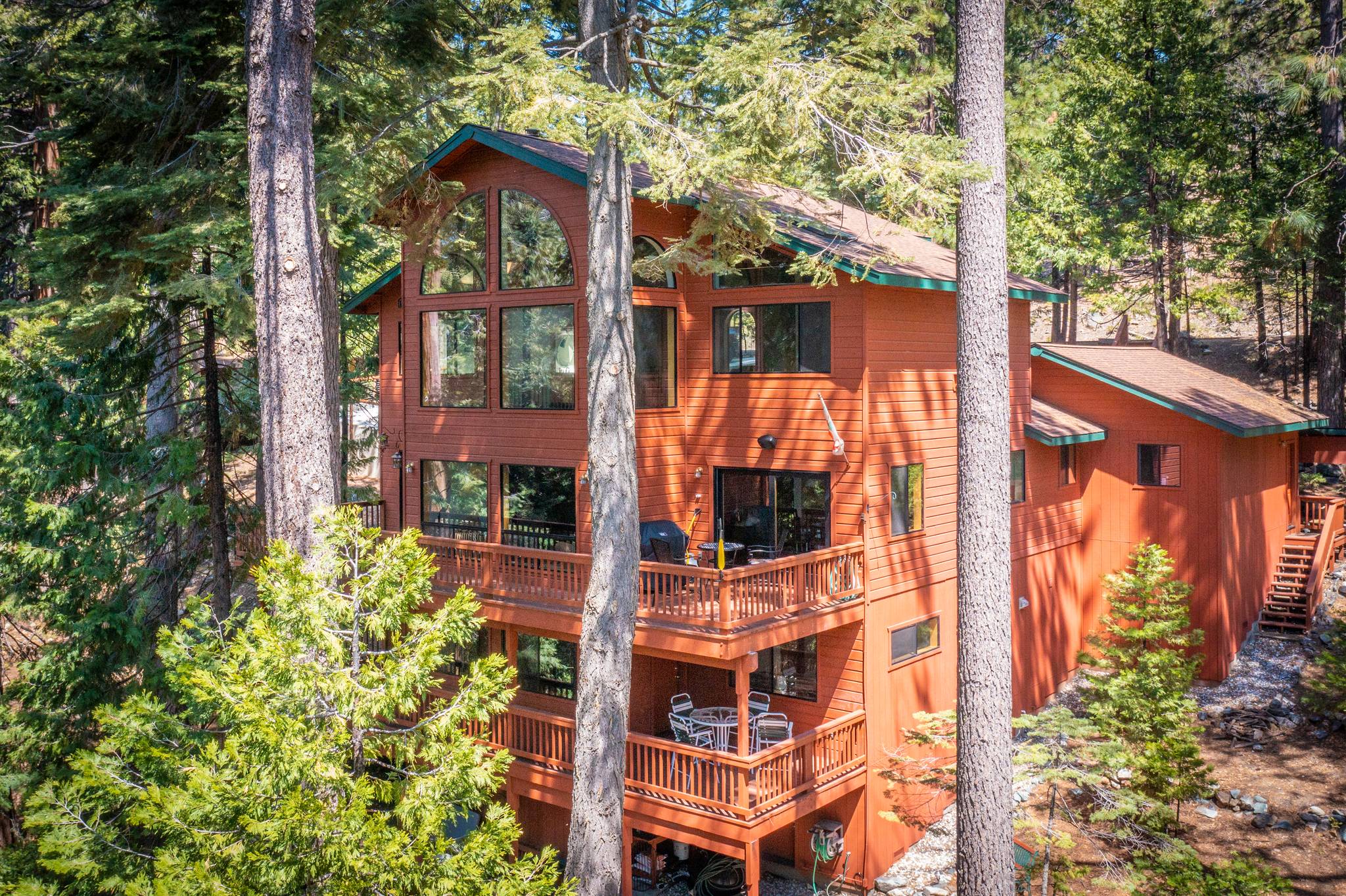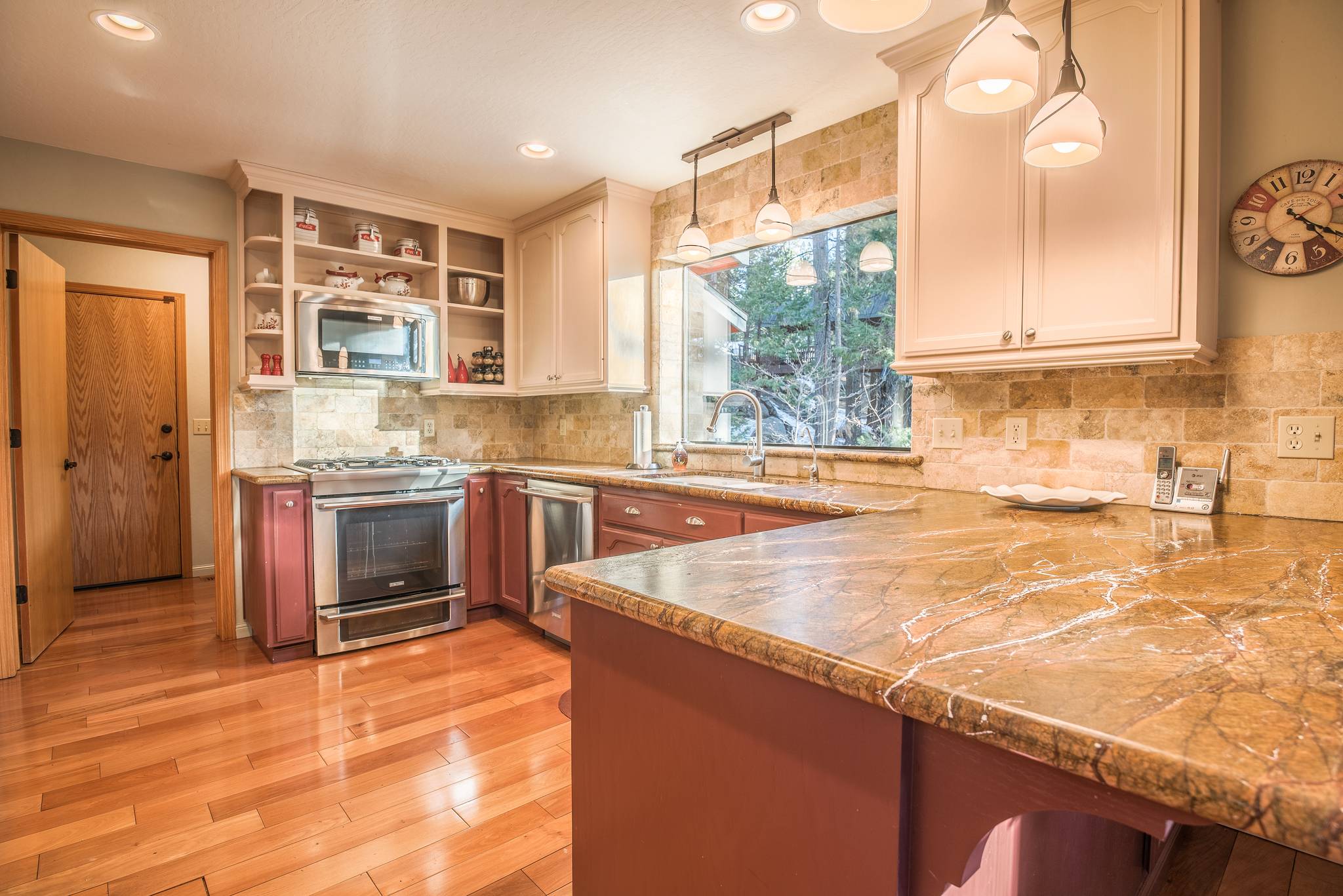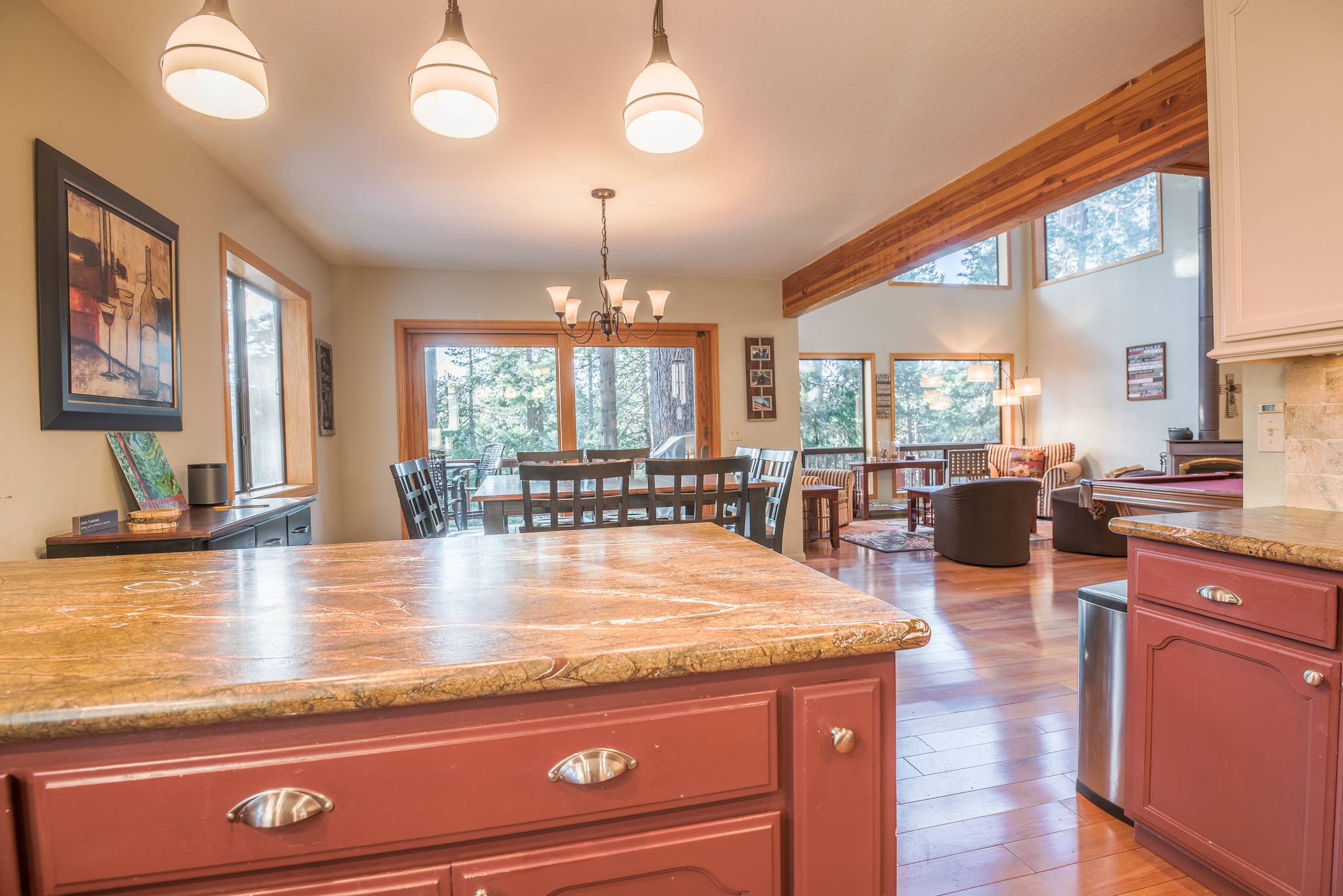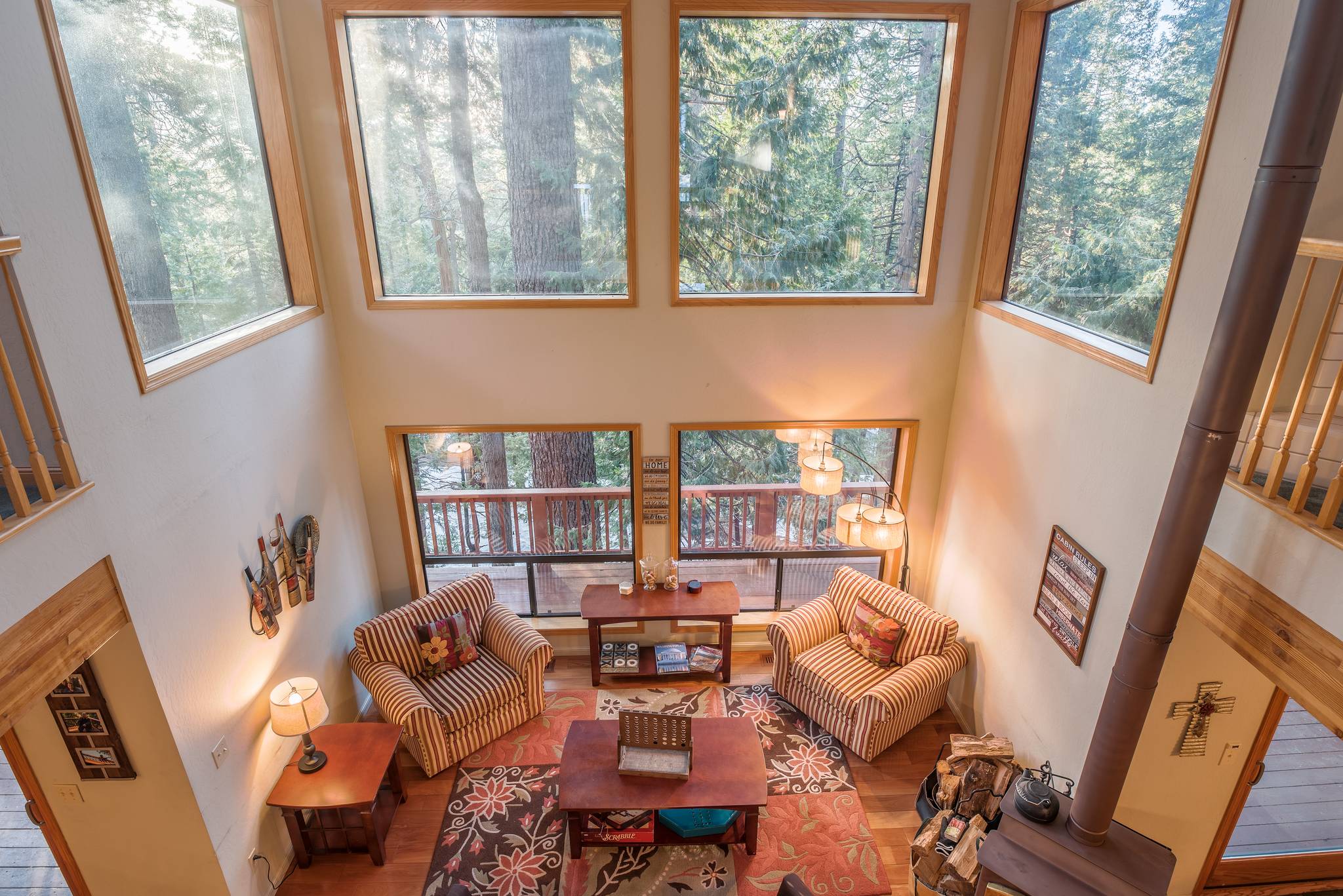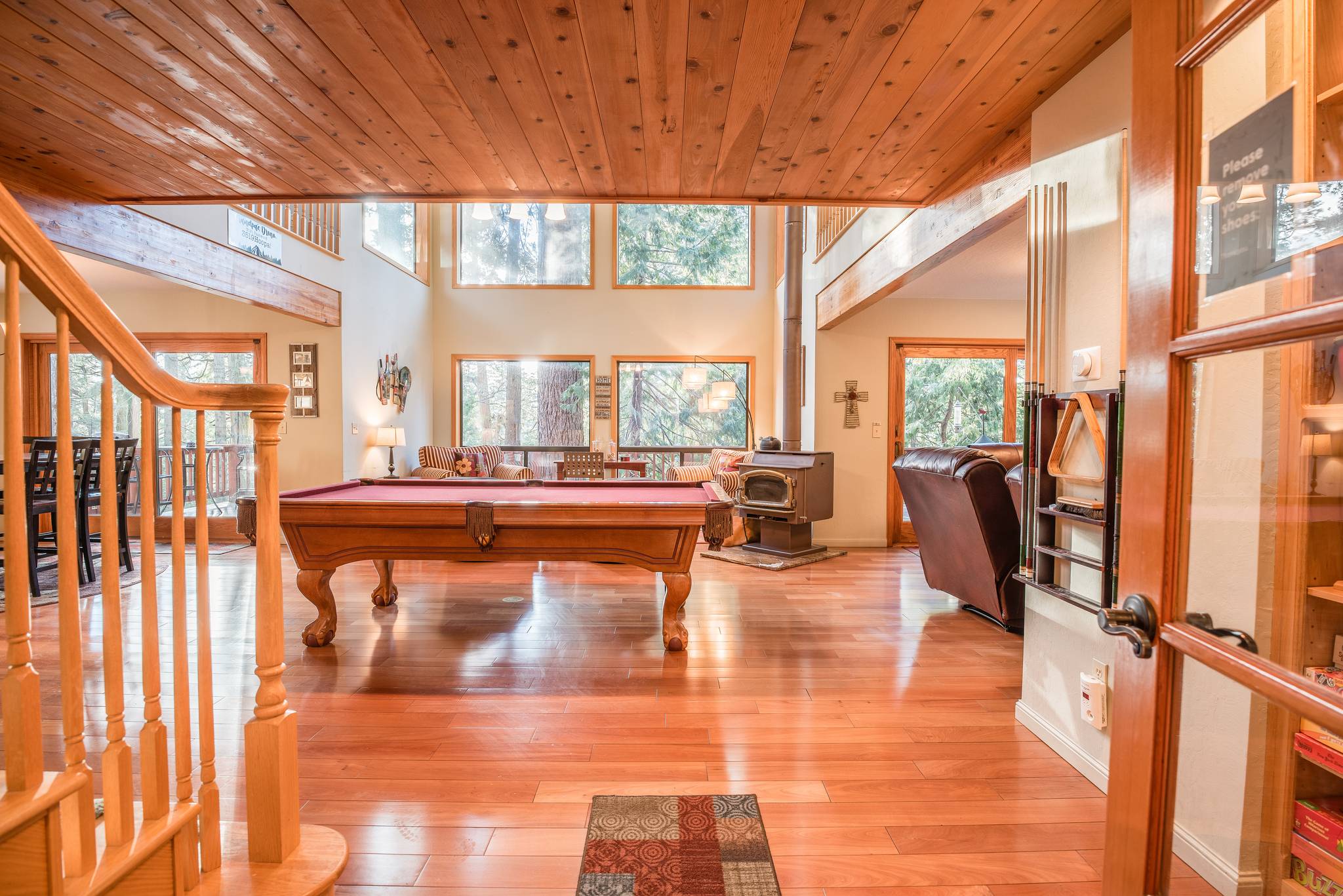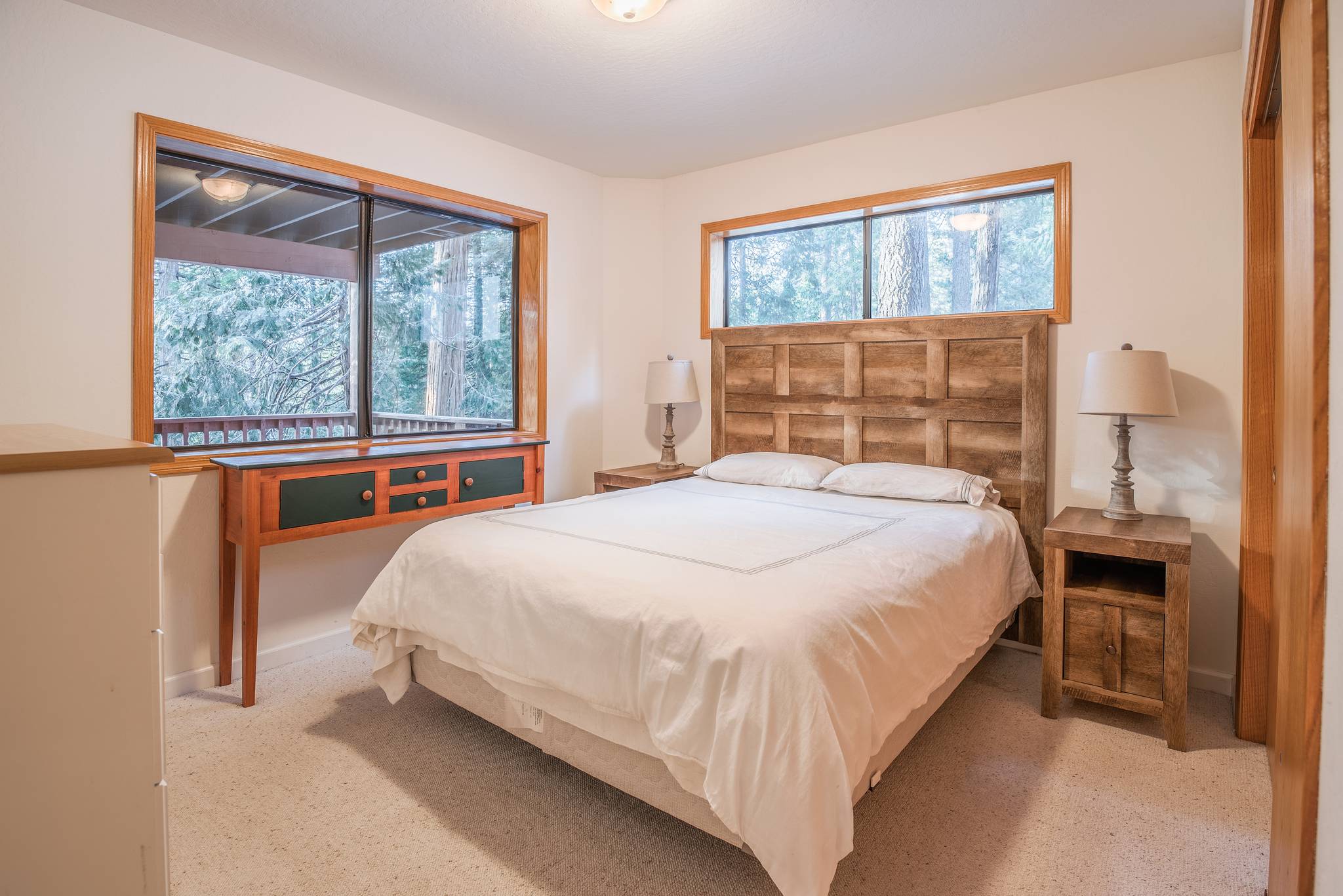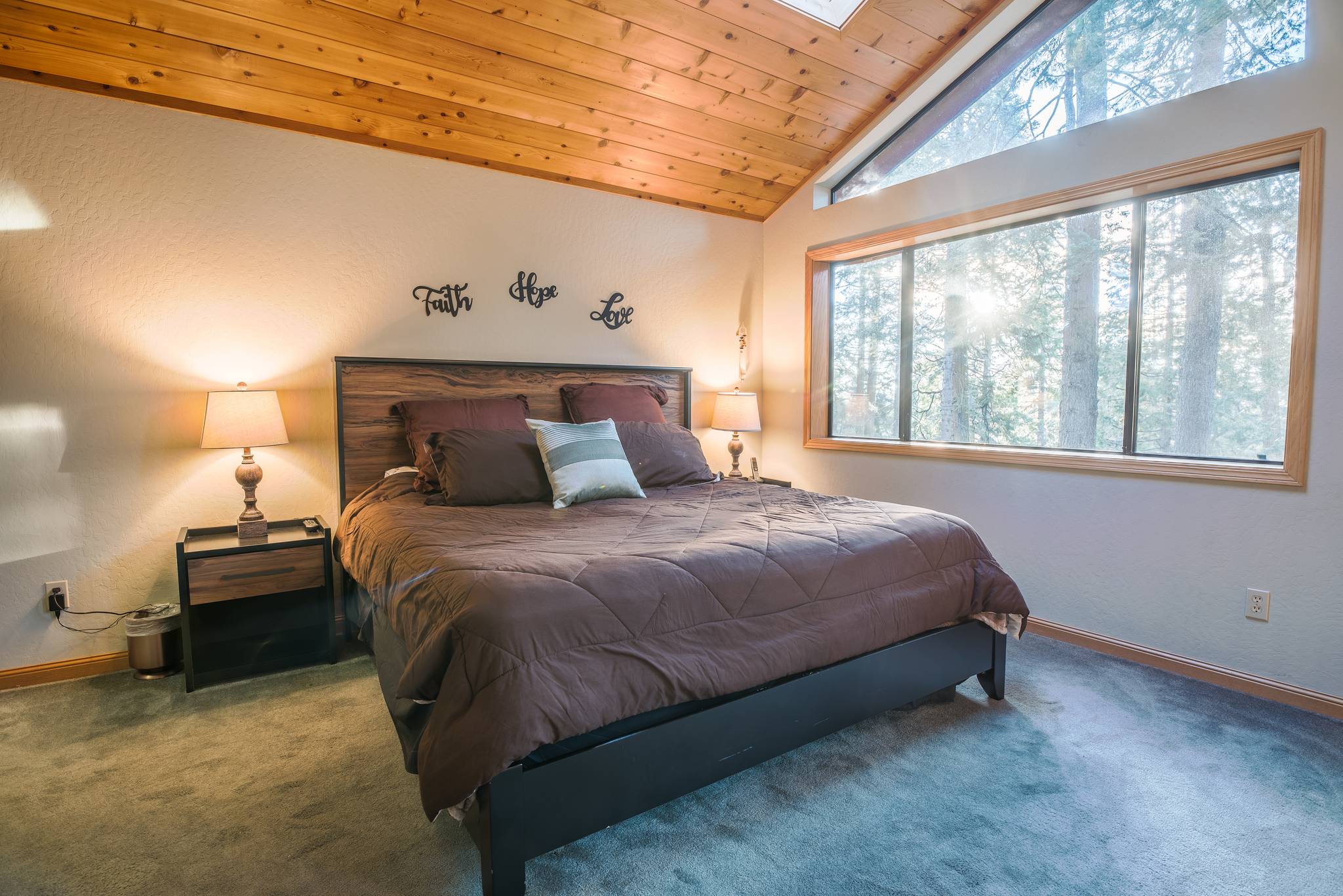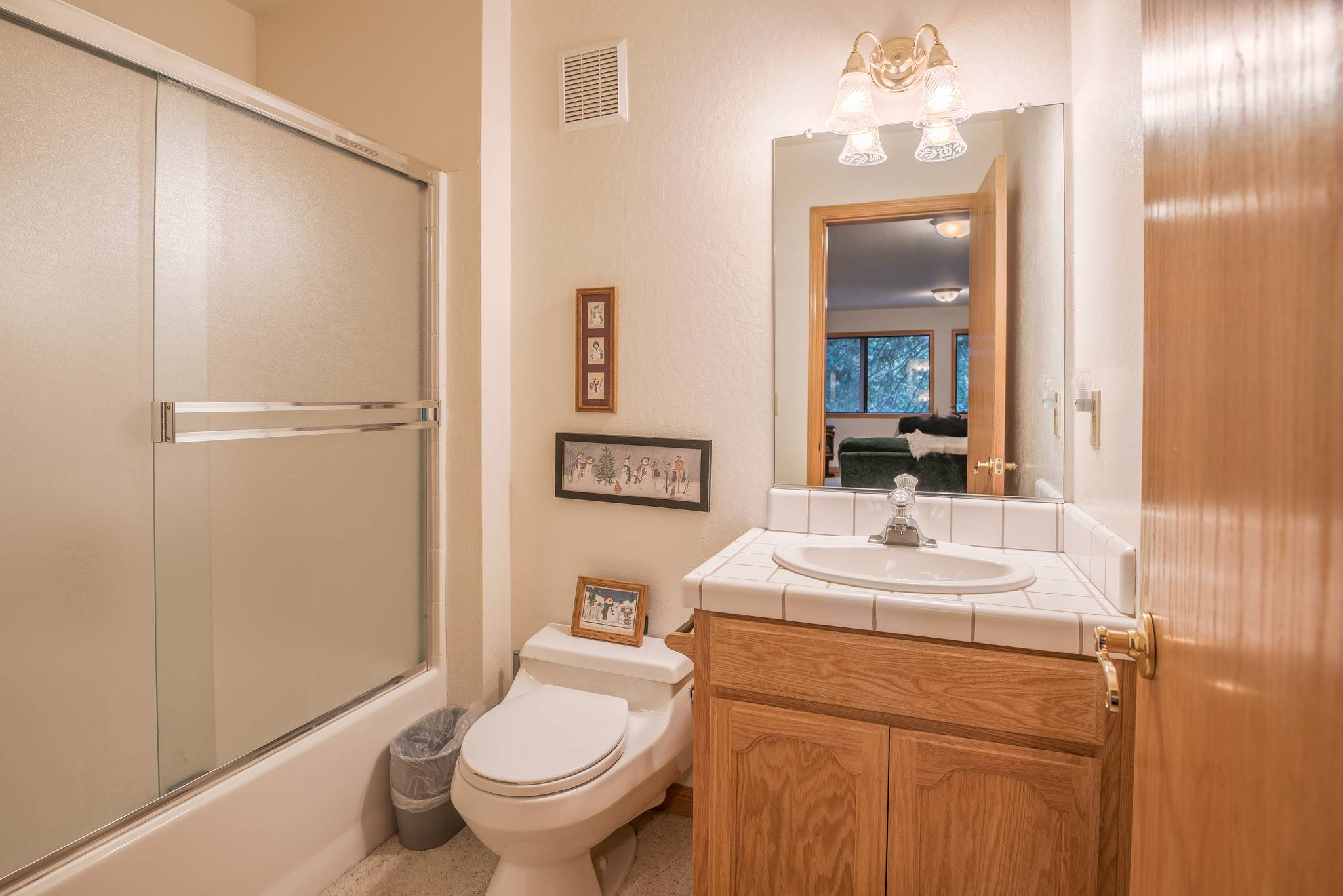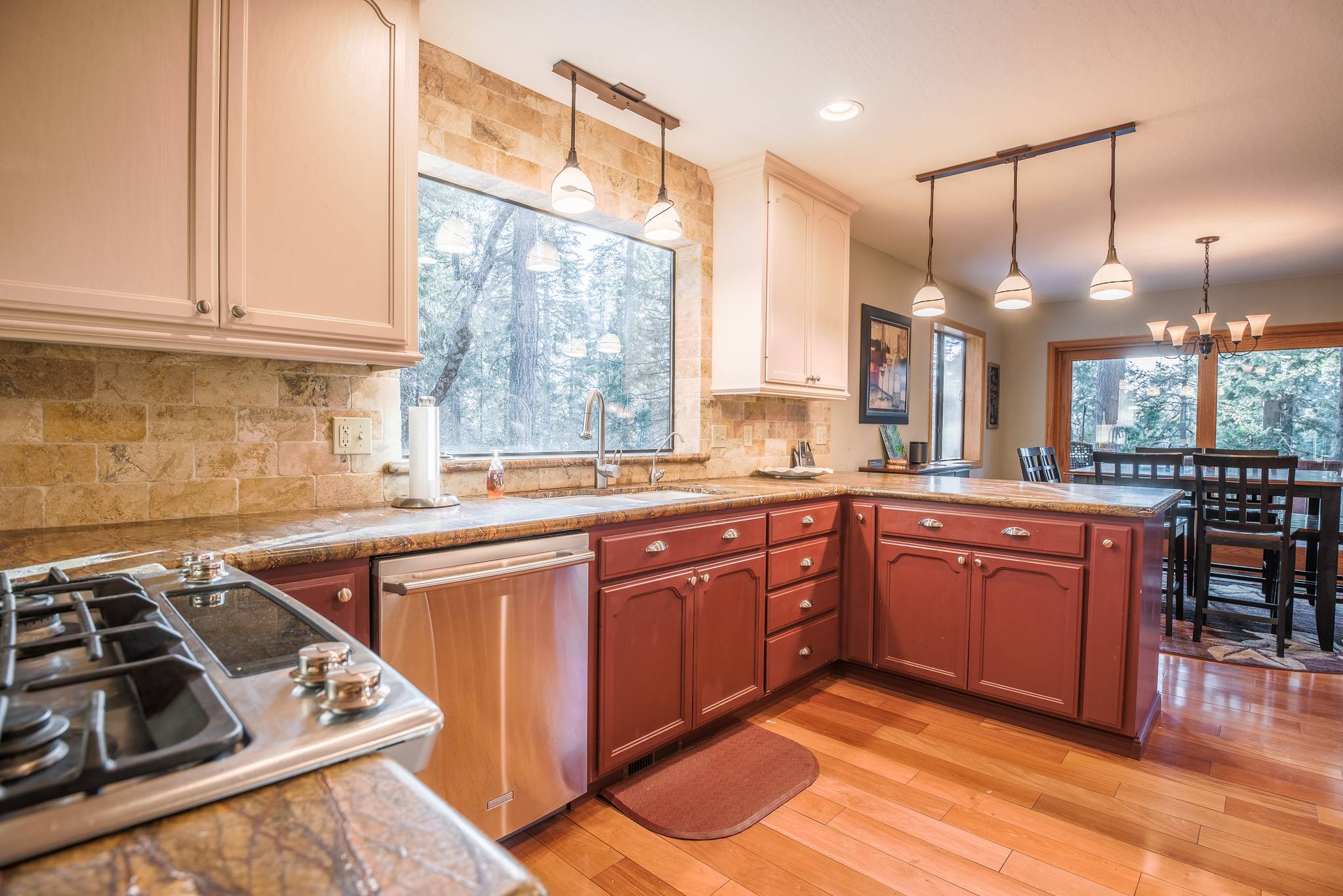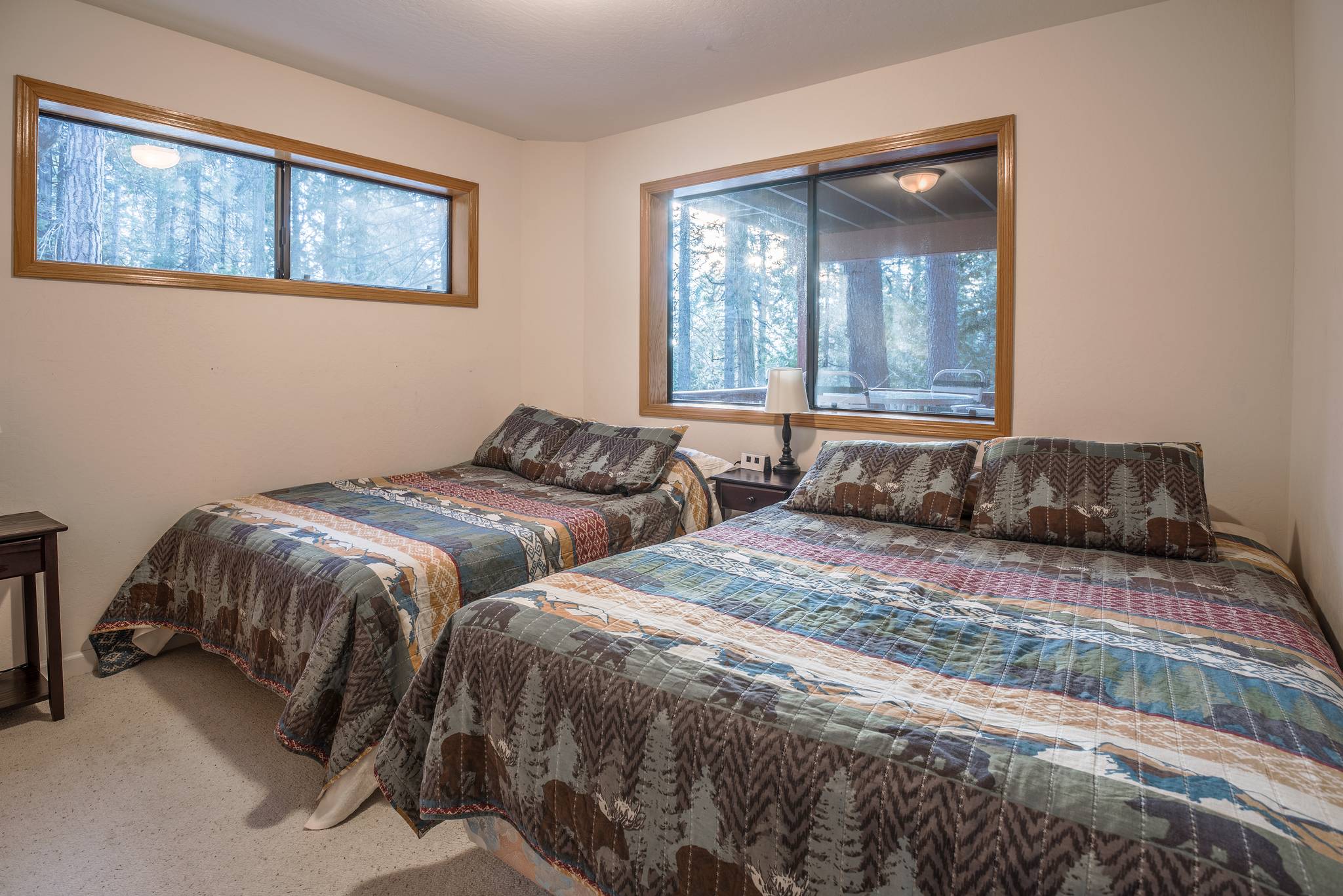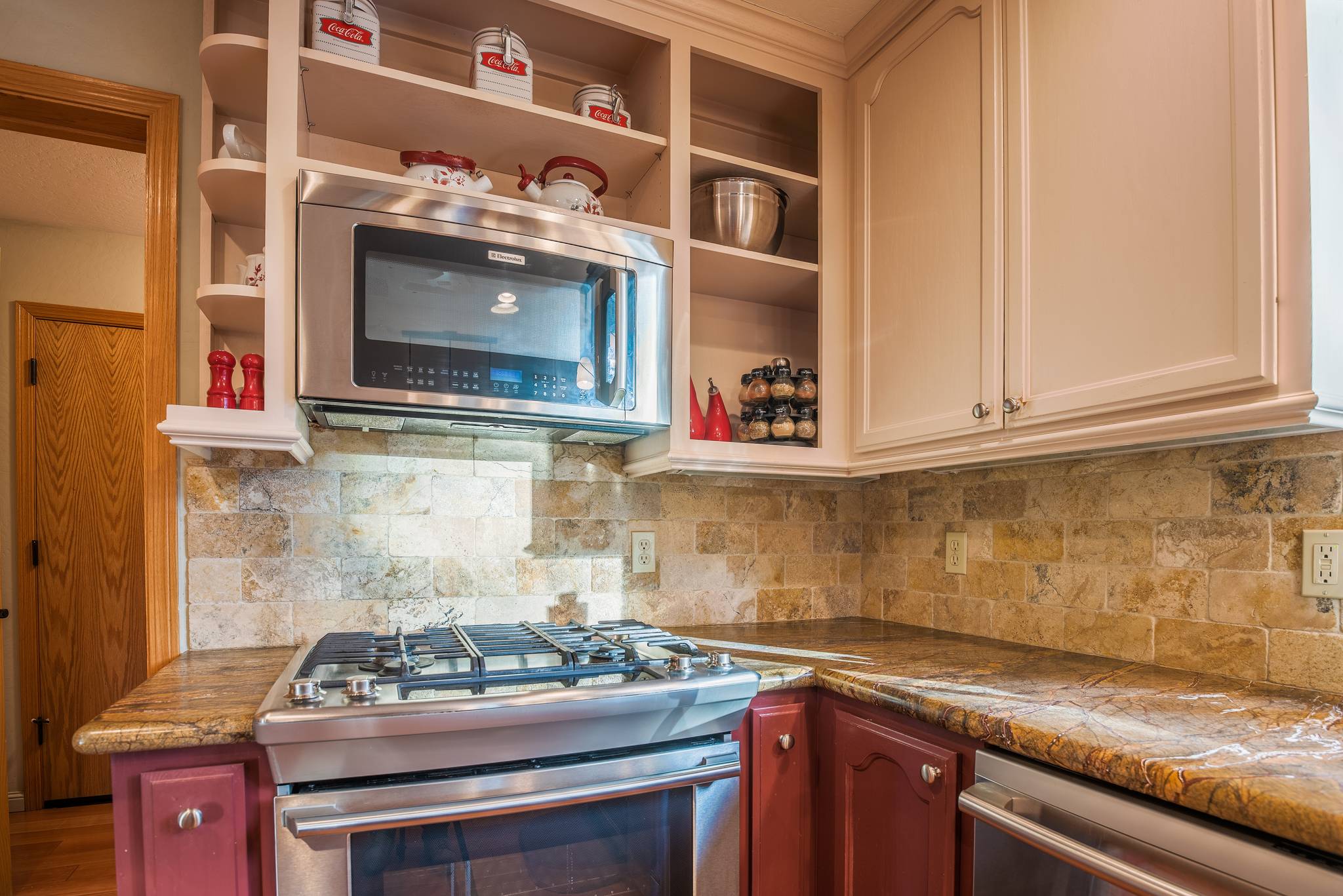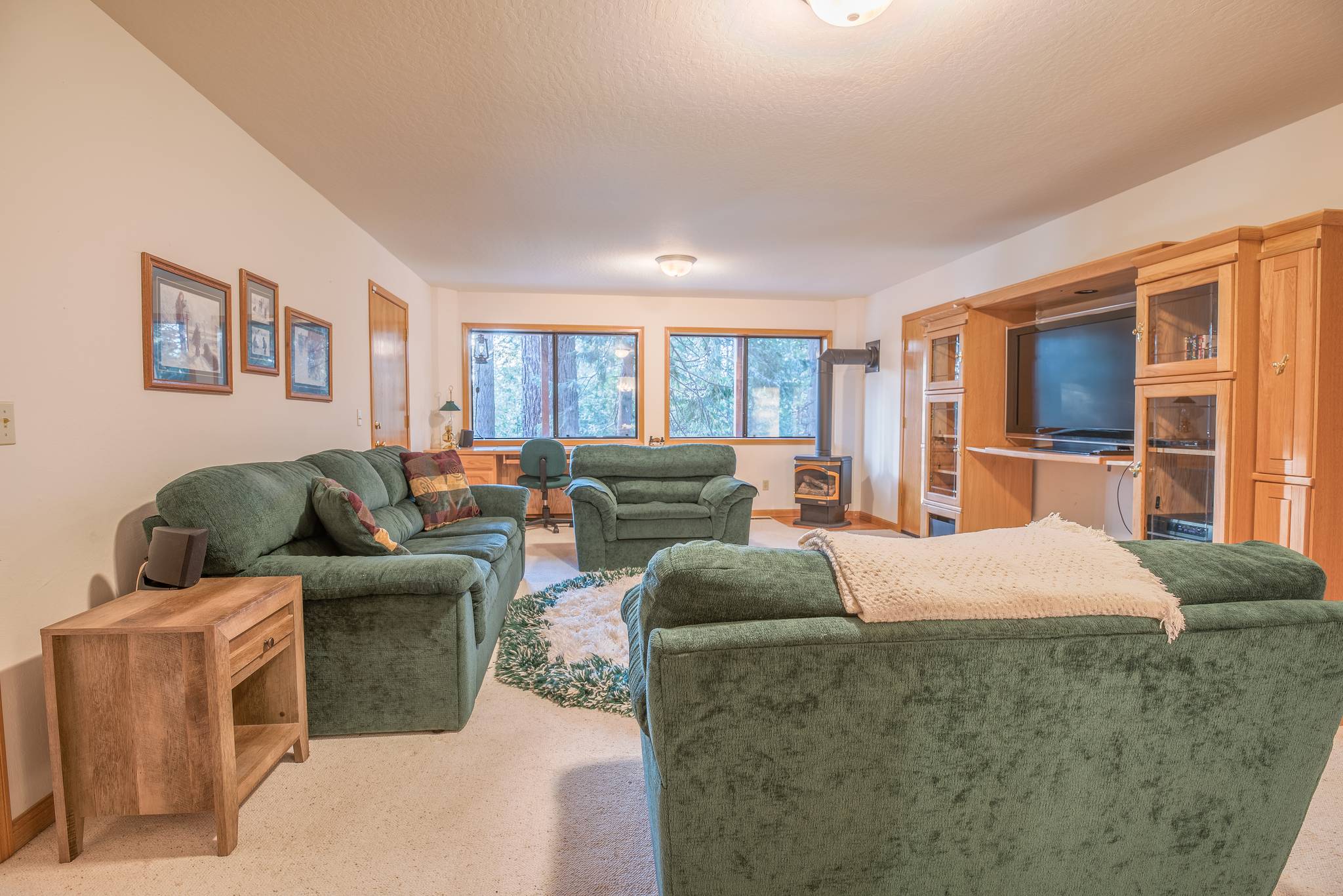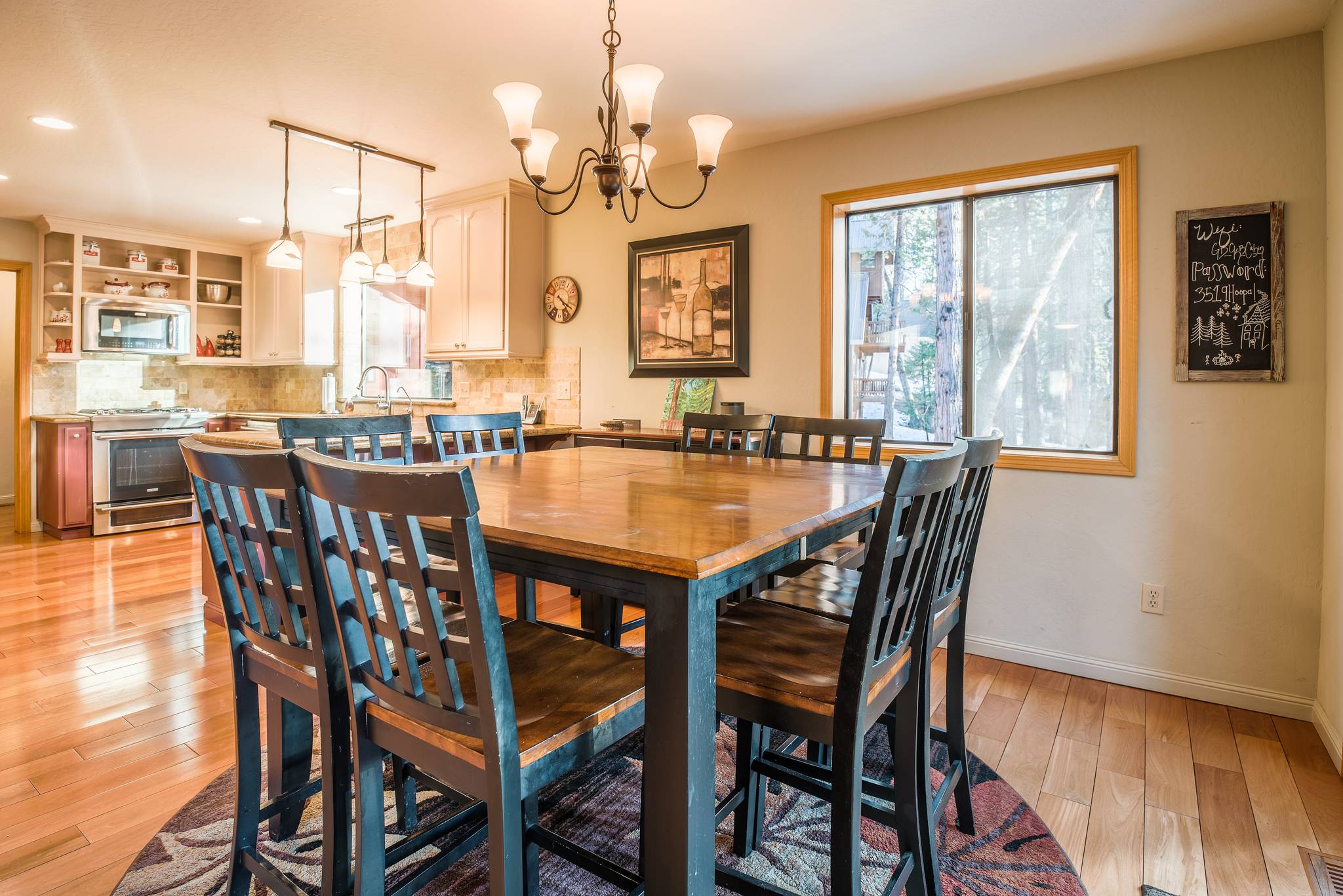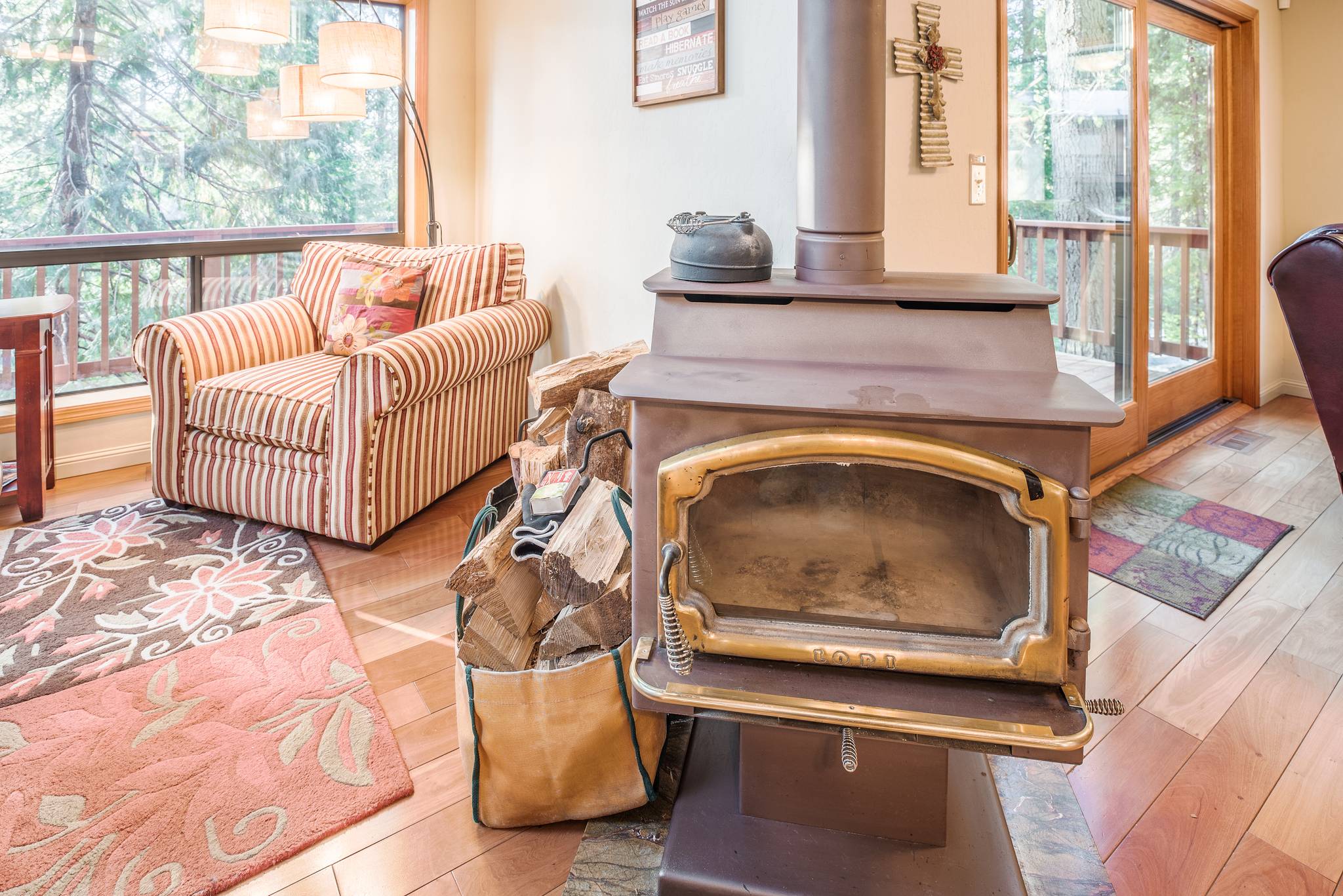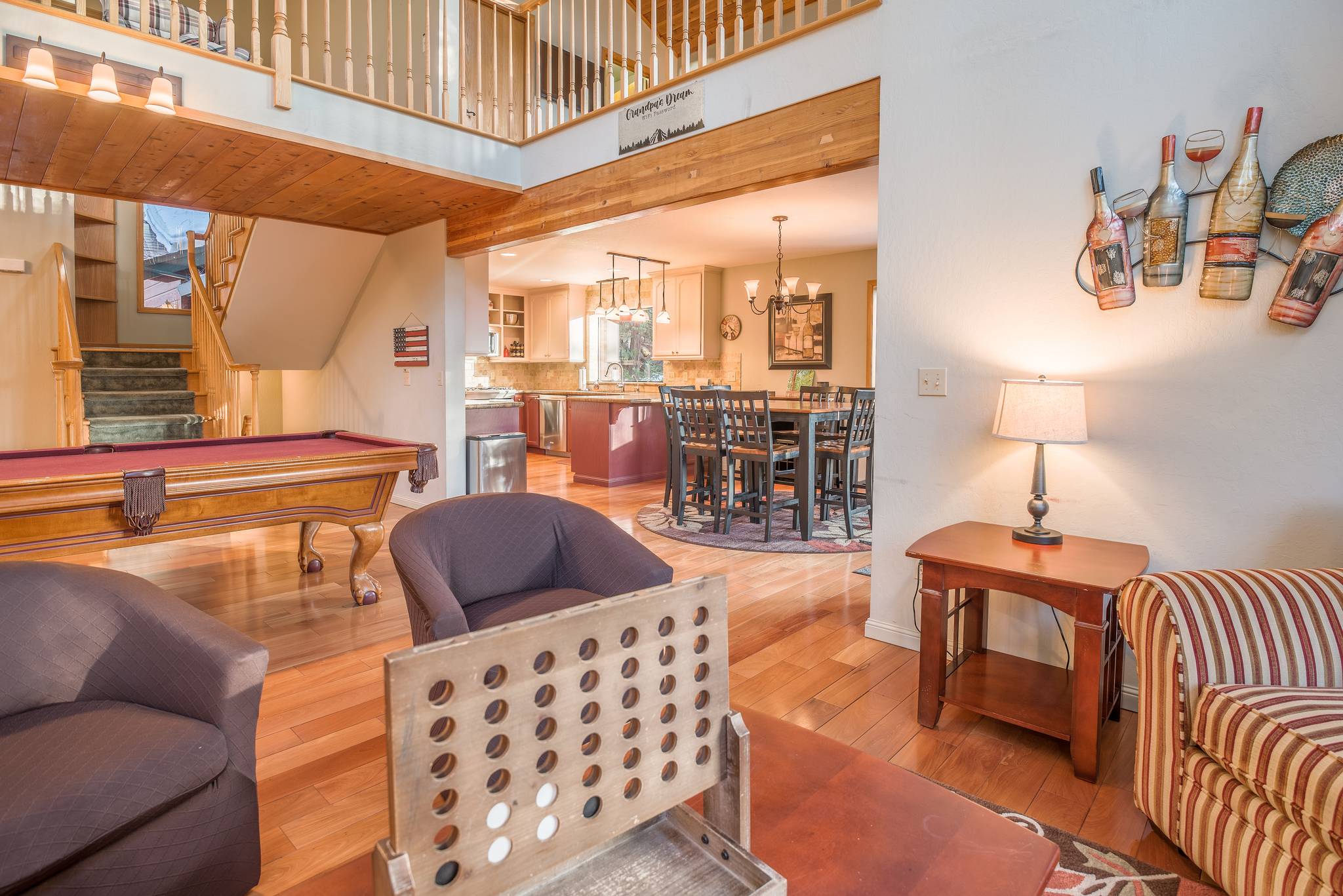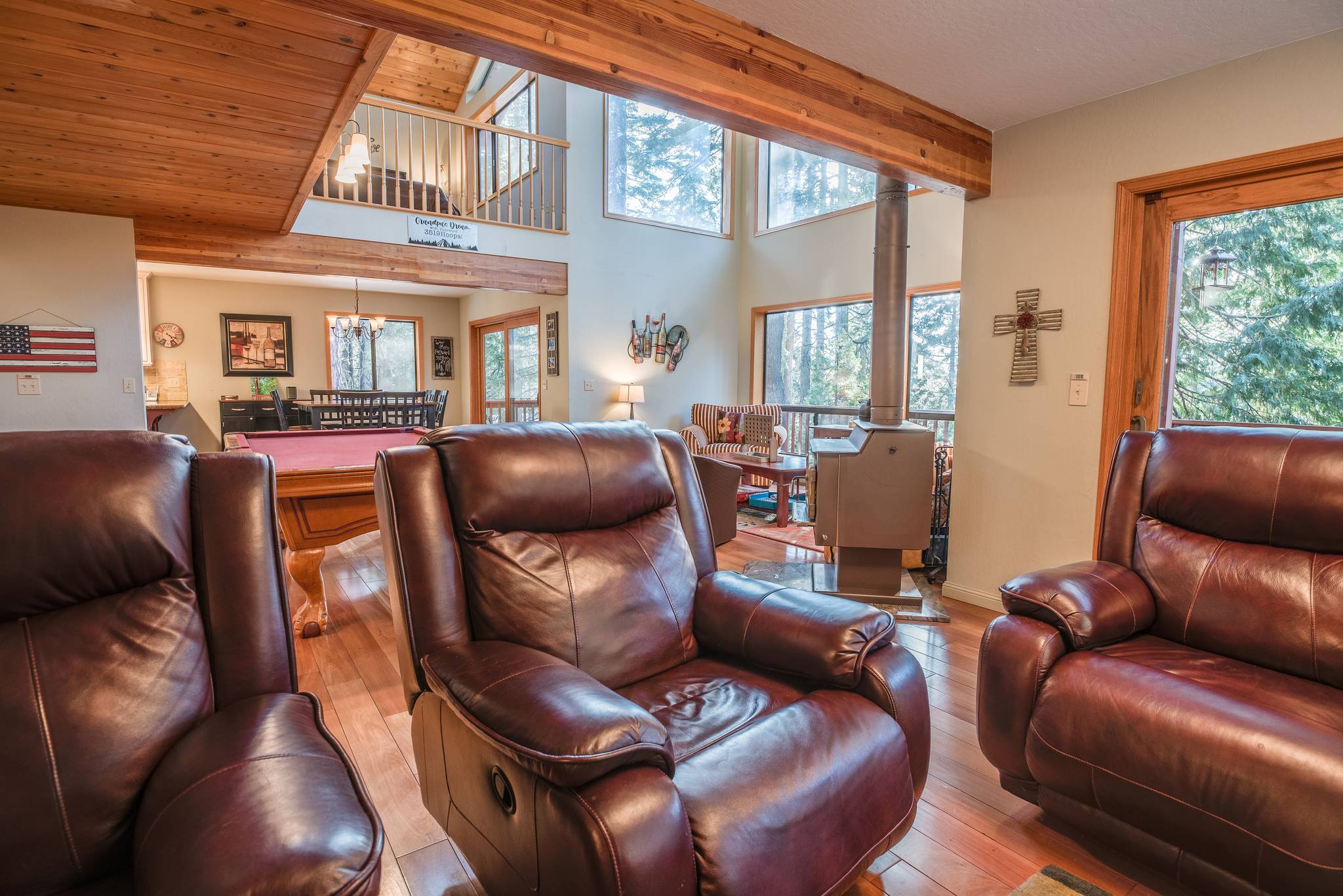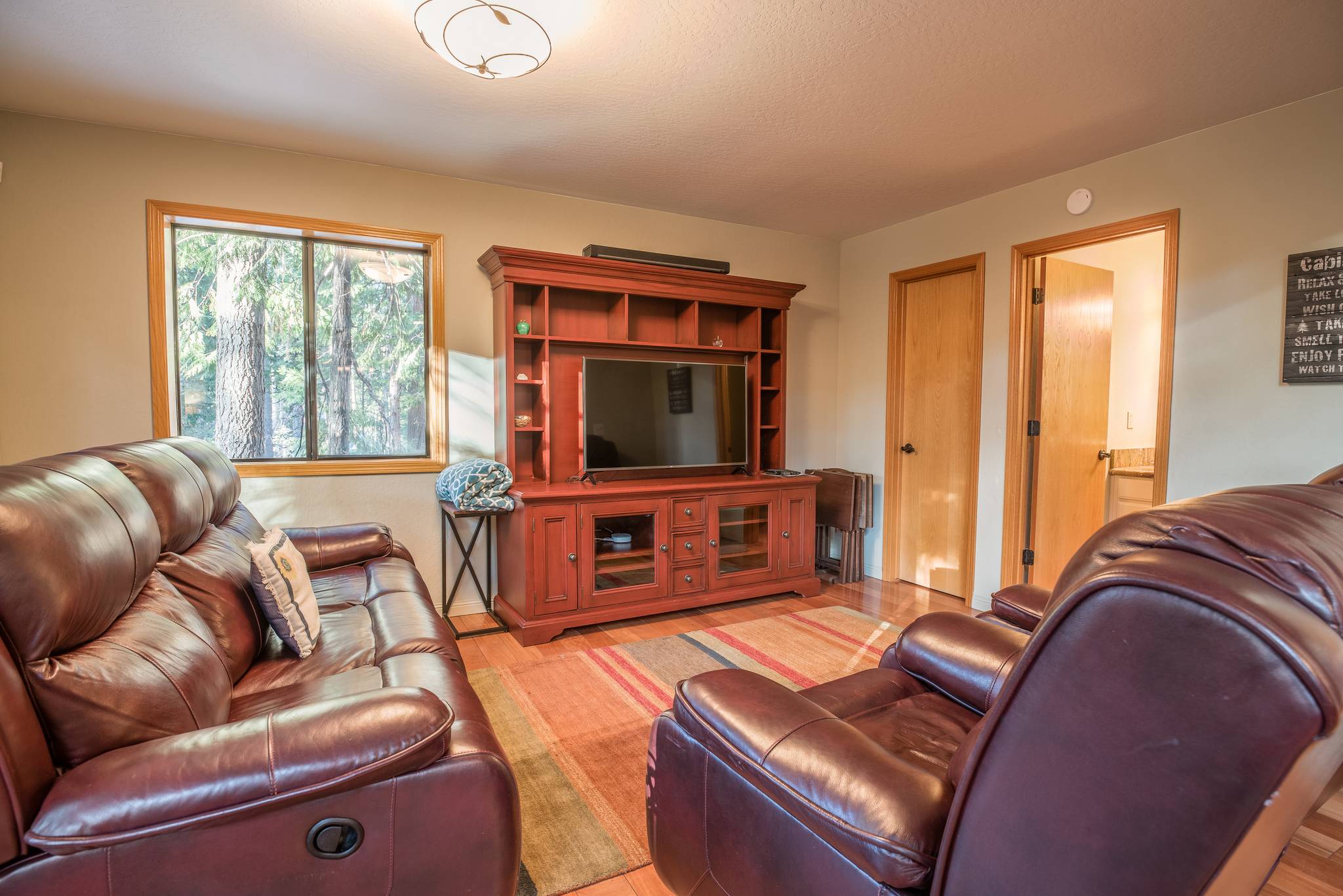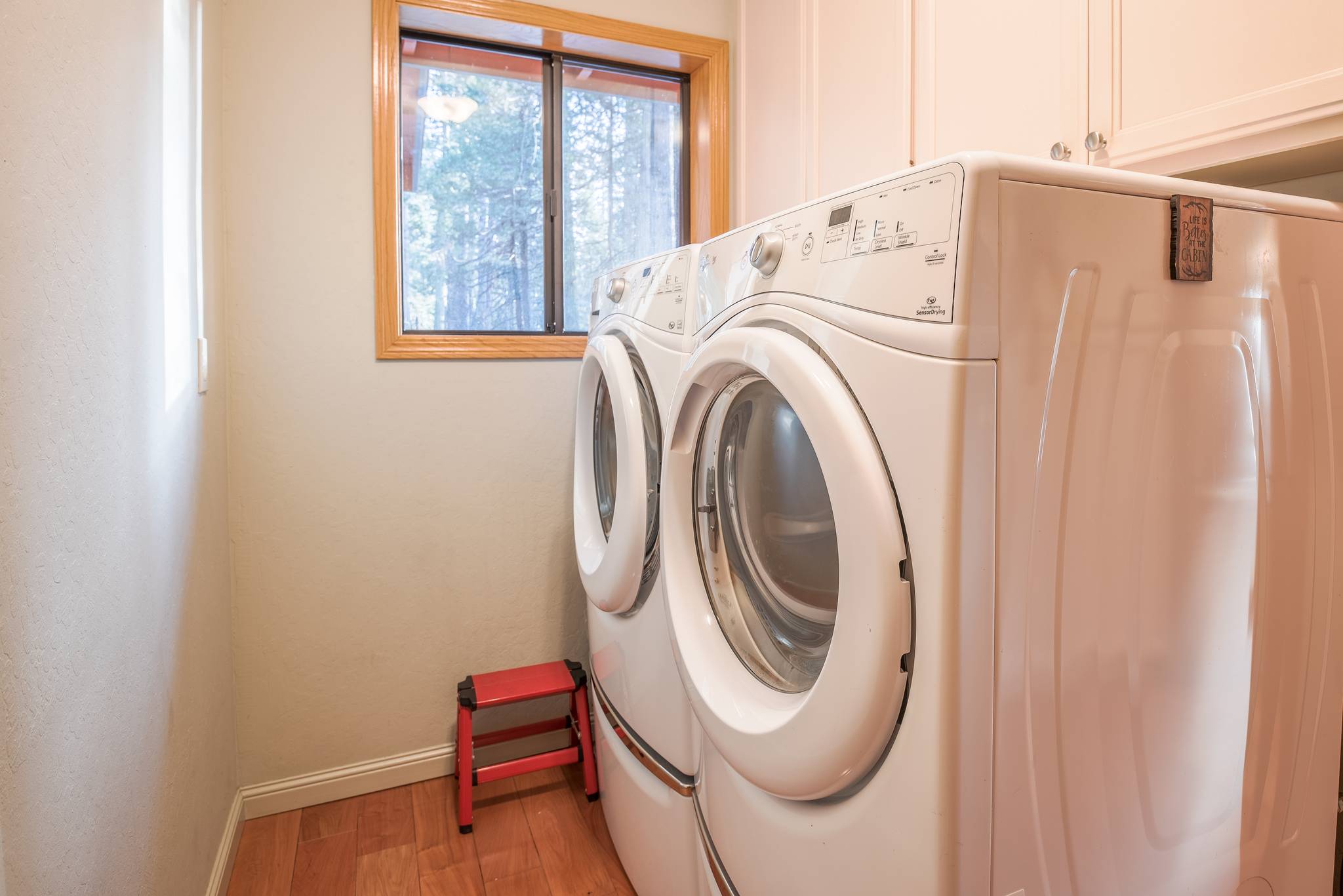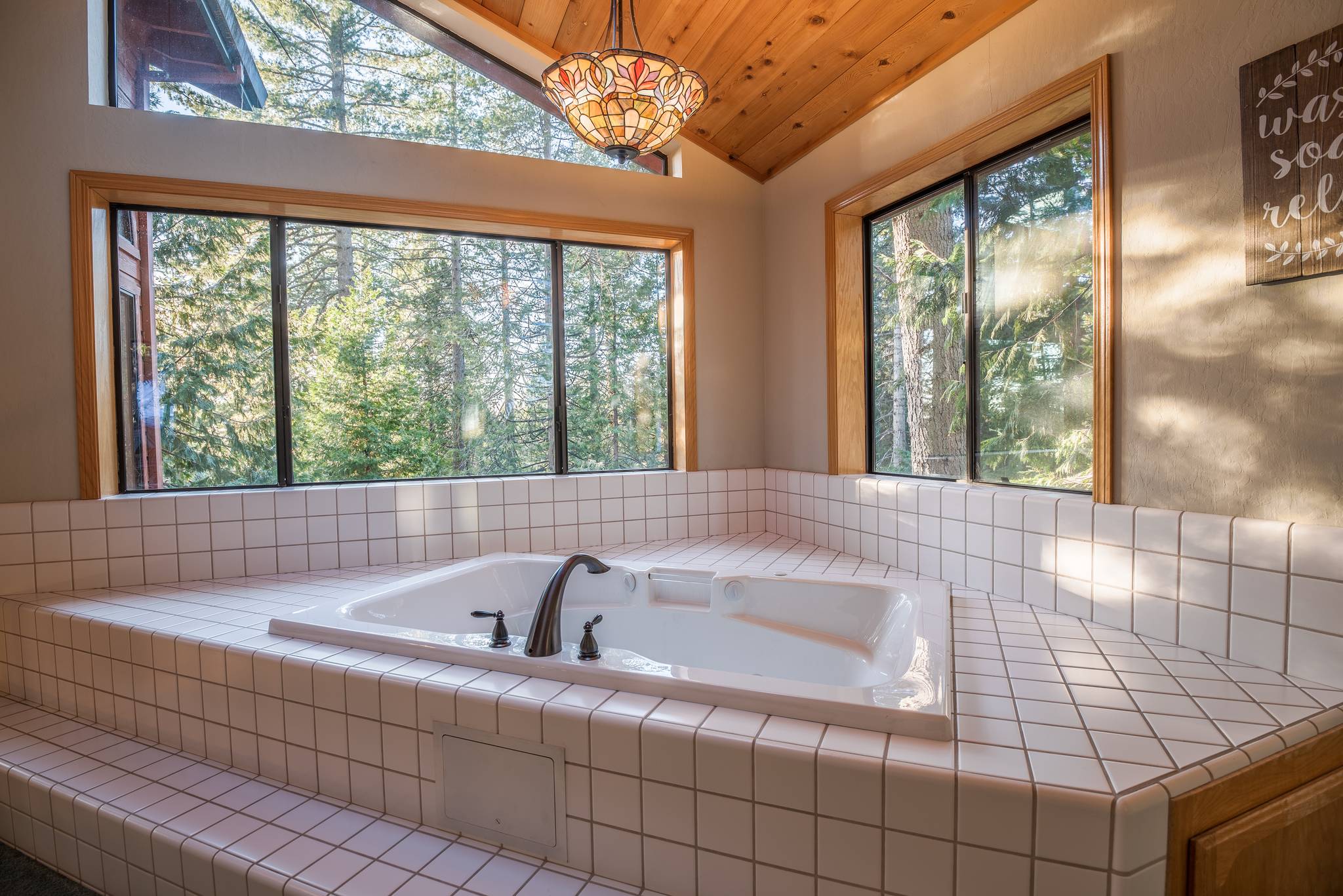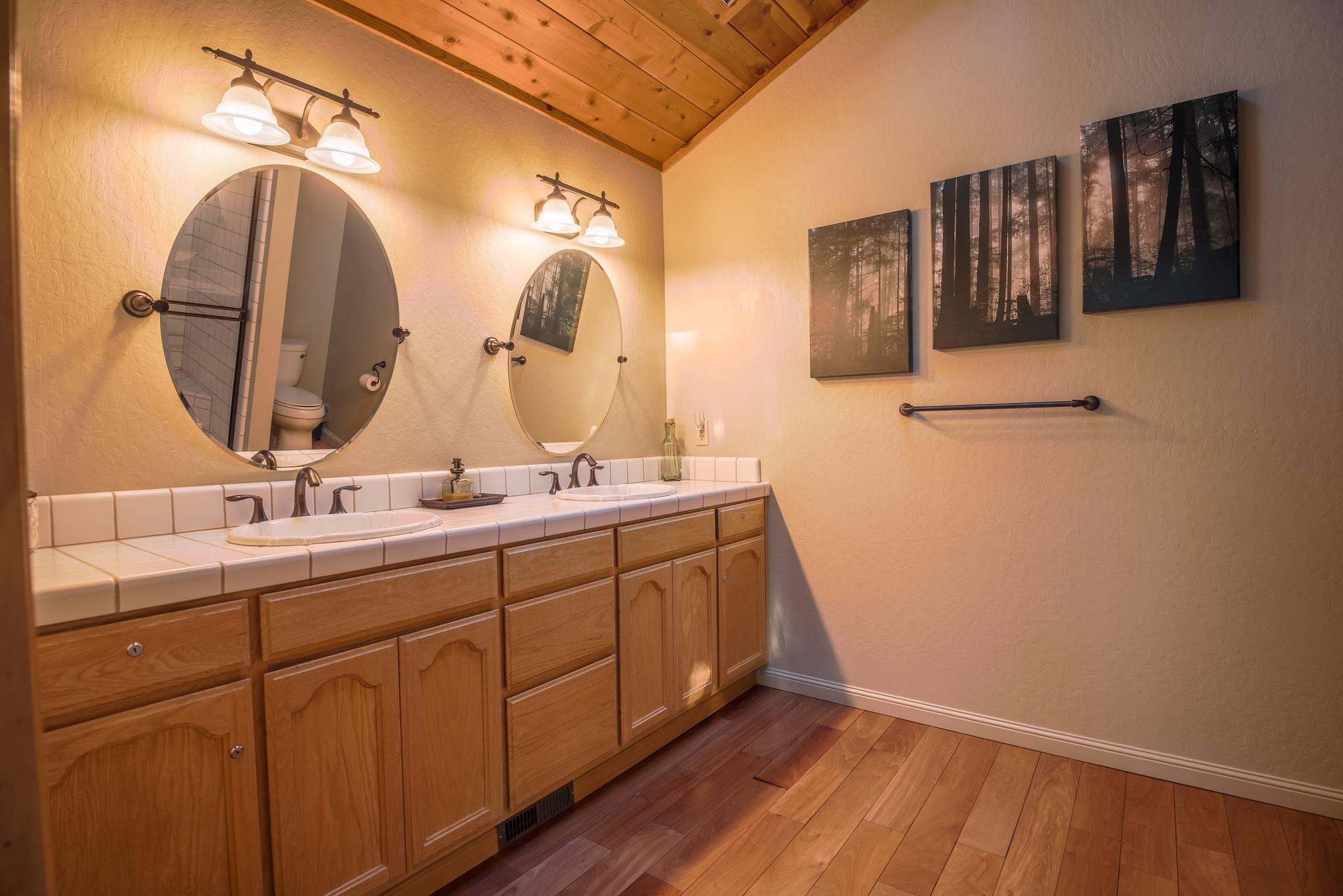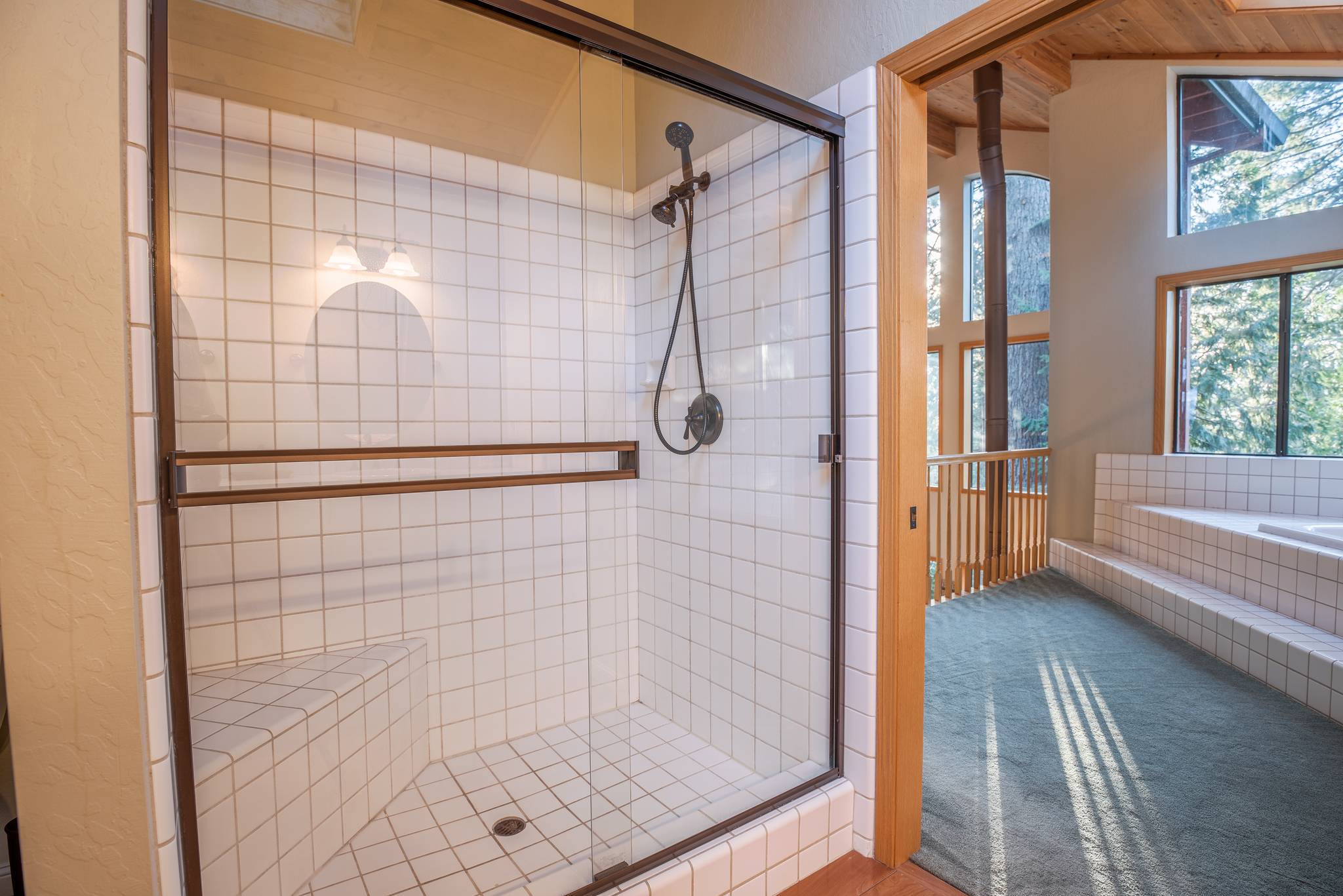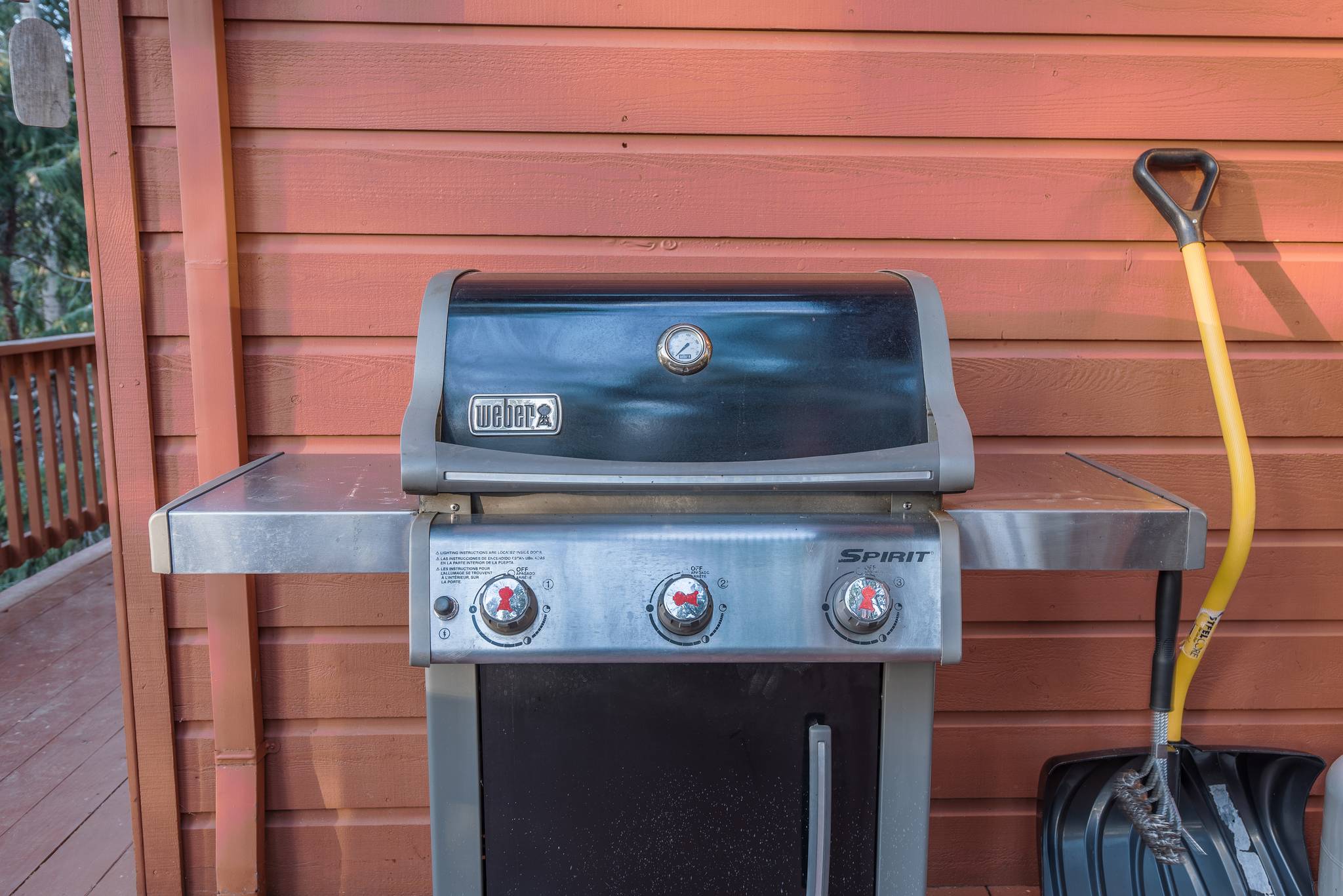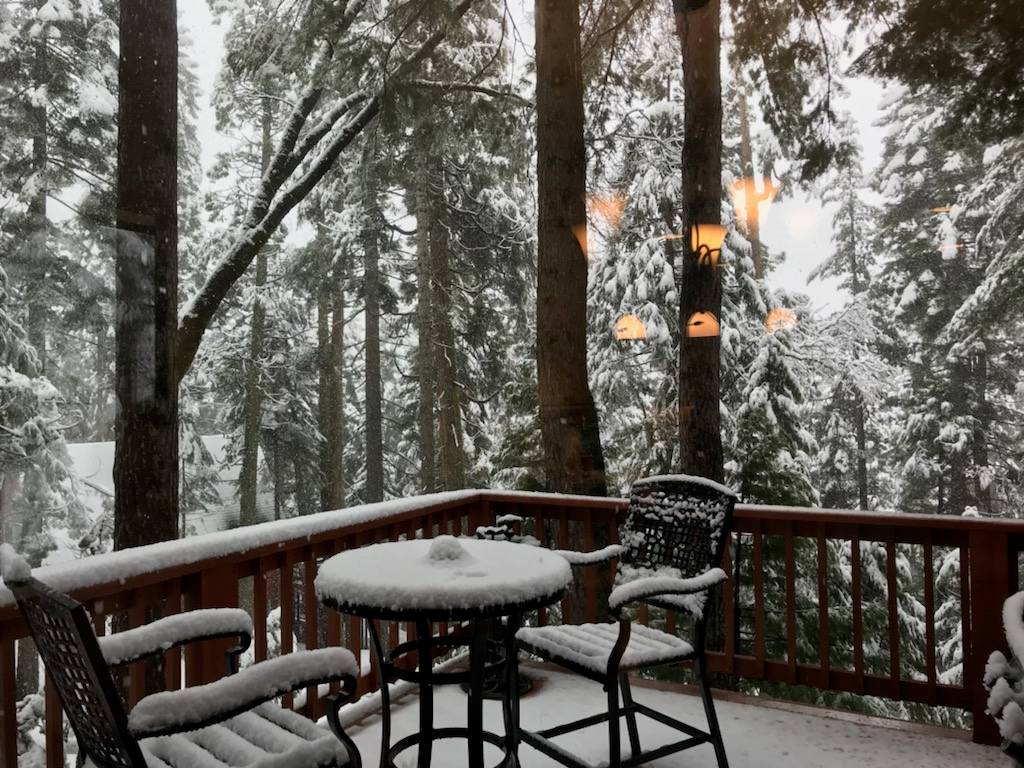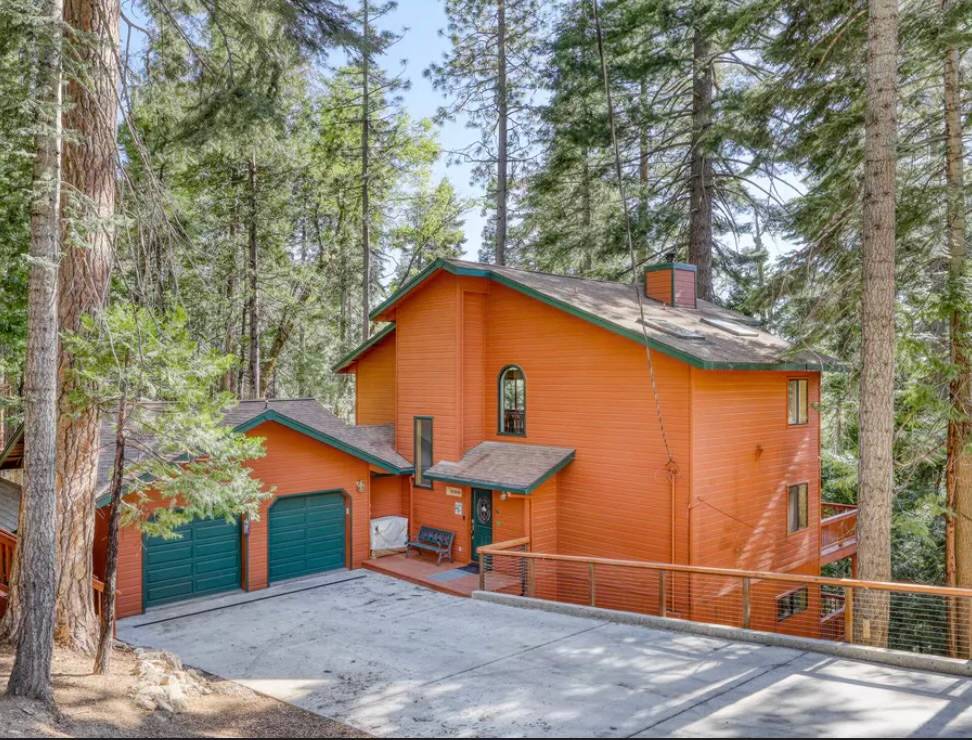 Availability
Key

| | | | | | | | |
| --- | --- | --- | --- | --- | --- | --- | --- |
| # | Night Available | # | Night Unavailable | # | Arrive Only | # | Depart Only |
May 2022
Su
Mo
Tu
We
Th
Fr
Sa

1




2




3




4




5




6




7




8




9




10




11




12




13




14




15




16




17




18




19




20




21




22




$335

/nt

23




$335

/nt

24




$335

/nt

25




$335

/nt

26




$335

/nt

27




$380

/nt

28




$380

/nt

29




$380

/nt

30




$380

/nt

31



June 2022
Su
Mo
Tu
We
Th
Fr
Sa

1




$360

/nt

2




$360

/nt

3




$360

/nt

4




$360

/nt

5




$360

/nt

6




$360

/nt

7




$360

/nt

8




$360

/nt

9




$360

/nt

10




$360

/nt

11




$360

/nt

12




$360

/nt

13




$360

/nt

14




$360

/nt

15




$360

/nt

16




$360

/nt

17




$360

/nt

18




$360

/nt

19




$360

/nt

20




$360

/nt

21




$360

/nt

22




$360

/nt

23




$360

/nt

24




25




26




27




28




29




$360

/nt

30




$360

/nt
July 2022
Su
Mo
Tu
We
Th
Fr
Sa

1




$380

/nt

2




$380

/nt

3




$380

/nt

4




$380

/nt

5




$380

/nt

6




$380

/nt

7




$380

/nt

8




$380

/nt

9




$380

/nt

10




$380

/nt

11




$360

/nt

12




$360

/nt

13




$360

/nt

14




$360

/nt

15




$360

/nt

16




$360

/nt

17




$360

/nt

18




$360

/nt

19




$360

/nt

20




$360

/nt

21




22




23




24




25




$360

/nt

26




$360

/nt

27




$360

/nt

28




$360

/nt

29




$360

/nt

30




$360

/nt

31




$360

/nt
August 2022
Su
Mo
Tu
We
Th
Fr
Sa

1




$360

/nt

2




$360

/nt

3




$360

/nt

4




$360

/nt

5




$360

/nt

6




$360

/nt

7




$360

/nt

8




$360

/nt

9




$360

/nt

10




$360

/nt

11




$360

/nt

12




$360

/nt

13




$360

/nt

14




$360

/nt

15




$360

/nt

16




$360

/nt

17




$360

/nt

18




$360

/nt

19




$360

/nt

20




$360

/nt

21




$360

/nt

22




$360

/nt

23




$360

/nt

24




$360

/nt

25




$360

/nt

26




27




28




29




$360

/nt

30




$360

/nt

31




$360

/nt
September 2022
Su
Mo
Tu
We
Th
Fr
Sa

1




$360

/nt

2




3




4




5




$380

/nt

6




$360

/nt

7




$360

/nt

8




$360

/nt

9




$360

/nt

10




$360

/nt

11




$360

/nt

12




$360

/nt

13




$360

/nt

14




$360

/nt

15




$360

/nt

16




$360

/nt

17




$360

/nt

18




$360

/nt

19




$360

/nt

20




$360

/nt

21




$360

/nt

22




$360

/nt

23




$360

/nt

24




$360

/nt

25




$360

/nt

26




$360

/nt

27




$360

/nt

28




$360

/nt

29




$360

/nt

30




$360

/nt
October 2022
Su
Mo
Tu
We
Th
Fr
Sa

1




$360

/nt

2




$360

/nt

3




$360

/nt

4




$360

/nt

5




$360

/nt

6




$360

/nt

7




$360

/nt

8




$360

/nt

9




$360

/nt

10




$360

/nt

11




$360

/nt

12




$360

/nt

13




$360

/nt

14




$360

/nt

15




$360

/nt

16




$360

/nt

17




$360

/nt

18




$360

/nt

19




$360

/nt

20




$360

/nt

21




22




23




24




25




26




27




28




29




30




31




$360

/nt
November 2022
Su
Mo
Tu
We
Th
Fr
Sa

1




$432

/nt

2




$432

/nt

3




$432

/nt

4




$420

/nt

5




$420

/nt

6




$432

/nt

7




$432

/nt

8




$432

/nt

9




$432

/nt

10




$432

/nt

11




$420

/nt

12




$420

/nt

13




$432

/nt

14




$432

/nt

15




$432

/nt

16




$432

/nt

17




$432

/nt

18




$420

/nt

19




$420

/nt

20




$432

/nt

21




$432

/nt

22




$432

/nt

23




$468

/nt

24




$468

/nt

25




$468

/nt

26




$468

/nt

27




$468

/nt

28




$468

/nt

29




$432

/nt

30




$432

/nt
December 2022
Su
Mo
Tu
We
Th
Fr
Sa

1




$432

/nt

2




$432

/nt

3




$432

/nt

4




$432

/nt

5




$432

/nt

6




$432

/nt

7




$432

/nt

8




$432

/nt

9




$540

/nt

10




$540

/nt

11




$540

/nt

12




$540

/nt

13




$540

/nt

14




$540

/nt

15




$540

/nt

16




$540

/nt

17




$540

/nt

18




$540

/nt

19




$540

/nt

20




$540

/nt

21




$540

/nt

22




$540

/nt

23




$540

/nt

24




$540

/nt

25




$540

/nt

26




$540

/nt

27




$540

/nt

28




$540

/nt

29




$540

/nt

30




$540

/nt

31




$540

/nt
January 2023
Su
Mo
Tu
We
Th
Fr
Sa

1




$540

/nt

2




$540

/nt

3




$540

/nt

4




$432

/nt

5




$432

/nt

6




$420

/nt

7




$420

/nt

8




$432

/nt

9




$432

/nt

10




$432

/nt

11




$432

/nt

12




$432

/nt

13




$520

/nt

14




$520

/nt

15




$520

/nt

16




$520

/nt

17




$432

/nt

18




$432

/nt

19




$432

/nt

20




$420

/nt

21




$420

/nt

22




$432

/nt

23




$432

/nt

24




$432

/nt

25




$432

/nt

26




$432

/nt

27




$420

/nt

28




$420

/nt

29




$432

/nt

30




$432

/nt

31




$432

/nt
February 2023
Su
Mo
Tu
We
Th
Fr
Sa

1




$432

/nt

2




$432

/nt

3




$420

/nt

4




$420

/nt

5




$432

/nt

6




$432

/nt

7




$432

/nt

8




$432

/nt

9




$432

/nt

10




$420

/nt

11




$420

/nt

12




$432

/nt

13




$432

/nt

14




$432

/nt

15




$432

/nt

16




$432

/nt

17




$447

/nt

18




$447

/nt

19




$440

/nt

20




$440

/nt

21




$440

/nt

22




$440

/nt

23




$440

/nt

24




$447

/nt

25




$447

/nt

26




$440

/nt

27




$440

/nt

28




$432

/nt
March 2023
Su
Mo
Tu
We
Th
Fr
Sa

1




$432

/nt

2




$432

/nt

3




$420

/nt

4




$420

/nt

5




$432

/nt

6




$432

/nt

7




$432

/nt

8




$432

/nt

9




$432

/nt

10




$420

/nt

11




$420

/nt

12




$432

/nt

13




$432

/nt

14




$432

/nt

15




$432

/nt

16




$432

/nt

17




$420

/nt

18




$420

/nt

19




$432

/nt

20




$432

/nt

21




$432

/nt

22




$432

/nt

23




$432

/nt

24




$420

/nt

25




$420

/nt

26




$432

/nt

27




$432

/nt

28




$432

/nt

29




$432

/nt

30




$432

/nt

31




$420

/nt
April 2023
Su
Mo
Tu
We
Th
Fr
Sa

1




2




3




4




5




6




7




8




9




10




11




12




13




14




15




16




17




18




19




20




21




22




23




24




25




26




27




28




29




30